On a Mission
The Sisters of St. Joseph Neighborhood Network reaps positive change where it has sown the seeds of kindness, compassion, and connectedness
A few weeks ago, if you were down at the Bayfront Convention center you might have noticed the brassy sounds of jazz floating through the halls, the smell of mouth-watering cuisine, the clink of glasses and the low, dull roar of conversation, punctuated often by laughter and merriment. That was the 12th Annual Name That Tune Gala, hosted by Tim and Lisa NeCastro and sponsored by and benefiting the Sisters of St. Joseph Neighborhood Network (SSJNN), one of Erie's most beloved nonprofit organizations and a driving force in the revitalization of the communities it serves. I had the opportunity to dig a little deeper into what SSJNN is all about, by connecting with Gretchen Gallagher Durney, Neighborhood Manager/Marketer for the organization who has been active in this post for the last six years.
A Mission, A Ministry
But first things first. SSJNN has operated in Erie's Little Italy neighborhood for nearly 20 years, and their mission statement reads: "The SSJ Neighborhood Network, sponsored by the Sisters of St. Joseph of Northwestern Pennsylvania, provides leadership, advocates for local residents, and partners with the broader community to develop opportunities for both personal growth and neighborhood revitalization." Focused roughly by boundaries that run east/west between Cranberry and East Avenue, and north/south between 12th and 26th, this espoused leadership, advocacy and partnership-building manifests itself in a variety of ways, some of which might surprise even the longest of long-time Erie residents.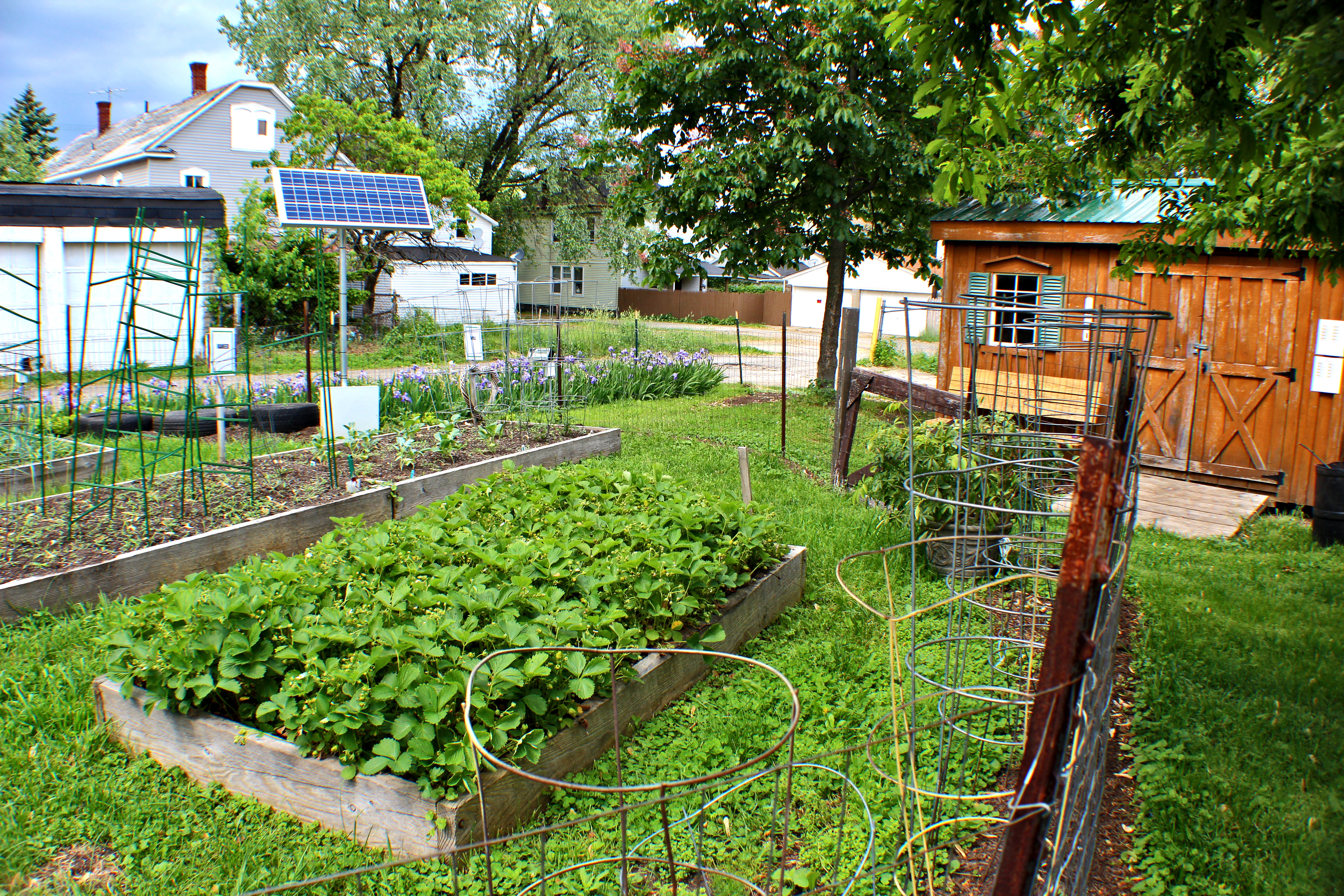 Nick Warren
"I think people are less familiar with our façade improvement program," Durney said. "Counting the 30 that will be completed this year, we will have completed just shy of 90 façade improvements to homes and businesses. [We have also] worked with businesses to install security cameras."
In addition, SSJNN provides for its community a weekly soup kitchen and emergency assistance, like food and hygiene items, for those in need after a disaster. There are numerous programs for children, like tutoring, basketball, crafting, cooking and mentorship, as well as field trips to local attractions and events. And the SSJNN's urban community gardens, which originally encompassed just one space on West 18th, and now include plots at 17th and Sassafras and 19th and Myrtle, provide much-needed green space, plus the opportunity to learn plant and crop cultivation and winterization techniques, particularly for the city's teenagers.
In addition, the SSJNN is deeply involved and invested in the revitalization of Erie's Little Italy neighborhood, which is often defined as the space between Sassafras and Liberty, from 16th to 19th streets. These revitalization efforts have been taking place as far back as 2007, and the façade program serves as an example of smaller acts that, when combined and considered as a whole, equal change on a grand scale.
SSJNN did not always offer such a wide variety of services and advocacy. The organization, which was founded in 2000 by Sister Mary Herrmann and Sister Carol Wilcox, "…started with two sisters hearing a call and then hearing from neighbors on what their needs and concerns were," Durney explained. "From those interactions our first ministries of tutoring for children and the soup kitchen started."
Though their beginnings were humble, SSJNN's programs grew in number and scope, with the assistance of the Erie community's financial support. That support comes in many forms (almost two-thirds of their funding comes from contributions and donations), but perhaps the most enjoyable source — for both organization and its supporters — is through fundraisers like the Guess That Tune Gala and Celebrity Bartending at the Nuova Aurora Club in Little Italy. "With the bartending event, it is also a tip of the hat to the club which has been a great supporter and neighbor to us," Durney said, pointing out just one example of how organizations in the community intersect.
Little Italy Farmers Markets
With the official start of the summer just around the corner, SSJNN is gearing up for its big series of neighborhood events: the weekly farmers markets that are now in their sixth year of operation. Most Mondays in the summer and into September are given over to what has become an immensely popular program featuring fresh produce, locally made baked goods, locally sourced dairy and meat products, and, on specially designated occasions known as The Little Italy Farmers Market and more — live music, craft vendors and even local food trucks.
The Little Italy Farmers Markets were "developed in 2012 because of the area being a food desert, and transportation and more standing in the pathway to fresh and healthy food," Durney explained. She was quick to recognize the work of neighborhood supermarket mainstays, like Larry's and Serafin's, which provide quality food products in convenient locations, but also emphasized the significant value, beyond just the food, of a farmers market to the area, which "acts as a community builder and more…It's a space where our teen gardeners can learn as they sell produce from our urban farming program. It's a space where you can meet, question, and directly support the livelihoods of other local farmers. It's a space to congregate, and [it] also draws in people and showcases the many positives of the area."
To make fresh goods more widely available to the Erie community, generous sponsors to the markets match both supplemental nutrition assistance program (SNAP, or "food stamps") and WIC's farmers market nutrition program (FMNP) vouchers, ensuring that low-income persons who attend the markets receive as much healthy, wholesome food as possible. It is also telling that in the summer of 2016 the farmers market was held in the same location as the Italian festival — the parking lot of St. Paul's Catholic Church, on 16th Street between Chestnut and Walnut — yet the following year the event had scaled up to such an extent that it had to be moved to its current, more spacious location, at 331 W. 18th Street, an exciting development for Durney, who is personally involved with the event.
"In addition to more farmers this year," Durney continued, "there's also a new mural that Tom Ferraro and Ed Grout put up last fall, and some new folks joining us on the [Market and More] days."
I have been to the markets the past two summers, and I not only walk away with a big bagful of the most impressive zucchini, green beans and big leafy lettuce ever, I'm always delighted by the pleasant, friendly manner of the farmers and sellers, who are eager to talk about their food. There is something to be said about having face-to-face access to a grower who has nothing to hide when it comes to his or her farming practices.
Connecting and Uplifting the Community
This kind of transparency and connectedness is what SSJNN is all about. Recognizing the interconnected nature of a community — how lifting up one underrepresented or marginalized person helps lift up everyone — plays a huge role in how Durney approaches her job every single day.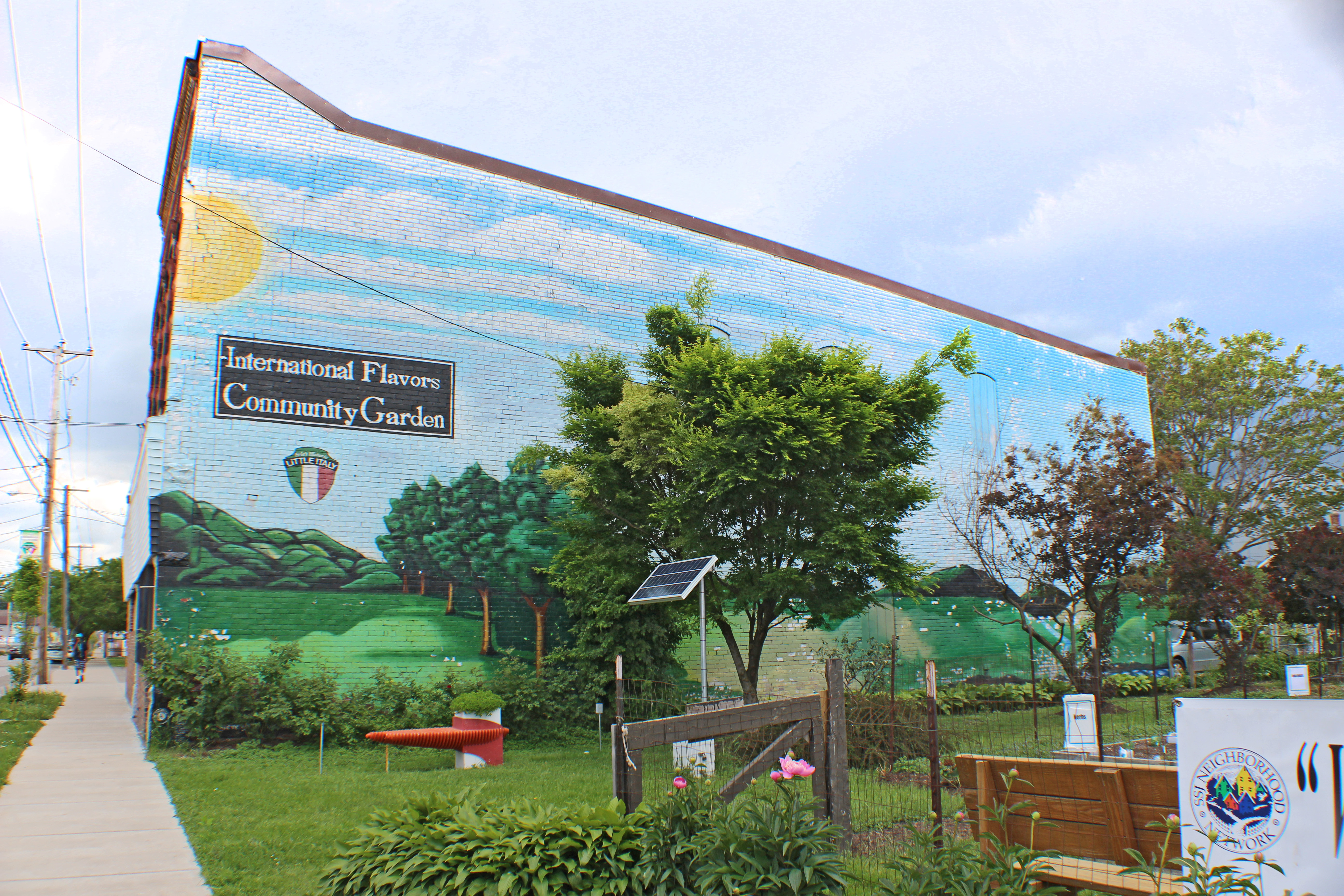 Nick Warren
The clouds of the International Flowers Community Garden mural blend with the summer sky, as the garden's banner shares the Woodrow Wilson quote "We grow great by dreams."
"My parents owned a restaurant when I was little, and I can remember frequently coming into International Bakery [at 18th and Cherry) with them as they'd get certain supplies there," she said, before she went on to describe how she still patronizes the bakery as an adult and works all around it with SSJNN to improve the conditions of the neighborhood.
Durney maintains a realistic optimism about the future of SSJNN. "We are a small staff, and there are challenges, but we are able to maintain our zeal and accomplish so much with our more than 300 devoted volunteers, as well as many more supporters." Still, she relayed ruefully the difficulty in being part of a ministry where people could labor 24/7 and it would still never feel like enough.
But SSJNN has made and continues to make an ever-growing positive difference in the lives of so many who dwell in Erie. Thanks to a savvy embrace of social media, the organization can quickly and easily reach more members of the community with updates, thanks to event listings, but it is not surprising that Durney still prefers good old-fashioned face-to-face interactions. After all, a smile, a hello, and a handshake as you greet someone you've just met on the sidewalk? That's the first step in being a good neighbor.
Cara Suppa can be reached at csuppa@eriereader.com