On the Horizon: Inherent Vice
The holidays on upon us, which means that the holiday movie season is starting. Here's a look at what's on the horizon for all you film fanatics.
December 2, 2014 at 5:00 PM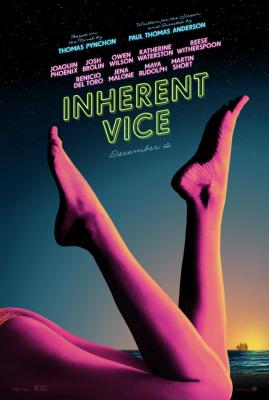 What do you get when you cross a critically-acclaimed director with one of the craziest authors of the past century? If this trailer is any indication, you get a pretty kickass-looking movie.

Thomas Pynchon is best known for his complex sentence structure, spiraling storylines, and a near-mathematical understanding of social politics. His novels are often as dense as they are enlightening, with every subplot interweaving with every aside until they all come full-circle back to the main narrative. While they certainly make for an engrossing read, Pynchon's novels are not always accessible to a wide audience.

The postmodern poster boy is most famous, perhaps, for his book Gravity's Rainbow, a novel containing over 400 separate characters that move through an ever-fluctuating timeline. Time named it one of the best novels published since 1923 and James Murphy of LCD Soundsystem cites its influence on his work in Shut Up and Play the Hits. While undoubtedly important to the American literary canon, Pynchon's stories remain impenetrable to most of us.

For a long time, it seemed as if those outside the literary elite would never have the opportunity to consume any of Pynchon's work. That all changed when Paul Thomas Anderson, director of The Master and There Will Be Blood, announced a film adaptation of the novel Inherent Vice. Anderson first stated his intent to adapt the novel in 2010, while he was working on The Master. After collecting a group of acting all-stars, including Joaquin Phoenix, Owen Wilson, Reese Witherspoon, Josh Brolin, and Jena Malone, filming began in early 2013.

The plot of the movie is perhaps best summarized by the opening monologue of the trailer: "If it's a quiet night out at the beach and your ex-old lady suddenly shows up, out of nowhere, with a story about her current billionaire land developer boyfriend, and his wife, and her boyfriend, and a plot to kidnap the billionaire and throw him in a loony bin…maybe you should just look the other way". The movie centers on Doc Sportello, a pot-smoking private investigator that has been tasked with trying to foil the aforementioned kidnapping plot. And, as I'm sure you guessed, everything goes horribly wrong. Doc finds himself pitted against the LAPD, a mysterious Asian syndicate, loan sharks, and government agents. The trailer even references Nazis.

All that being said, Inherent Vice is not a movie that takes itself too seriously. Anderson himself described it as "…deeply written and beautifully profound stuff mixed in with just the best fart jokes and poop jokes that you can imagine". For every moment of hard-boiled detective work there is a moment of beautiful slapstick. And, being set in 1970s Los Angeles, the fallout of the counterculture movement and all its drug use plays a major role. Think Cheech & Chong meets The Big Lebowski meets every crime noir movie you've ever seen. From what I can tell, the movie should be reminiscent of the 2004 Robert Downey Jr film, Kiss Kiss Bang Bang.

If that isn't enough to get you excited, maybe you should check out what the critics are saying. After an exclusive world premiere at the New York Film Festival this past October, internet critics have been buzzing about the movie. IMDb has Inherent Vice rated at 8.5/10, while Metacritic has an aggregate score of 84/100. Even the ever-critical Rotten Tomatoes gave to movie a score of 70%. While some critics complain that the movie isn't as serious as they wanted it to be, one review from the LA Times claims that "It has, in other words, the markings of a cult hit".

So if you like movies that make you laugh, movies that put you on the edge of your seat, movie about crime, or movies about drugs, mark your calendars. Inherent Vice hits theaters across the country on December 12.

Chris Sexauer is so excited about this movie that he can't stop talking about it. If you want to share in his gleeful anticipation, or have any questions, comments, or concerns, feel free to contact him at csexauer@ErieReader.com.