Pa Senate GOP Sues Wolf
Pa. Senate GOP is unhappy about early Wolf moves. Follows in federal GOP footsteps. 
January 26, 2015 at 4:50 PM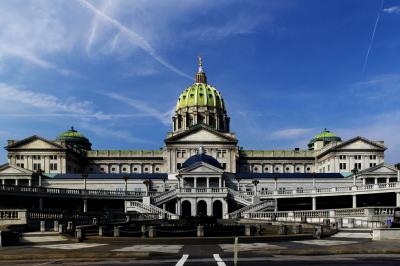 Republicans in the Pa. Senate have borrowed from the playbook of Washington Republicans and filed an injunction against Gov. Tom Wolf to reinstate Erik Arneson as the director of the Office of Open Records.
The lawsuit, filed Tuesday in Commonwealth Court by Arneson and the Senate Republican Caucus, seeks Arneson's reinstatement as well as back pay.
Arneson was one of former Gov. Tom Corbett's eleventh hour appointments before leaving office.
Wolf, as one of his first acts as governor, fired Arenson and revoked the nominations of 28 other Corbett nominees, including former State Sen. Jane Earll, who had been previously appointed to the PASSHE Board of Governors, which oversees the state system of higher education.
Wolf administration press secretary Jeff Sheridan told media over the weekend that there is legal precedent for the firing dating back to 2002 when Gov. Tom Ridge fired a member of the Pa. Game Commission. That decision was uphelpd by the Commonwealth Court. 
Jim Wertz can be reached at jWertz@ErieReader.com, and you can follow him on Twitter @jim_wertz.