Penelec Tree Trimming Leaves Much to be Desired
Why some neighborhoods are manicured while others get chopped
November 26, 2014 at 9:30 AM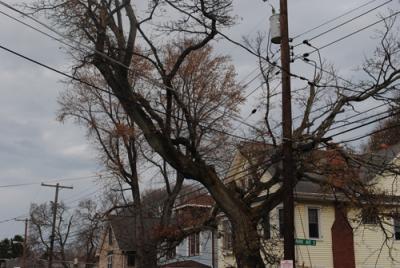 This time of year, sometime amid the six minutes of beautiful Fall weather we experience before the snowmageddon, I usually take a moment to reflect on when the leaves remained on the trees and the yards were clear of autumn debris.
The leaves are camouflage, of sorts. They hide the creative arborism that tree services carry out on behalf of Penelec in an effort to protect the power lines that feed the city with electricity.
According to Penelec, trees across Pennsylvania are trimmed on a four-year cycle. The electric provider spent $24 million in 2014 on, what it calls, "vegetation management."
As you drive through the city in late fall and winter, you'll see that many of its large trees, which hide power lines in the Spring and Summer, have actually taken on a "V" shape where the trees have been "end-cut" and center branches extracted, effectively making the tree grow around the power lines.
"Why are there holes cut out of the trees for the power lines?" asked one first time visitor to the city.
News reports each year focus on residential complaints about the methods used by service providers contracted by Penelec. Some city residents believe the end-cutting – also known as "topping" – kills the trees.
"It absolutely does," says City of Erie arborist Sarah Galloway. "It might take five years or it might take twenty five years, but the trees are harmed in the process. There's no way the tree can seal over that wound."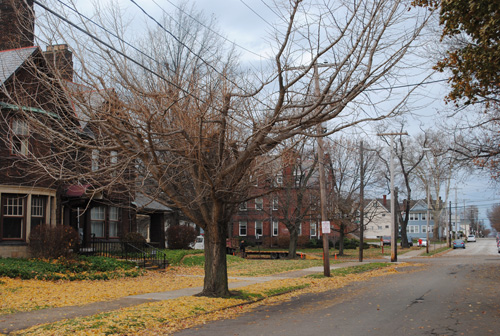 This process also creates a particular aesthetic in the city's downtown corridors.
None of the large trees grow upward because the end cutting has damaged the trees' central leaders, the bodies of the trees from which other branches grow up and out.
Once a tree has been cut, it will not return to its original form.
But preserving trees is not Penelec's primary concern, nor is the resulting aesthetic. For the electric company, it is about clearing power lines – four feet around the power lines – to prevent outages that result from falling dead branches and other debris which usually comes down during severe weather.
"Vegetation is inspected and trees are pruned in a manner that helps maintain the health of the tree, while also maintaining safe and reliable electric service for customers – Penelec's top priority," Penelec said in a statement released earlier this year.
Many people believe that this means most residents in the City of Erie have very little to say about the preservation of trees on their property. That's not the case.
Penelec does not care about the look of the trees from neighborhood to neighborhood. But homeowners do care, and that's the primary difference in the outcome of utility mandated pruning throughout the city.
Residents who monitor the cutting by Penelec contractors and, in some cases, file grievances with the electric provider to save their trees and salvage the look of their neighborhood have better looking communities.
Penelec prefers to avoid the formal complaints because they are costly, in terms of both time and capital resources.
The Pennsylvania Utility Commission requires Penelec to investigate every complaint. One formal complaint on a single electrical circuit might lead Penelec to explain to a single homeowner why the trees must be cut. A neighborhood with three-hundred homes on a single circuit all filing complaints about the tree cutting is more problematic, and more expensive to defend and possibly litigate.
In neighborhoods like Frontier and Glenwood Hills, outspoken residents have for decades demanded that the trees be preserved.
As a result, the same tree services that end-cut trees along city thoroughfares carefully prune giant pin oaks like bonsai trees, ensuring that Frontier and Glenwood Hills remain attractive to current residents and prospective homebuyers alike.
In some cases, homeowners choose to have the trees groomed privately rather than allow the Penelec contractors to do the work for concern over the end result. But this process can also be time consuming and expensive. Therefore, it's an option that's out of reach for many city residents.
This is why the resulting aesthetic of end cutting city trees is problematic for the future of Erie.
Imagine if every neighborhood – from college and residential rentals downtown to Frontier and Glenwood on the periphery – had equal appeal at first glance. The types of communities that that cultivates and the kind of residents that would attract could be the remedial spark necessary to revitalize a downtown struggling to find identity and community.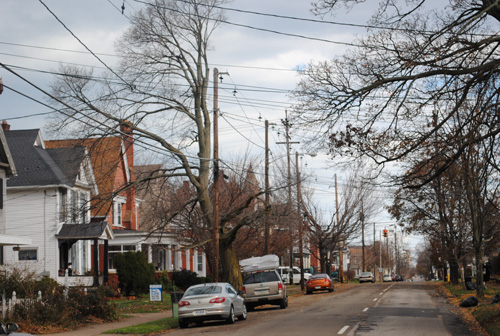 It's a philosophy that influenced the recent revitalization efforts along West 18th Street in the Little Italy neighborhood.
"When you come in to a neighborhood, what you see becomes your perception of that area," says Rose Graham, Executive Director of the Sisters of St. Joseph Neighborhood Network (SSJNN), which has been spearheading the revitalization efforts as part of the Little Italy Revitalization Association and the Historic Little Italy Plan.
"When you see broken streets, or broken sidewalks, rundown buildings, boarded up industry, what do you think when you see that? You think, 'I don't want to live there.'
"We want [Little Italy] to be a place people want to live and want to come to. It is a neighborhood that still maintains that character of people who know each other," Graham says.
The Historic Little Italy Plan includes a detailed streetscaping project that has been underway since 2012. This includes replacing, repairing, and widening sidewalks and curbs, installing more lighting throughout the neighborhood, designing bus shelters and parking lots, and planting trees throughout the neighborhood.
The trees planted thus far are low-growth trees that will not exceed twenty-five feet in height and therefore will not be subject to cyclical cutting that has altered the look of other downtown neighborhoods.
"That's a standard policy instituted throughout the city," says Galloway.
New trees and public lighting aren't the only infrastructure changes in Little Italy. Community gardens and mural projects are changing the look of the neighborhood and residents' feelings toward their community.
"We really believe that in order to fix an area, you have to help the people in that neighborhood create community with their neighbors, but also to work on physical infrastructure. Changing a community has to come from the inside out. The community has to be involved in that change," says Graham.
As the city moves forward under Destination Erie, or the next proposal, or the last proposal, there are important lessons to be learned from its most stable and successful communities as well as its most developing and emergent neighborhoods. If it abandons notions of looking good and feeling good under the guise of fiscal responsibility and project expediency, it will be left holding the decaying limbs of its central leaders.
Like so many things in life, the greatest wisdom on the subject might just have come to us as children from the great philosopher Theodor Seuss Geisel when he wrote, "Unless someone like you cares a whole awful lot, Nothing is going to get better. It's not."
Jim Wertz can be contacted at jWertz@ErieReader.com, and you can follow him on Twitter @Jim_Wertz.