Personalities at Play in 1904 Cambridge Springs Chess Tournament
The story of four top players and who prevailed
January 13, 2021 at 10:45 AM
In 1983, Walter Tevis published his second-to-last novel, The Queen's Gambit, about a fictional chess prodigy named Beth Harmon and her journey into the male-dominated world of professional chess. As with The Hustler, his 1959 classic novel about a troubled pool shark, Tevis had a lot to say with his book, using the game as a plot mechanism for exploring complex characters and deeper themes, which are also at the forefront of the critically-acclaimed Netflix adaptation.
According to Chess.com, due to the popularity of The Queen's Gambit miniseries (and, of course, with some having more time at home amidst the pandemic), there is currently a chess resurgence that hasn't been seen in 50 years. Daily online players have tripled over the past year while Goliath Games reported that their chess sales have increased by over 1,000 percent.
Perhaps this shouldn't be surprising. Chess is a timeless game, the origins of which can be traced back 1,500 years across multiple continents. It is a game that requires no spoken word and crosses cultural and socioeconomic boundaries. In Benjamin Franklin's 1779 essay "The Morals of Chess," he described what one learns from the game: foresight and consideration of consequences, circumspection and big picture thinking, caution and the dangers of being impulsive, and resiliency and the need to persevere through discouragement. 
These were skills possessed by those who competed in the Cambridge Springs International Chess Congress in 1904. The event is a story of memorable chess matches (a variation of the Queen's Gambit Declined chess opening used at the event is even now called the Cambridge Springs Defense), but it is also a story of fascinating people. This included Frank James Marshall, a young and erratic chess player who was still in his twenties when he arrived in Northwestern Pennsylvania.
"He is a whirlwind player of daring skill, genial demeanor, and a highly dangerous competitor," reported the Erie Daily Times.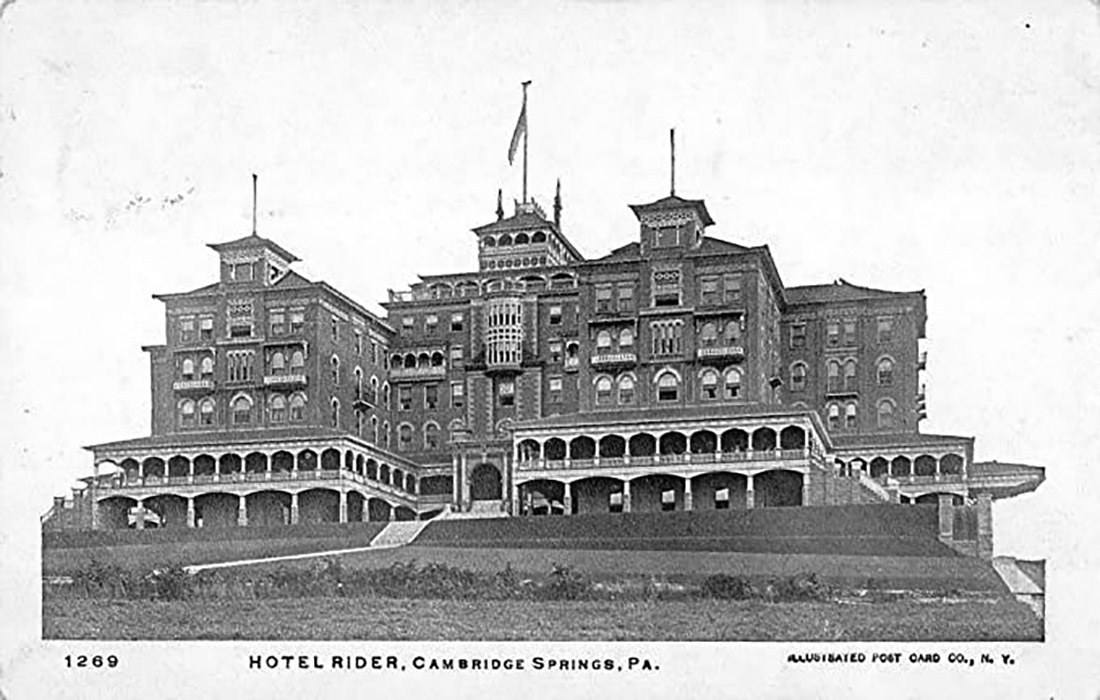 It was the first major international chess tournament held in the United States in the new century. Financed by renowned investor Isaac Leopold Rice, the Erie Railroad Company, and William D. Rider Jr., the event was held in the theater of the breathtaking seven-floor, 500-room Hotel Rider. The world-class hotel had only opened in 1897, the same year that the small resort town renamed itself from Cambridgeboro to capitalize on its mineral springs. 
The cozy town of 1,500 people was where Marshall was determined to solidify his stature as one of the world's greats. His style at the table was unconventional and unpredictable. One biographer noted that he was "capable of defeating the strongest opponent and losing to the weakest." To his doubters, he simply wasn't a "chess tactician" and many believed that he lacked the "steadiness" of the world's best chess players whom he would soon be competing against: U.S. champion Harry Nelson Pillsbury, world champion Dr. Emanuel Lasker, and longtime rival David Janowski.
"Some of [Marshall's] moves, made in the face of all recognized principles, are so utterly audacious, though ingenious withal, that his fellow masters refer to them as 'Marshall's swindles,'" penned his hometown paper, the Brooklyn Eagle.
Marshall was born in Brooklyn, N.Y. in 1877. He had learned chess from his father at an early age, but only began playing seriously after his family relocated to Montreal, Canada when he was 10. By 15, he won his first Montreal Chess Club Championship and when his family moved back to Brooklyn a few years later, he entered and won the New York State Chess Association's Junior Championship. By 1899, at age 22 and alongside rival and friend Harry Nelson Pillsbury (whom he first met and played in Montreal when he was 16), he began competing in the prestigious cable chess matches, in which American and British players competed using the transatlantic telegraph cable to communicate moves.
Pillsbury was five years older than Marshall and also a much different player. He had studied commerce as a teenager in Massachusetts, but by the age of 18, his knowledge of chess was so expansive that he decided to abandon a traditional career. Soon, Pillsbury made a name for himself as a focused, knowledgeable, modest, and well-liked player, never finishing below third place in a tournament. He could play blindfolded. He could play games simultaneously. Sometimes he played games simultaneously while blindfolded, taking only seconds to make a move. In 1900, he did just that against 20 people at once. Over the course of nearly seven hours, he won 14, drew five, and lost only one.
Leading up to the 1904 tournament, the Erie Daily Times described him as an "agreeable personality" who "endeared himself to the whole chess world."
"It is probable that no greater student of the game ever lived and to play him is to meet the whole army of chess books at once," the Times reported.
Earlier in his chess career, Pillsbury had traveled as a relative unknown to England for the Hastings Congress of 1895, an unprecedented international tournament that included all of the world's top chess players. Pillsbury won it in a surprise upset, even defeating the German mathematician and reigning world champion Dr. Emanuel Lasker head-to-head — who, in his defense, was recovering from a nearly fatal bout of typhoid fever.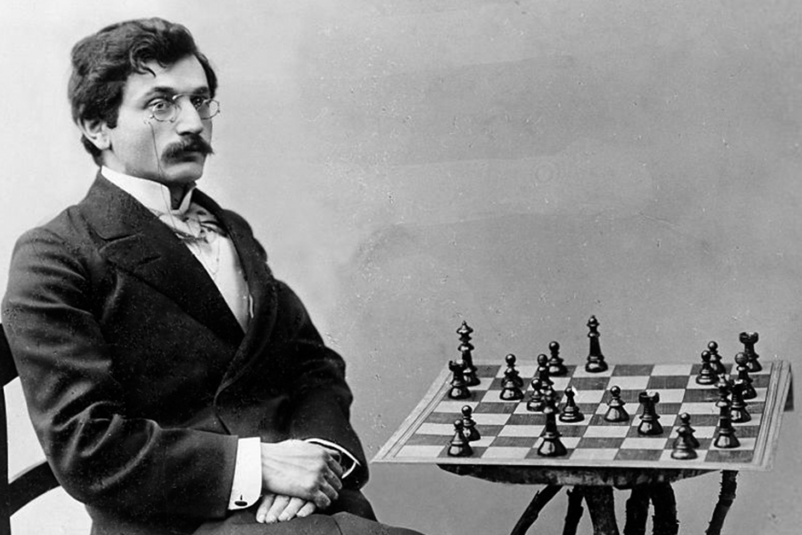 Emanuel Lasker. via Chessbase.com
Dr. Lasker still retained the title of world champion entering the Cambridge Springs tournament. Born in 1868 to a Jewish family in Prussia, Lasker had been sent to school in Berlin when he was 11, where he learned to play chess from his older brother who was in the city for medical school. Lasker was consumed by the game. When he transferred to a new school, the schoolmaster and his mathematics teacher were well-known in Berlin's chess clubs and took him on as a protégé. While still continuing his studies of mathematics, he worked his way up in the ranks and in the early 1890s began defeating champions throughout England and the United States. By 1904, he was perhaps the most respected chess player, with one contemporary noting his legendary status and the admiration that other players had for him.
Despite the dominance of Dr. Lasker and Pillsbury, Marshall told close friends that he wasn't afraid of either. He had defeated both head-to-head before. In fact, even though he hadn't beat either in overall rankings, he had been Lasker's only defeat when he was crowned world champion. Lasker was also rusty, having not played in a tournament in four years. Marshall was confident that he would win the Cambridge Springs tournament. Only David Janowski worried him. 
Janowski, who was the same age as Lasker, grew up in the Russian Empire and was of Jewish-Polish descent. He had lived in Paris for years and had won France's championship, dominating chess circuits throughout Europe afterward. Some noted his weak endgame, but Janowski was otherwise known as a "sharp tactician" who expertly utilized his bishops and, according to one contemporary, when his game was sharp, was "one of the most feared opponents who can exist." He had also beaten Marshall handily head-to-head in 1899 and had been playing well heading into Cambridge Springs. Reports described him as "a generous candidate for first prize" who was "fiercely competitive."
"Besides his brilliant genius for the game, he has other qualifications to fame, such as infinite disrelish for losing," the Erie Daily Times reported. "Janowski never scruples to call a spade a spade, nor a duffer a duffer."
As the 16 competitors arrived by rail in Cambridge Springs in late April — along with countless reporters — excitement brewed in the town. A parade was held. People decorated their homes. Crowds gathered to catch glimpses of the international celebrities, some who had met with President Theodore Roosevelt at the White House only days earlier. 
The tournament commenced on April 25. It was round-robin format, so each player would play 15 total games over the following weeks, facing each competitor exactly once. A win earned one point, a draw earned a half-point, and a loss earned zero. The first prize of $1,000 (over $25,000 adjusted for inflation) would be awarded to whoever earned the most of 15 possible points.
After the first three rounds, Janowski had an early lead with three points. Marshall and Lasker were a half-game behind and Pillsbury was down a point-and-a-half, having lost to Marshall in 23 moves. Unknown to many beforehand, but now quite apparent, Pillsbury was not in good health. He was suffering from headaches and insomnia and it was clearly taking a toll on his game.
By the sixth round, Janowski held onto his lead, but now only by a half-point over Marshall and Lasker. Pillsbury had experienced another unexpected loss, but in a much anticipated sixth-round matchup, he outmaneuvered Lasker in a thrilling 30-move match.
The seventh round saw close play in nearly every match with Janowski and Marshall scoring wins, but Pillsbury, fresh off his win against Lasker, made an oversight that cost him another game. The eighth round saw wins by Marshall and Lasker but draws by both Pillsbury and Janowski — meaning Marshall and Janowski were now tied for first place.
During the following round, Janowski defeated another competitor with "brilliant play," remaining tied with Marshall, who scored another win, while Lasker held on just behind. Pillsbury meanwhile continued his decline down the ranks with another draw.
In the 10th round, Pillsbury and another competitor both stubbornly refused a draw until after a grueling 146 moves. Marshall defeated Jackson "The Kentucky Lion" Showalter, a previous U.S. champion. Then, in a dramatic match of 65 moves, Janowski lost to the Boston-born Albert Fox. This gave Marshall the lead.
"There was much rejoicing at the Hotel Rider this evening because the American player, Marshall, was leading in the international chess masters' tournament at the conclusion of the tenth round played to-day," the New York Times reported. 
The 11th round finally saw the blockbuster meeting of Marshall and Janowski. The first day of the game lasted seven hours before both finally agreed to finish it at a later date. Marshall ultimately won after 76 moves, making him the clear favorite to win the tournament. 
In the 12th round, Janowski almost lost his third in a row to Pillsbury, making a mistake early in the game, but Pillsbury didn't notice. Janowski won. 
"[The game] really ought to have been won by Pillsbury almost at the start," the Erie Daily Times reported. Many of the players had caught on that Pillsbury's health was deteriorating, with one later describing it as "wretched."
With the tournament's end, Janowski and Lasker tied for second place with 11 points, each earning $450. Marshall placed first with 13 points winning the $1,000 and proving himself to the world. He hadn't lost a single game.
Marshall's win, according to British Chess Magazine, wasn't due to "any superior knowledge of openings or end-games" but by "remarkable chess genius" and "original ideas of attack and defence" as well as an "intuition as to when a sacrifice can be ventured and when it can not."
"Mr. Marshall is no ordinary strong player," they added. "[H]e is a man of clever original ideas, and does not fear to carry them into practice even with the most formidable opponents."
His hometown Brooklyn Eagle described his play as "perhaps not of the soundest" but which "taxes the nerves of the most experienced of the masters."
As for Pillsbury, he placed ninth. Later that fall when Marshall was proclaimed the U.S. champion, he refused the title, arguing that Pillsbury was still the champion until the two could meet again to play. Unfortunately, that never happened.
Pillsbury had moved to Atlantic City shortly after the Cambridge Springs tournament with hopes that the sea air would improve his health. One newspaper claimed that he might be cured by September. Instead, his condition, which turned out to be an advanced stage of syphilis, continued to deteriorate. In 1905, after an operation in Philadelphia, he broke the window of his fourth floor hospital room and had to be wrestled away by nurses and doctors before he could jump, in what was described as a "fit of temporary insanity."
He continued to play chess as his condition worsened, but never again in a tournament. He died on June 17, 1906. He was 33 years old.
Following Pillsbury's death, Marshall continued to refuse the title of U.S. champion. He finally accepted it after a tournament in 1909 and would hold it for 27 years. The Marshall Chess Club, which he founded in 1915, still exists today. 
Dr. Lasker continued his reign as World Chess Champion until 1921, staying in the United States while publishing numerous books and magazines about the game. According to Chessmetrics, a modern system for rating chess players designed by statistical chess analyst Jeff Sonas, Lasker ranks in the top five most dominant chess players of all-time by numerous metrics. 
For all but Pillsbury, the paths of these men would cross many more times over the following years. While the matches were always interesting and often dramatic, it is each of their own personal journeys that make the overarching story captivating and, like the game itself, timeless. 
"Life is a kind of chess," mused Benjamin Franklin. "[W]e have points to gain, and competitors or adversaries to contend with, and ... there is a variety of good and ill events, that are, in some degree, the effects of prudence or the want of it."
For a deeper dive into the individual matches, visit cs1904.com. 
Jonathan Burdick runs the historical blog Rust & Dirt. He can be reached at jburdick@eriereader.com