"Pictures in Motion"
Live Performance Preview: Shows March 23 and 24 at Erie Art Museum.
March 21, 2012 at 3:56 PM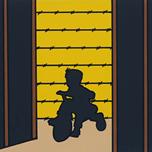 When Japanese immigrants came to America, they brought with them their culture and traditions. One of those traditions was the art of haiku, a seventeen-syllable form of poetry, succeeding in intense imagery used to engage the reader's senses in a tension-filled moment. Japanese Americans shared this tradition and American poetry and culture became richer and deeper and we rejoiced at our inclusiveness of "American."

Then came Sunday, Dec. 7, 1941: a day that continues to live in infamy since you already know what's coming—but I'll tell you anyway: With over 350 fighters, bombers, and torpedo planes, Imperial Japan attacked Pearl Harbor, wounding over 1,200 Americans and killing double that. The next day, America strapped on its helmet, grabbed its guns, and went off to fight the second Great War.

The rest, as they say, is history.

But somewhere in the middle came Thursday, Feb. 19, 1942—a lesser-known date in American history, which fewer can recall, but still lives on in infamy. With the stroke of a pen, President Franklin D. Roosevelt signed into effect one of the worst blemishes in our past that we'd sooner cover with rouge than leave exposed for all to see. That blemish—a tarnish on the illustrious and otherwise rightfully celebrated leadership of FDR—took form in Executive Order 9066, which allowed military commanders to construct "exclusion zones," ultimately leading to the construction of federal interment camps in the United States that would house upwards of 120,000 Japanese and Japanese Americans.

From behind barbed wire, somewhere in such a camp, Hakuro Wada wrote a haiku:

Even the croaking of frogs
Comes from outside the barbed wire fence.
This is our life.

A Japanese American, Wada used haiku as an outlet for expression—and this haiku captures the separation Japanese Americans felt, as American citizens suddenly found themselves pulled from society and placed behind fences against their will simply because of their ancestry.

On March 23 and 24, Dafmark Dance Theater will present "Pictures in Motion at an Exhibit," as dancers will perform a program centered around "Minidoka on My Mind," the works of Roger Shimomura currently on exhibit at the Erie Art Museum (click here to read the art review). Shimomura, a Japanese American painter, printmaker, and performance artist found himself, along with the rest of his family, detained in one of these camps from 1942 to 1994.

Conceived and choreographed by Dafna Rathouse Baier, "Pictures" captures the intense cultural struggle, as the definition of "American" twists and bends from fear, anger, ignorance, and separation.

A few weeks before Dafmark Dance Theater takes to the stage at the Erie Art Museum, most of the dancers stretch to warm up on a sunny Saturday afternoon and Dafna grabs a chair to sit beside me as she directs and we watch a rehearsal.

"This captures the intolerance, the prejudice," explains Dafna, as the dances take to the floor. She adds that a projection of slides featuring different artists who have influenced the creative process will accompany the production.

From movements illustrating the atomic bomb, to planes, to radiation, the lithely dancers glide across the floor, presenting the struggle of that blemish in American history. As they transition in and out of solo and group dances, at times donning a mask that represents the rejection felt by Japanese Americans, I easily imagine the projections of the paintings—Shimomura's hanging in the Erie Art Museum, as well as those of other artists, such as Chagall, Van Gogh, and Degas, that Dafna chose to incorporate, as she expresses them through dance.  The melding of myriad art forms becomes a beautiful thing in front of me, as later a poem is presented and music continually fuels the mood, ranging from Schubert to Japanese music, as well as rock 'n' roll that captures a carefree essence of society.

A stunning section comes when two dancers unfurl a black cloth with silver lines running through it. "Barbed wire," Dafra points out, as the cloth separates a dancer from the outside world, as she pushes against the taut cloth—the same barbed wire that separated Wada and Shimomura from the outside world.

The finale features a Glenn Miller version of "Cry Me a River," and the dancers use American Sign Language—arranged by Luke Gehring—to convey the lyrics. "It is about a love affair," Dafna explains, as the dancers begin signing. "Suddenly everything is timid. We should all cry and learn."

While the definition of "American" was—and still is—tried and tested, we can learn from this moment, and what better a teacher than art—be it dance, music, painting, or poetry, or all of the above working seamlessly together.

The Erie Art Museum is located on Fifth Street, between State and French streets. Both productions, which feature dancers: Leslie Loop, Megan Veres, Bethany T. Myers, Renae Mittelmeier, Jennifer Dennely, and James Dixon, and guest dancer Scott Heinrich, begin at 8 p.m. At 7:30 p.m. Friday, Executive Director of the Erie Art Museum John Vanco will offer a guided tour of the exhibit before the show. For reservations and further information, call 454.3993.