Playhouse Moves Erie's Culture Scene Forward
With nearly 100 years under its belt, the Erie Playhouse looks to the forward. Rebecca Styn gives us the past, present, and future.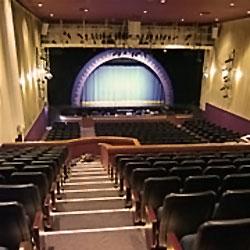 Diversity, class, and community support feed off one another to create a theater scene that could rival some of the most deep-rooted in the nation. Great actors such as Walter Mattheau, Anne Davis, and Dom Deluise have graced the stage, numerous and proven Broadway plays been performed, and cutting edge works have been seen at this historic venue. You don't have to look far to find great talent— or great work—and there's definitely something to suit everyone's taste.
The Erie Playhouse is one of the oldest and largest community theaters in the nation. Since its inception almost 100 years ago, the Playhouse has only seen less managing directors than the decades it's been in business. Aside from Vincent, three others have sat in the managing directors chair: L. Newell Tarrant, David Matthews, who held the position for 34 years, and Almitra Clerkin, the current managing director, who coincidentally has also been part of the playhouse for 34 years but both volunteer and professional roles.
"My avocation at the Erie Playhouse can be compared to an opening night: the decisions and exploration you have to make before you even audition, the anxiousness of seeing your name on a cast list, the many efforts put forth to develop your character and learn your lines and choreography," Clerkin says of her current role. "Add the finishing touches of production week, which was created by the dedicated staff – up to the positive, nervous energy as you step out onto the stage before the lights go up -  and finally the thunderous applause when you know you've delivered your best performance."
So it's clear that's exactly why she is in the business she's in.
Annually, the playhouse boasts an ambitious 17 to 18 productions. According to Susan Lechner, the marketing director for the playhouse, "We produce live theater year round and we always try to take on provocative, diverse, and challenging works."
Provocative and challenging describe an acting role Susan took on back in 2005. In the production, "Wit," Susan took on a challenging role as an ovarian cancer patient. In addition to the challenge of remaining on stage for 90 straight minutes, Lechner also had to shave her head—which was shoulder length at the time—and present full frontal nudity at the end of the show. "This didn't prove to be as difficult as I thought it would be," she says. "The script was so well written and the character was so well defined that the nudity scene was a natural and necessary conclusion to the show."
As soon as she found out she had the role, she began attending support group meetings for ovarian cancer, a group called the "Circle of Courage." As Lechner explores this memory, she begins to tear up. "Many of these women – amazing women – are now gone."
Her very first performance of the production also had the most impact on her. "As I walked out on stage, I noticed many, many women out there. It hit me like a ton of bricks and I thought I better get this right." And she did. Following the performance, many women came backstage to affirm this—women who had cancer, were survivors of cancer, or who had lost someone to the disease. At the end of every performance there was also a curtain speech requesting donations to support the ongoing efforts of the Circle of Courage group. "We had hoped to raise $1,000, but instead were able to present a check exceeding 5,000. It will forever be one of the most memorable and rewarding experiences of my life," the humble Lechner says.
In addition to deep and thought provoking works, the playhouse also tries to stay on the cutting edge of 'what's new' and available for them to produce. Switching gears, Sue goes on to tell me, "Most people don't realize that the rights to produce musicals and plays are strictly regulated by the licensing companies. Whereas musicals like 'Les Miserable' and 'Phantom of the Opera' are available to high schools, the rights have not been released to community theaters. That said, in the past season we were fortunate to get the rights to 'Hairspray' and prior to that 'RENT.' In our upcoming season we are one of the first community theaters to secure the rights to Disney's 'Tarzan' and the final musical of our 2011-12 season is so new we are not even allowed to announce the selection until June."
Doug Massey, a workforce development coordinator for the Erie Regional Chamber and Growth Partnership, is also very active in the local theater scene – having most recently been seen in "Dreamgirls" and "RENT" at the Playhouse.
"I am originally from Chicago – a city where diversity is abound," Massey says. "Having been a part of the cast of 'RENT' here locally, I felt as if the production helped to break down many of the barriers found in different lifestyles –dispelling many of the myths and prejudice that surrounds them. And when we introduce social issues in a more public setting like performance art, it helps to show that we're moving towards the sense of unity throughout. The cast was very together and strong, both vocally and emotionally."
Massey also believes that the Playhouse has made great inroad. "I find the Playhouse to be a very enlightening, positive venue. It's an organization that brings different ethnicities together – the casts I have been a part of have been very multi-cultural and amazing to work with. The organization crosses boundaries that you wouldn't normally see in other environments."
The Pennsylvania Council on the Arts recognizes the Playhouse as a professional theaters. According to Lechner, the Playhouse receives this recognition due to the "quality of performances" and the "level of professionalism" exhibited by its performers.
In addition to its year round programming, the Playhouse also boasts an extensive Youtheatre program. "This programis instrumental in developing tomorrow's passionate performers, audience members and arts advocates," states Lechner. "Our Youtheatre also has an extensive outreach program and is dedicated to making the magic of live theater available to every child that wants to be part of it."
One participant agrees. Luke Weyand, an 8th grade student at Westlake Middle School has been involved in the summer encore camp at the Playhouse and also had a part in Cinderella this past year. "My favorite part about the Theater is all the friends I have made. The playhouse is like one big family. I think it's great that Erie has a theater that anyone, at any age, can be involved in."
Theater enriches the lives of those that take part in it. It doesn't matter which side of the curtain you stand. Those involved in theater represent a diversity of age, background, culture and life experiences. To the actors, it is a chance to dare (and scare) themselves. To those that witness it, it has the power to bring everyone together and offer a deeper insight into your own being. And to everyone, it has the power to be a greater influence to the generations of our future.
In my talks with all those involved in the Playhouse– whether it's been to the staff, the participants or the actors – I've learned that there's a strong sense of community within this organization and their walls. These individuals respect and appreciate each other for all that they are, the talent that they have, and the family they've become. The camaraderie that exists amongst them is stronger than some families I've met. And they have hope for something even greater than that which already exists within. And that is what will create a stronger and brighter future for them individually and collectively, and help them continue to thrive.
The 2011-12 season is underway and a full schedule of current and upcoming performances can be found online at: www.erieplayhouse.org