Preserving the Everywhere In Between
Ft. LeBoeuf Historical Museum, others curate small-town heritage
In 1753, on the cusp of the French and Indian War, a 21-year-old (and quite inexperienced) George Washington traveled with explorer Christopher Gist along the Venango Path to the French-held Fort LeBoeuf. His mission was to deliver a message to the French on behalf of the British demanding that they leave the Ohio Country. The French, of course, did not — at least not yet.
Washington's journey to modern-day Waterford, Pa. is well-known throughout the region. Anyone who has driven through the town and seen his statue adjacent to the historic Eagle Hotel can attest to this (although contrary to popular lore, Washington never stayed there, since it was built in 1826, long after his death and the fort's destruction).
Today, the story of young Washington traversing the waterways, avoiding death twice, and spending three days at the French fort lives on through the Fort LeBoeuf Historical Society and its museum. If you haven't visited recently — and I regrettably had not — you will be amazed by the interior renovations to the museum and the way in which the region's colonial and native history is presented.
The historical society operates not only the museum but the entire Fort LeBoeuf Historical Campus. It began in the 1970s with the preservation of the Eagle Hotel, which at the time was at risk of being demolished. The hotel is now home to the popular Amish-style Sugar 'n Spice restaurant as well as a ballroom on the third floor. Around a decade ago, when the state was looking to unload numerous local properties (which included the museum, the neighboring Judson House, and the George Washington Park), a major effort was put forth to raise the necessary funds to secure them for the society. They were successful.
I was invited to tour the museum by my wife's colleague, Don Pearce, a fellow history teacher and local history enthusiast. We met there on a late Tuesday morning and were greeted by Jim Edwards, who curates the museum, and Bob Briggs. They are two veterans of the Vietnam War and longtime friends who had a matched jovial charisma and were legitimately happy to have me there and show me around.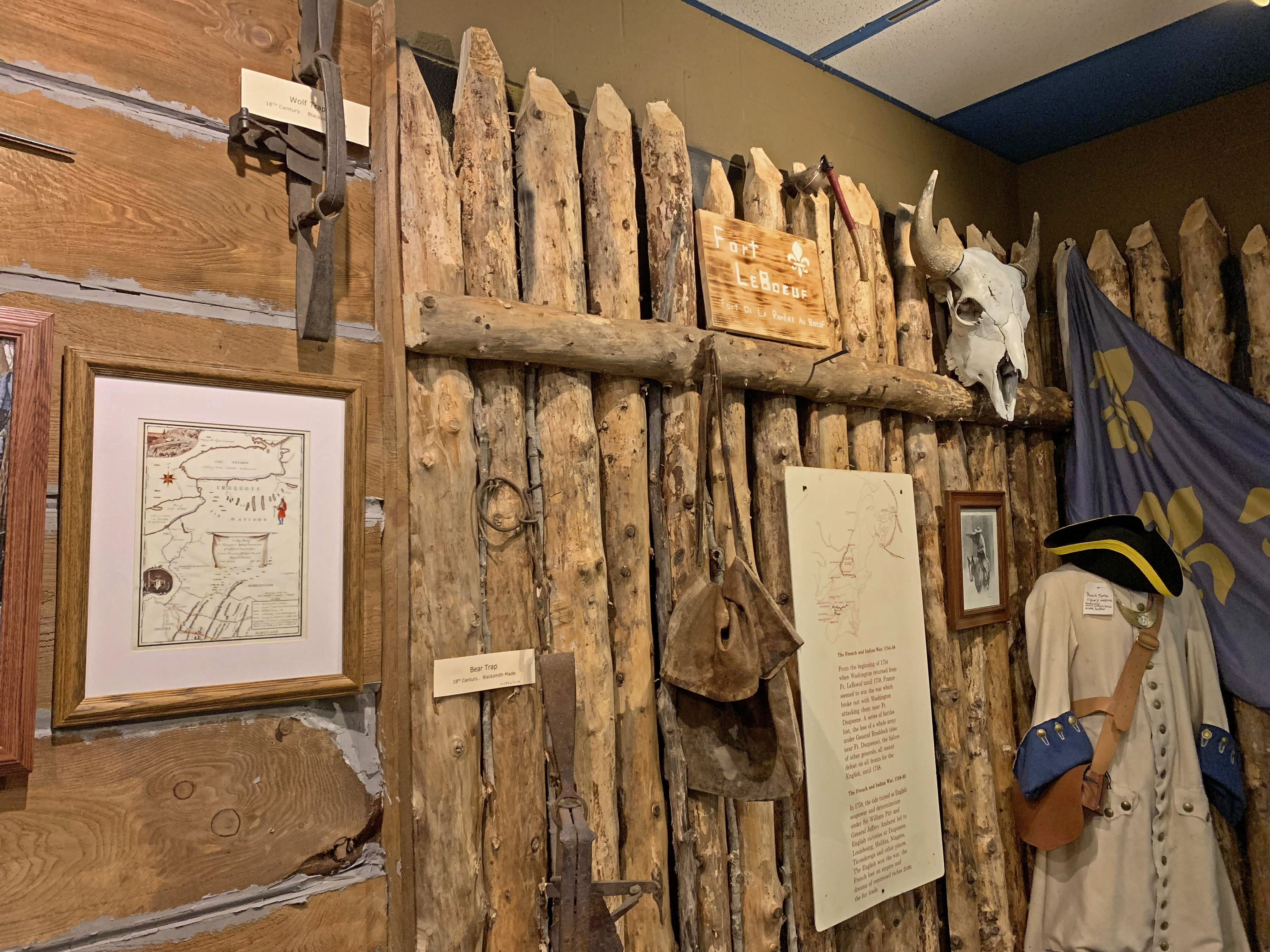 "I just like hanging out here," Bob joked, then thumbed towards Jim. "He does all the work."
Bob was being modest, of course. It wasn't long before Jim and Don began discussing Bob's impressive knapping work.
"He's a master," Don said.
Indeed, he is. They showed me some of his work: masterfully detailed arrowheads made of flint and obsidian and other stone. I asked how he ever learned such a skill and he recounted how he'd gone to a demonstration many years earlier and it caught his interest, so he got a book on it.
"It was this thick," he said, holding his fingers a couple of inches apart. "I didn't understand any of it at first, it was so technical."
Since then, he's turned a hobby into something more, teaching numerous knapping classes at the museum and elsewhere over the years, both to children and adults.
After some more wandering conversations — normal when you get four folks interested in history together — Jim led me through the walking exhibit, eagerly answering each of my questions and providing tidbits on how the museum secured an artifact or who created a replica. That person was often Jim.
"If I can't find it, I try to make it," Jim said. "If I can't make it, I try and find somebody who can." Clearly, Jim knows a lot of people in the field, which stems from his years as a reenactor, his initial entry into living history.
His curation of the museum is no amateur work. The stories of the indigenous men and women, the fur trappers, the French and the British soldiers, and Pontiac's Rebellion are all represented well. Artifacts and replicas, uniforms and types of dress, maps, and artwork, and an authentic arrowhead collection are all contextualized with informational displays.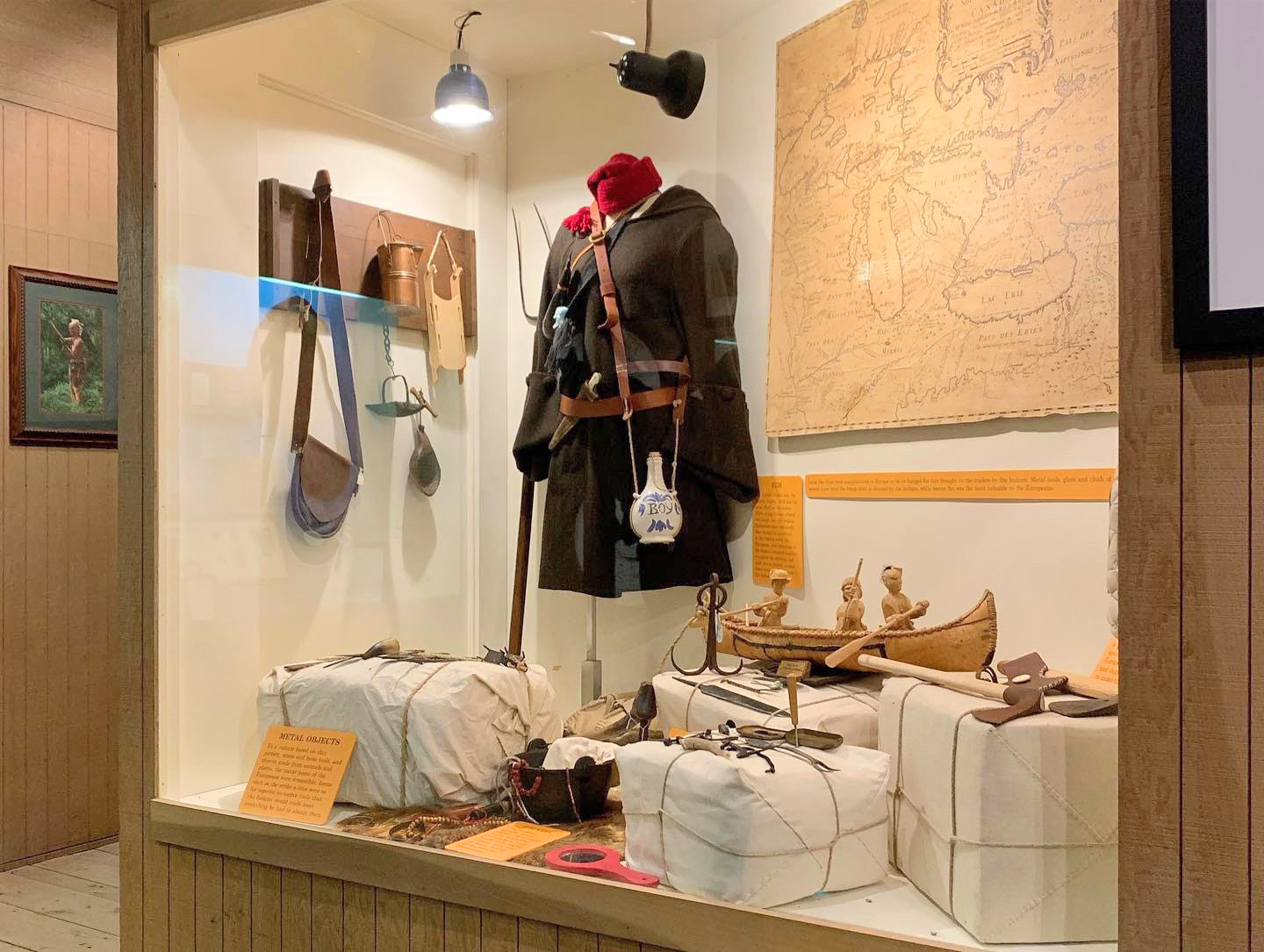 I was stunned by the professionalism of the renovations and just how different the inside was than my last visit a decade earlier. The outside façade remains the same (although Jim showed me his plans for renovating it), but inside is an extraordinarily curated small-town museum.
Running a small-town museum is no easy task either. Such museums rely on the support of tourists, but also a consistent stream of locals. As Evelyn Edson wrote for the American Historical Association, most small-town museums "run on a shoestring [budget] by a legion of unpaid volunteers."
Funding is nearly always an issue for small-town museums (even state-operated ones), so the search for grants and developing fundraising opportunities that actually attract people is a constant challenge.
With the Fort LeBoeuf Historical Society, it is the passion of those involved such as Jim Edwards, Bob Briggs, Don Pearce, Marsha Strohmeyer, Judy Nelson, and so many others who spend countless unpaid hours improving and promoting their offerings that make for such a special experience.
On a beautiful Saturday morning, it is worth the trip to Waterford to walk the historical campus. Explore the park and take some selfies with George Washington's statue. Enjoy a lunch at the 200-year-old Eagle Hotel. Cross the street to explore the museum and tour the neighboring Judson House, which was built in the early 19th century by merchant Amos Judson.
You can follow their Facebook page to keep an eye on the fun events hosted by the society. Recent offerings have included popular ghost hunts and haunted walks, guided historical tours, lunch & learns, renowned guest speakers, escape rooms on the third floor of the Eagle Hotel, and demonstrations such as blacksmithing, flintknapping, and needleworking.
While you're at it, make it a goal to visit each of our area's museums and follow their social media accounts. Not only will you learn more than you expect at each, but such explorations of local history also provide an enriching sense of community and place. Most are familiar with the Erie Maritime Museum and the Thomas B. Hagen History Center at the Watson-Curtze Mansion in Erie, but there is also the lesser-known Firefighters Historical Museum on Chestnut Street. There is the African Americans in Erie County Heritage Trail throughout the city, the Hornby School and Lake Shore Railway Museum in North East, the Battle Museums of Rural Life in Girard, the Sturgeon House in Fairview, the Hurry Hill Farm Maple Museum in Edinboro, the Baldwin Reynolds House Museum in Meadville, the Seneca-Iroquois National Museum in Salamanca, and every small-town museum from Cambridge Springs to Union City and beyond.
In order to continue to provide such indispensable historical experiences, each of these require our support — and who knows? Maybe you will even find yourself lending your own skills or expertise.
Fort LeBoeuf Historical Museum Hours
(May through November)
Friday — 10 a.m. to 3 p.m.
Saturday — 10 a.m. to 4 p.m.
Sunday — 1 p.m. to 4 p.m.
Jonathan Burdick runs the historical blog Rust & Dirt. Follow them on Twitter @RustDirt, and on Instagram @RustandDirt.