Pro Wrestling: Alive and well in Erie, Pa.
Local organization Pro Wrestling Rampage celebrates its 7th anniversary.
November 12, 2014 at 7:40 AM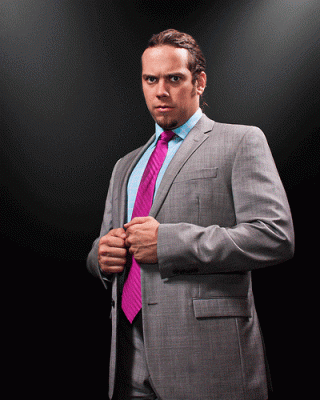 Professional wrestling is a succulent cocktail wiener of truth wrapped in a delicious, flaky crust of theatrical bravado.
Much like deceased(?) comedian Andy Kaufman (who famously did a performance-art stint as a woman-wrestling, redneck-baiting, overly-litigious New York City asshole), that succulent, delicious, flaky treat is junk food for some, and sustenance for others – so much so that professional wrestling has grown from its Steinbeckian Great Depression-era roots as a barnstorming carnie show into a multi-million dollar worldwide entertainment juggernaut.
Now I don't know about you, but when I think about multi-million dollar worldwide entertainment juggernauts, I immediately think of World Wrestling Entertainment – the ubiquitous wrestling league helmed by the McMahon family for more than 60 years that has spawned such colorful cultural figures as Andre the Giant, Hulk Hogan, the Iron Sheik, and the Undertaker.
Vince McMahon & Co. have undoubtedly taken wrestling to new heights in the past half-century, but if you look closely, near the edges of the gigantic shadow cast by this megalithic multimedia conglomerate, you'll see – in the tiny social clubs and dingy darkened bars and drafty high school gymnasiums, in hundreds of cities across North America – that beneath that gigantic shadow thrive a plethora of small, independent leagues, like Pro Wrestling Rampage right here in Erie.
"Pro Wrestling Rampage is the best wrestling bang-for-your-buck anywhere going," says Jamie Scott, owner of the promotion. "We pride ourselves on being high-action, high intensity entertainment."
PWR does a monthly show at the Saga Club, generally on the second Saturday of the month, while also performing various random shows as opportunities arise – like last summer's event in conjunction with the Erie Sea Wolves baseball team at Jerry Uht Park, during which a ring was set up on the field and wrestlers from PWR squared off against each other. These events can involve up to 30 "personalities" – including wrestlers, managers, announcers, referees, and handlers; however, PWR itself boasts nearly 60 participants in all, some of whom come from as far as Toronto to appear at events like their upcoming "7th Anniversary Spectacular."
"It's going to be spectacular," Scott deadpans. "We have two of Erie's best wrestlers going one-on-one for the Heavyweight Title. Big League John McChesney will defend his belt against [former tag team partner] Omega Aaron Draven."
As though the existing intrigues of that storyline aren't sufficient, McChesney delicately implied to me that he would get the better of his friend-turned-foe during the aforementioned contest.
"I'm gonna beat that dude's ass," he tells me by phone one bleary eve, "because I am the man of Erie Pennsylvania."
"Big League" is a great example of the Kaufmannesque and Kafkaesque duality of this endeavor – a highly trained, highly dangerous individual who morphs into and literally lives his character. When I questioned him on such routine banalities of real life as his day gig and how he got into wrestling, he acted like I was an idiot who was questioning the very sun in the sky.
His day gig, he told me, is being Big League. All day. Every day.
And he's always been a wrestler, just like the universe has always been here since the Beginning, since the Alpha.
But can Big League best "Omega?"
I plan on showing up to this 7th Anniversary Spectacular to find out. If you do, too, you'll also catch the main event: A steel cage tag-team title match. Krimson and War Child – known as the "Dead Wrestling Society" – will defend the belts they just won last month against the men they took it from – "Homegrown Heroes" Bigtime Bill Collier and Jimi the Hippie.
"They've been feuding since this summer," Scott tells me. "It's been getting violent, and really, there's no end in sight with these two tag teams. We had to put them in a cage because one of the referees got injured during one of their matches, last month."
Krimson – a deranged, Joker-like figure – blew some sort of red mist into the referee's face, temporarily blinding him.
"He won't be back for some time," Scott says of the unfortunate ref.
Regardless, Scott is optimistic and insistent about the future of professional wrestling in Erie. Through the matches PWR holds, and the promo videos they shoot, PWR is reaching a hungry fan base eager for bigtime wrestling in a small-town atmosphere.
"We're hungry," he says of the company's long-term goals. "We're not going to rest on our laurels, because we haven't made it yet."
PWR's 7th Anniversary Spectacular takes place on Saturday, Nov. 15th at the Saga Club, 3828 Washington Ave. Doors open at 6:15. Tickets are $13, $11, $10, and $5 for students under 16. For more information, check out www.Facebook.com/ProWrestlingRampage.
Email Cory Vaillancourt at cVaillancourt@ErieReader.com or find him on Twitter @VLNCRT. Kay Fabian contributed to this report.