Q & A: Emily Brooks
A local woman's set to make it big in Hollywood.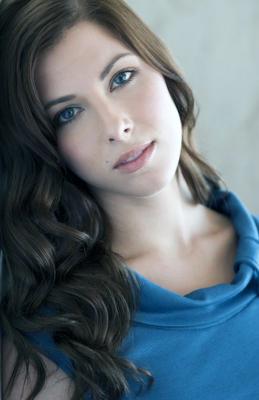 Every artist takes a different path to success but each path is woven with a common thread: rarely is one's first attempt at their chosen craft greeted with ovation. The sculptor makes a pinch pot first, the novelist writes a book about himself, and the rocker learns his first major scale. The world of film acting in is no different.
Erie native and McDowell Graduate Emily Brooks comes from a theater background, acting in school plays until that thread wove its way into her true calling, her true tapestry: film acting. Maybe you've seen her cast a spell as the White Witch in "Narnia" at the Erie Playhouse [13 W. 10th St.] or as the charming Reon Sweeney chasing Billy Crocker in "Anything Goes" at Mercyhurst [501 E. 38th St.], but now you can see her somewhere else: the big screen.
Under tight wraps just like the conclave, "The Appearing's" release date is still secret. The film – based on true
I literally left my body and everything was so real, it was like, really happening to me. This was the first time I had – 100 percent – felt like I was not acting at all… It was really scary, and really real.
events – revolves around a young women's exorcism, her secret past, and the battle with the demons lurking inside her. Emily Brooks promises it'll be out this year; and to make up for it, she dishes about her humble roots in acting, a moment of possession, and most importantly, [slight spoiler alert] stabbing Patrick Swayze's brother.
Matt Flowers: What sparked your interest in taking on an acting career?
Emily Brooks: I started singing at church when I was a little girl… The next thing I know I'm at the Erie Playhouse auditioning for "Rumpelstiltskin."
MF: In how many plays have you acted?
EB: Oh my gosh, a lot. [Laughs] I'd say 40-plus.
MF: How many of those were back in Erie?
EB: The majority of them were in Erie… Then I moved on to [Indiana University of Pennsylvania] and did shows there… [But] I'm done with theater actually… I realized I just wanted to do film acting… So my parents mustered up some money so I could take this workshop [at the New York Film Academy].
MF: After your study in NYC, did you still have to do some research for your part in "The Appearing?"
EB: Oh yes, I got so into this. I watched every single exorcism movie that was on Netflix and then some. I researched real exorcisms that have happened throughout time, I listened to Latin over and over again…  I wanted this role so bad, and I [only] had three days to read the script, figure out my character, and get the Latin down… I consumed myself with this stuff.
MF: Is that your actual voice in the Trailer for "The Appearing."
EB: That is really me.
MF: How is "The Appearing" different from other exorcism movies?
EB: I start out really nice, like Miss Betty homemaker, but then as the movie goes on, I'm looking messed up. [In] the newer exorcism movies [the possessed] look messed up from the beginning… I think that's one of the biggest differences – it's more shocking and more suspenseful as well. You're just waiting for it, waiting for it, waiting for it, and it just drags you along, and then BAM! it happens.
MF: Are you a big horror movie buff?
EB: Totally, I'm such a sicko. My mom always tells me that because I have always loved horror movies since I was a little kid. I don't know, I like to be scared… It's interesting to me.
MF: What is the best piece of advice you've received from another actor, actress, or director?
EB: [During the last take of "The Appearing] I literally left my body and everything was so real, it was like, really happening to me. This was the first time I had – 100 percent – felt like I was not acting at all… It was really scary, and really real. Don Swayze [Patrick Swayze's brother] says to me afterwards, "That's an actor moment." I looked at him and I was like, "Okay, Don." He's like, "No, you should go and write about that and you should go and buy yourself a cupcake or something." [Laughs] He says, "You've just experienced a moment you'll never go back from."
MF: Who does Don Swayze play in the movie?
EB: Sheriff Hendricks… We have this retractable knife, and there is this part where I use it on him – almost – ahh, I'll leave that open to interpretation, but I accidently stabbed Don Swayze because the retractable knife stopped retracting and it became a real knife! [Laughs]
MF: Tell me a little bit about the director, Daric Gates.
EB: This is like his first big film he directed… He does a lot of work; anything from sound to [film] editing… He worked crew on a bunch of big films ["Mr. & Mrs. Smith," "Friday Night Lights," "A Lot Like Love"].
MF: How many movies have you acted in?
EB: I just got cast in my second big film since "The Appearing." It's filming for seven weeks, and it's actually filming in Pittsburgh… It's a bigger budget than "The Appearing" and it's also going to be in 3D… Unfortunately, I can't even talk about the title right now.
MF: Have you ever worked with an actor or actress that just couldn't act worth a damn?
EB: Yeah. A lot. [Laughs]
MF: What do you do in that situation?
EB: Just believe in what's happening as much as you possibly can… [But] a lot of it also has to do with direction. If an actor is doing poorly and cast in that roll, I'd blame it on the direction. I think every actor that does get a part is talented in some way, and it's up to the director to bring that out of them, and sometimes directors don't want to do the work.
MF: What is your biggest achievement?
EB: The immediate thing that popped in my head was being able to rise above negativity and the people who said I couldn't do this, and do it… I think it's getting here [to L.A.].
Matthew Flowers can be contacted at mFlowers@ErieReader.com, and you can follow him on Twitter @MFlowersER.