Rave On with Buddy Holly
Experience the life and death of this rock 'n' roll pioneer at the Warner
February 12, 2020 at 1:30 PM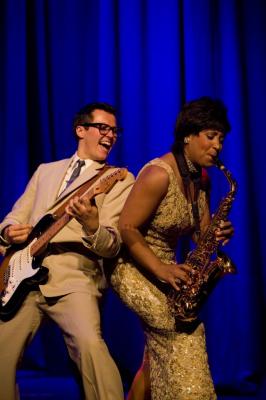 Saturday, Feb. 22
Experience Buddy, the Buddy Holly Story in the latest Broadway in Erie event. This musical chronicles the meteoric rise to fame and tragic death of the rock 'n' roll pioneer. Holly is known for his trademark horn-rimmed glasses as much as he is known for his catchy pop songs about young love.
This musical journey follows Holly as he churns out hit after hit in a brief two years, starting out with Buddy's first hit single "That'll Be The Day" hitting the airwaves in 1957. What followed was a string of classics including "Peggy Sue," "Everyday," "Not Fade Away," and "Rave On." All told, the show features a total of 20 hits from the rock 'n' roll legend's short career.
The musical concludes with Holly's untimely death, dubbed "The Day the Music Died." Buddy Holly was killed alongside the Big Bopper and Richie Valens in a plane crash near Clear Lake, Iowa. Both musicians were on the road with Holly for The Winter Dance Party Tour, a tour that zigged and zagged through the Midwest during the brutal winter months of 1959. In honor of his tour mates, fans can also expect to hear performances of "La Bamba" from Richie Valens and "Chantilly Lace" by The Big Bopper.
Even though he passed away over 60 years ago, Holly's songs are timeless for a reason. Whether it's about being in love or falling out of love, Holly created a template for romantic songs, and it's a formula still present in today's popular music. — Larry Wheaton
Saturday at 7:30 p.m. // Warner Theatre, 811 State St. // $39 - $69 // broadwayinerie.com