Reader Eater: The Sheraton Bayfront Grille
Executive Chef Michael J. Cerrie brings Sicilian-inspired American cuisine to Erie.
October 15, 2014 at 7:40 AM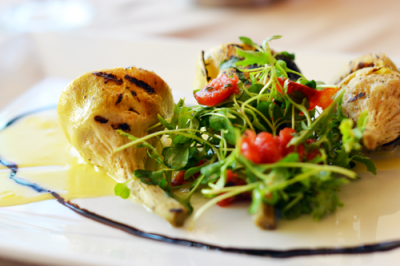 When the Sheraton Erie Bayfront Hotel opened amidst great fanfare in early 2008, their signature restaurant, the Bayfront Grille, wasn't exactly regarded as a destination by locals, despite the cool ambiance and the stunning views.
For the first several years, the food was standard hotel fare – nothing too exciting or interesting; just a few power salads and berry bowls and boring burgers to keep conventioneers and the occasional random tourist sated until their next round of greasy Midwestern garbage eaten from a basket in some beery Erie dive bar.
However, since late 2010, Executive Chef Michael J. Cerrie's been crafting his vision of contemporary American cuisine that's built around a rustic Sicilian backbone. No, that doesn't mean it's all spaghetti and meatballs; the North East-born Cerrie is possessed of a Sicilian heritage that demands robust, simple, and fresh ingredients. Cerrie's treatment of those ingredients is nothing short of spectacular, which is probably why the Bayfront Grille is currently rated number-one for guest satisfaction out of all the Sheraton restaurants in the nation.
Let us start with salads – which can be trickier than you think; lettuce is such a blank canvas that the opportunity for creation it offers is both liberating and terrifying. A well-balanced salad, like Cerrie's blackberry and spinach, presents a delicate mix of sweet, sour, and salty flavors, much like his watermelon and feta salad, which also offers curious textures.
Another textural fait accompli on the appetizer menu is the flash-fried calamari – so lightly battered and delicately fried that one may devour the whole basket, eagerly sopping up both lemon basil aioli and marinara, without feeling full and sleepy afterwards. The same goes for the Prosciutto-wrapped rabbit, which sits neatly upon a serene bed of white cheddar grits that are, remarkably, not over-cheesed – a seemingly inescapable phenomenon north of the Mason-Dixon.
Other appetizers exhibit a bolder flavor profile, like the goat cheese croquette slathered in a rich sun-dried tomato pesto and the Jonah Crab-stuffed grilled artichoke hearts, both of which serve as great lead-ins to the simpler, milder flavors present in Cerrie's meat dishes.
Take the New Zealand rack of lamb, for example. No, seriously, take it – it's not buried in some goopy demi-glace, or slathered in a horrible mint jelly. It's got a milder taste that actually lets the diner – gasp! – taste the meat.
Ditto for the grilled ribeye, which is understated and unassuming; however, if this dish is a high school dance, the ribeye may be the shy kid standing against the wall, but he's accompanied by the gregarious and ebullient bacon bleu cheese bread pudding that's currently dancing with your date.
A delightful surprise for my dining companions and I was the house-smoked pork chop; none of us professed any affection whatsoever for this non-bacon incarnation of pork, but it was so perfectly pink and beautifully smoked – not too heavy, not too light, not to dry, not too wet – that we couldn't resist, it forcing us to have to rethink our respective positions on non-bacon pork in the future.
Perhaps it was Cerrie's time spent cooking in the notoriously "big flavor" Caribbean that tempered his approach to classic American meat dishes – bombastic, flavor-forward meats are the culinary equivalent of the magician who only knows one trick; sure, it's a neat trick, but almost anyone can do it with a little practice, and it gets old fast.
With seafood – especially whitefish – the converse is true; real artisanship lies not, as with meat, in restraining flavor, but rather in releasing it, and Cerrie's Sicialian know-how (think about it: Sicily is surrounded by water) really shimmers on this section of the menu. He takes great pride in both the quality and preparation thereof, and told us that any seafood shipped to the Sheraton is guaranteed to have been alive less than 18 hours before it's plated.
That commitment to freshness and flavor results in some stunning presentations.
Although the Maryland crab cakes were possibly the most pedestrian offering on the seafood menu, they were perfectly cooked and accompanied by a mustard vinaigrette that complemented them nicely; they might be the best in the area.
Another possible "best" in the area is the bacon-wrapped Lake Erie Walleye, which was firm and tender and also sat upon that fluffy pillow of white cheddar grits. However, our final selection – the decadent Bay of Fundy Salmon topped with Antarctic scallops - stole the show.
Both the Salmon and the scallops were noticeably non-fishy, but were eager to reveal their sublime flavors once intermingled with the roasted Roma tomatoes, fennel coulis, and tomato oil that accompanied them. Almost unbelievably, however, it was the Himalayan red rice that made this dish really interesting. It has a coarser, firmer texture and tastes like no rice I've ever encountered. If you're like me, you probably spend about as much time thinking about rice as you do thinking about translating the Lord of the Rings into Klingon. Really, who ever notices the rice? My fellow diners and I did, and it was good. So good that I just spent 82 words describing it.
Unfortunately, there are not enough words to describe the desserts that soon appeared on our table; of note, the apple beignet was flaky and delicious, but the "free form" crème brulee – served as a ramekin-less dollop – left us feeling as though we couldn't wait to return to the Bayfront Grille to sample more of Cerrie's masterfully crafted menu.
The Reader can be contacted at Contact@ErieReader.com.