Register Early for Environment Erie's Bike Around the Bay
On May 14, Environment Erie's Bike Around the Bay returns for the 14th year. 
April 27, 2016 at 1:00 PM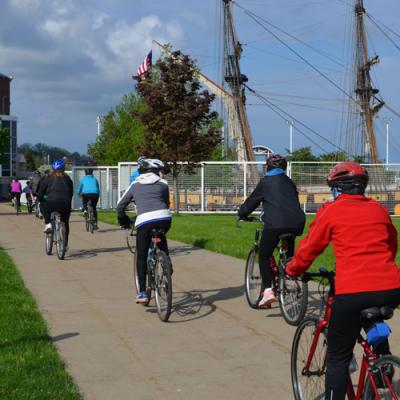 On May 14, Environment Erie's Bike Around the Bay returns for the 14th year. This year, the ride begins at the lovely Presque Isle State Park Cookhouse pavilion and ends with lunch for all participants at the Rotary pavilion.
The event offers three route options to suit any level of biking enthusiast, with individual start times for each route. Those at a slightly higher fitness level than I can choose the 10-mile route, while those who put in a lot more effort than I may choose the 30-mile route. Or, people who could laugh at me (but don't, because cyclists are a loving bunch) will choose the 50-mile route.
Register by May 5 to guarantee a t-shirt and water bottle for individual riders, or water bottles for each member on a family registration.
Or procrastinate, as some of us do, because our larger donation does more good for the cause (justification); but forget the guaranteed t-shirt and water bottle. Motivated people can register online now at environmenterie.org.
Individuals and families are encouraged to register and ride. This is a particularly good event for large families considering the flat family registration fee. The kids could probably benefit from less video game time, and the beauty of our bay area ensures optimal enjoyment for all.
Registration fees fund Environment Erie's educational programs and support their mission to sustain our natural resources through education, restoration, and revitalization. Allow that to bolster your procrastination if you must, but remember the early bird gets the worm … or at least the lower fee. – Angie Jeffery
Early registration fee is $25 per person or $50 per family until May 5; $30 per person or $60 per family fee through May 12. For further information check environmenterie.org or call 835.8069.