Rob Hoff: Erie Jazz Radio Host Celebrates 42 Years on Air
"From my perspective," he says, "jazz today is more diverse and more exciting than ever."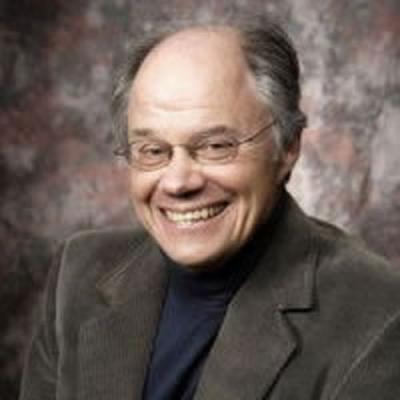 When you learn that Rob Hoff was born in New York City just two blocks from the Village Vanguard – regarded by many as the greatest jazz club in the world – it seems perfectly reasonable, if not inevitable, that he would spend much of his adult life involved with jazz.
Involved indeed. Hoff, who's daytime profession is professor of various psychology courses at Mercyhurst University, recently observed his 42nd  – that's 42 consecutive years – hosting a jazz show on WQLN-FM (91.3), Erie's public radio station.
The 70-year old could be called a jazz baby. Like so many jazz musicians and fans, Hoff learned about America's contribution to the world's arts from his parents.
"My interest in music started when I was a kid listening to my mother's recordings of Ella (Fitzgerald) and Sarah (Vaughan) and especially Billie Holiday, and my father's big band recordings," he explains. "And I had an Uncle Bill who lived on the East Side in Manhattan and took me to jazz concerts in the city. And another uncle took me to his subscription series to the New York Philharmonic then conducted by Leonard Bernstein."
Hoff grew up with a love for both jazz and classical music, and in view of that double devotion, Hoff has served both idioms as a member of the Erie Philharmonic board and JazzErie's performance committee.
Hoff's radio career began back in 1967 on the campus station at the University of Minnesota in Minneapolis, where he was a graduate student. He started, one might say, at the bottom, with a 1 to 3 a.m. shift, and after a while, he was upgraded to a Sunday afternoon slot and eventually got on the Twin Cities' NPR station.
After moving to Erie and Mercyhurst, Hoff joined the WQLN staff. His first broadcast went on the air Jan. 7, 1973. He's done a variety of jazz shows at various time slots, and even a contemporary classical program before coming up with his current presentation called "JazzFlight," which runs from 9 to 11 p.m. Monday through Thursday, comprising a third of the station's weekly jazz programming.
Hoff's definitely "The Man" at WQLN; in fact, there's a plaque on the wall behind the receptionist's desk in the station's lobby saying as much.
It should be noted, however, that even with that much jazz on air, WQLN still has its critics among jazz fans for not programming any daytime jazz.
So how does "JazzFlight'' come together?
"I rarely compose a playlist in advance," says Hoff, who records his show on Saturday and Sunday mornings beginning at 7. "I'll take about a dozen recordings, including some current releases. I'll kick things off with a tune I've been enjoying during the week. That usually sets a mood or triggers some association, which in turn, leads to the next set of selections."
Hoff likes the idea of the building being empty when he records. "There are no distractions, so I get to pay close attention to the music and try to imagine sharing the moment with the performers in real time."
Hoff does not claim perfection, but feels that ultimately things work out.
"I readily acknowledge that there are occasional misfires in the sequencing, but it's always great fun when the links among disparate music become evident. As others have noted, it's all one song."
Hoff will take requests and sometimes play something he knows will please certain listeners. On the other hand, there are some artists he won't play "simply because they are too outside (dissonant, avant-garde, progressive) for most listeners."
When it comes down to it, Hoff acknowledged that he – like most jazz radio show hosts – plays what he likes. They play their favorite music – old and new – and hope listeners agree with their choices. Hoff admits an inexplicable shortcoming on his show that lasted awhile until a number of listeners let him know about it.
"I wasn't playing singers," he says. "I'm not sure why, especially since my mother loved them so much."
On the other hand, he was alert to a new trend in jazz and jumped on it.
"I started to hear the term 'world music,' so I began playing music from different countries."
Word on the street was mixed on the new addition to his show, as some liked it, while others disliked it.
Most people naturally want a show host to know his/her subject so that as listeners they can possibly learn as they listen. The soft-spoken, mellow Hoff doesn't talk a lot, so he doesn't display his knowledge to a great extent in that manner. He demonstrates his familiarity through his musical choices that are most often sophisticated, stylistically varied, exotic, worldly, and nearly always appealing and interesting.
In short, you know he knows the music.
Hoff notes that since WQLN began simulcasting jazz shows on its website, as well as Facebook, it is common to hear from listeners all over the country – and the world.
"I have received recordings from performers in Brazil, Japan, and Eastern Europe – all hopeful of getting on the show. And it is a pleasure to accommodate," says Hoff.
Ask him whom he has seen live and you'll be amazed: "(Thelonious) Monk, Miles (Davis), John Coltrane, (Charles) Mingus, Duke (Ellington), Bill Evans, Sun Ra, Sarah (Vaughan), Carmen (McRae), Ella (Fitzgerald), Keith Jarrett, Ornette (Coleman), Max (Roach)," Hoff rattles off. "I've been fortunate enough to see many great artists. When I went to undergraduate school in New York (Wagner College), I was a regular at the Vanguard from 1962 to '66.''
Hoff and his wife Dar try to get to New York once or twice a year. Where are they certain to visit? Correct: The Village Vanguard.
Hoff hasn't earned a penny from those 42 years of high-quality broadcasting. Like many jazz show hosts on radio, Hoff is considered a volunteer.
"In theory, I think jazz show hosts should be paid – at least in the largest markets," says Hoff. "The situation locally, however, is different. I think the jazz hosts on WQLN are simply grateful we have the opportunity to share the music we love with the audience. The feedback we receive is payment enough."
As he enters his 43rd year as a jazz show host on WQLN, he does so with as much – or possibly more – enthusiasm than ever, not just for the show, but jazz itself.
"From my perspective," he says, "jazz today is more diverse and more exciting than ever."