Runner's High Part 2
We heard from the novice... now here's the expert. Patrick Doyle offers beginning runners so guidance on the trails
April 20, 2011 at 12:09 AM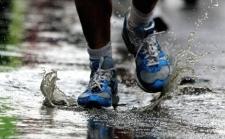 "So," she said. "I want to run the Pittsburgh Half-Marathon." That was Abby's way of telling me she needed my advice and my company during her training. I, of course, obliged in the offer, registered for the 13.1 mile race, and have been by her side, offering up my "expert" advice ever since. We've been running consistently through downtown Erie, Presque Isle, and had one fun bound through the bogs of Erie Bluffs State Park (which, by the way, culminated with one of the most stunning views of the lake).
From time to time you might catch us trotting down Sixth Street to Frontier Park or ambling quietly past the fishermen at Dobbins Landing. I am supposed to be the running "expert," Abby the novice. Both of us run, however, knowing that I keep a dirty, little secret: I have never run a half-marathon. OK. The cat's out of the bag. So sue me. That isn't to say I don't have some decent advice for Abby and beginning runners alike.
Truthfully, this time last year I was waist-deep in training for my first full marathon (26.2 miles), which I completed last May in three hours, thirty-four minutes and change—not setting the running world on fire by any stretch. But at least I can hold my head high knowing I set a new Doyle family record. I think the experience of having willingly put my body through such hell qualifies me as a running "expert." And each marathoner, myself included, approaches the race differently, experiences different psychological and physiological trauma, manages the pain in different ways and therefore will have something unique to bring to the running conversation.
That being said, I have another confession: I am learning just as much about running from Abby as she is from me. In particular, I am learning about the challenges that beginning runners face, the misconceptions they have about the sport. Thanks to Abby, I have pinpointed at least three misconceptions that some beginners and non-runners have about running.
First, running is a spectacle. False. Don't ever invest stock in that statement. You aren't lacing up your running shoes in preparation for battle. You aren't campaigning for best dressed runner or best running form. You shouldn't be out running to prove anything to the world. In fact, the less premeditated you make running, the easier it is to do. Do not over-think it. Do as Nike says and "Just Do It." It's a simple human act, right? Thinking about it will only psych you out. In doing and not thinking, you will find that when it's all over, it wasn't half as bad as you would have otherwise convinced yourself it would be.    
Another common misconception is that running can be learned. Why else would there be publication after publication preaching the many "schools of thought" on running? The implication then is that running can also be taught. That's news to me. I don't recall as a child anyone holding my hand, teaching me to put one foot in front of the other in rapid succession. "Mechanics of Running" wasn't a staple subject of my grade school curricula. Running is something that kids do fluidly, naturally, and—most bewildering—injury free. It's us adults who inflate it and make it as intimidating and tedious as Calculus. We too often let the anticipation of the injury and pain we associate with endurance sports muddy our perceptions of what running really is about (what running is about is a different animal altogether).
We see kids run all the time. Kids of all shapes and sizes. All of them running for different reasons. And you'll find that they aren't afraid to run in their nicest Sunday church attire either. Kids don't consider context when they run. They just run. Yet we seldom question why they run. I think maybe at the root, they are eager and in a hurry to discover the world. And the most engaging way to discover it is on your toes. Kids never complain about shortness of breath or pulled muscles, shin splints or aching knees. At worst, it's a bruised shin or scraped knee. If there is anything to learn about running, we might be best served to learn it from kids (dogs too!). Kids know how to be active in nature in ways adults may never know. Adults, rather, tend to stigmatize running. We put up signs that say, "Do Not Run." We scold kids for running in the halls at school. Are we really sending the right message? No wonder they grow up to hate running. If we encourage responsible ways to run, there is no reason why churchgoers shouldn't mad-dash down the aisles to their pews (I encourage all readers to try this).
Maybe I'm wrong. Maybe I have to accept that we don't exist in a world that openly welcomes running. Perhaps this unreasonably rigid world would have trouble bending for me. No matter. If I am breaking the rules, a world that doesn't run will have their hands full trying to catch me.
The third misconception of beginners and non-runners is that you can't just run for the sake of running. You have to have some New Years resolution tied to such a painstaking activity. That kind of thinking characterizes running as something unnatural, like waiting in line at the bank. My advice: make running your own thing. Don't run because someone tells you to run. Don't run to lose weight (although, losing weight might be the added bonus).
I run for many different reasons. Some reasons I can't even put into words. If you haven't guessed, I run because it connects me with nature. My "runner's high" is more like a spiritual high. I run for the same reason kids run—because it's a sensory experience, an experience that actively connects me to a world I'm constantly longing to discover.