Sadikov Stops 22 Shots as Erie Climbs Into Fifth Place
With another win Friday night, the Otters climbed into fifth place in the Western Conference
March 11, 2011 at 11:05 PM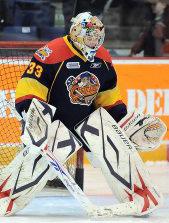 By ALEX SIBLEY
ASibley@Eriereader.com
The biggest game of the season for the Erie Otters turned out to be just like the rest of them have been lately – another easy win at Tullio Arena.
The Otters took care of the Plymouth Whalers in workmanlike fashion Friday night in a 5-1 win headlined by Ramis Sadikov, who made 22 saves in his first game back since missing the previous six with a leg injury. The victory, Erie's fifth straight, moved the club into sole possession of fifth place in the Western Conference.
"I feel great," Sadikov said. "Last night, I was so excited to play. I'm good right now, ready for the playoffs."
Coming into Friday's contest, Erie trailed the Whalers (35-24-1-4)  by one point for the fifth slot. By the end of the night, the Otters had flexed their power and moved one spot closer to the fourth seed, which guarantees home ice advantage in the quarterfinal round.
"That was our biggest game of the year so far," said Brett Thompson, who scored two goals and added an assist. "It's big for our confidence. They were trying to run around at us, but we just stuck together as a team and pulled out the win."
Winning has been contagious inside the Otters' locker room, as they have felt the bitter taste of defeat just twice in their past 11 games. It's not a bad time to start getting hot, with fourth-place Windsor having Saturday off, an Erie win over Kitchener tonight at home would tie the two clubs in fourth place.
To make things worse for opponents, Sadikov, who is the OHL's second best goalie with 33 wins, appears to be as healthy as he has been this season.
"(The leg) feels good," said Sadikov, who injured his leg in a second-period collision Feb. 19 against Guelph. "I feel 100-percent right now. The guys trust me, every game."
If he had any nerves in his return, the Erie offense made it as easy as possible for him in the opening two periods.
Greg McKegg and Phil Varone scored 1 minute, 26 seconds apart midway through the first period to stake the Otters a 2-0 lead. McKegg's power-play goal was his team-leading 47th of the season, while Varone added two more assists to cap a three-point night.
Those two goals ended goalie Matt Mahalak's night, as he stopped just 4-of-6 shots before being replaced by Scott Wedgewood – a move that proved to be meaningless.
Erie extended its lead 11:25 into the second period, as Anthony Luciani weaved through two defenders before being tripped up. The overage winger had the presence of mind to stay with the play, and tip in his 29th of the season with just one hand on his stick.
"That's a good, hardworking goal," Thompson said of his line mate's goal. "It's not pretty, but those are the goals that win games."
The effort shown on that goal was the same effort Erie used throughout the game. At times, the Otters (37-26-1-1) controlled the puck in the Plymouth zone for two or even three minutes, creating a plethora of quality scoring chances.
"The guys took advantage of some scoring opportunities early," coach Robbie Ftorek said. "It was just a good win for us."
Thompson scored the next two goals to give the Otters a 5-0 advantage before a deflection by Plymouth's Stefan Noesen cancelled the shutout attempt by Sadikov.
It was just a minor blemish in what Sadikov hopes to be a strong finish to the regular season, which has three games remaining.
Erie came to life when rookie goaltender Chris Festarini took over the duties between the pipes, as he won four straight games after losing his first eighth decision of the year.
But ultimately, this team depends on Sadikov to be strong every night in goal – especially down the stretch where every point matters.
"Rammer is one of the best goalies in the league," Thompson said. "We have a lot of confidence in him. It's always good when you have a quality goalie like that on your side."
His team believes in him without a doubt, he's been the guy all season. Now, it's Sadikov's job to lead his team into a deep postseason run.
"I'm just warming up right now," he said. "The playoffs will be fun."
~Alex Sibley covers sports for the Erie Reader. You can contact him at ASibley@Eriereader.com, or you can follow him on Twitter @ErieReaderSport.