Save The SeaWolves
How both past and present games matter to our community
January 1, 2020 at 1:30 PM
When the shocking news broke that Major League Baseball aims to axe 42 minor league teams, including the Erie SeaWolves, I took it personally.
I write about baseball. I tweet about baseball. My former roommate and I text about baseball. We have been known to "LOL" about the time an assistant dean heard us discussing the ERA and he thought we were discussing the Equal Rights Amendment, when we actually meant the Earned Run Average.
I not only love baseball, but it's also part of my love life. I once broke up with my college boyfriend only to start speaking to him again after the Mets (his team) and the Pirates (my team) split a four-game series over Easter break. Now that we're married, we root for the same team: He is the Game Day guy for the SeaWolves (allowing fans to follow along with the game's progress online in real-time) and I'm an usher.
But my objection to the MLB plan to eliminate the SeaWolves isn't a vanity project. I know that Major League Baseball Commissioner Rob Manfred doesn't care about my lifelong affection for the game, or the devotion of minor league fans across the country.
Instead, Manfred and his organization claim they have to slash the number of minor league teams to improve their business model and to help players develop. MLB states that there are too many players in the minors, making it impossible to pay those players a proper wage, and insists that the teams slated to be abolished have substandard facilities.
Baseball writers and professionals who work in the minor leagues have debunked those arguments. These experts also point out, correctly, that minor league baseball is part of the economic engine in cities and towns across the country. Manfred doesn't care that eliminating 42 teams will result in lost jobs, as well as disheartened fans.
A new essay for the Jefferson Educational Society lists the positive economic impact that the SeaWolves have on Erie's economy, including $955,000 in annual payroll, $1 million in spending by the team with local businesses, and $93,366 in state tax revenue from the current $12 million renovation project. Alan Swigonski wrote the essay. He served as president of Team Erie, which fought hard for the construction of the ballpark now known as UPMC Park after the MLB said that Erie Ainsworth Field was substandard in the mid 1990s.
The $12 million major renovation project at UPMC Park is funded by a grant from the state's Redevelopment Assistance Capital Program. "There are a number of improvements happening," Greg Coleman, president of the SeaWolves, told me. "There will be upgrades to concessions, the restrooms, the suite level, the beer garden, and the picnic cover," he said.
"Additionally, we'll have a four-story building in left field that will house a team store, the ticket office, and a 200-person stadium club," he said. The new building will have "a huge impact on our future," Coleman said, allowing the SeaWolves to operate a facility year-round. "It takes jobs that are seasonal and allows us to make them full-time," he said.
Training facilities and amenities for players will also be improved. For example, sections of the outfield wall will be replaced with additional padding added to protect the players and the batting cages will be climate-controlled. "On those cold April days when the players need to take a few swings, we will be able to make that a little more pleasant for them," he said.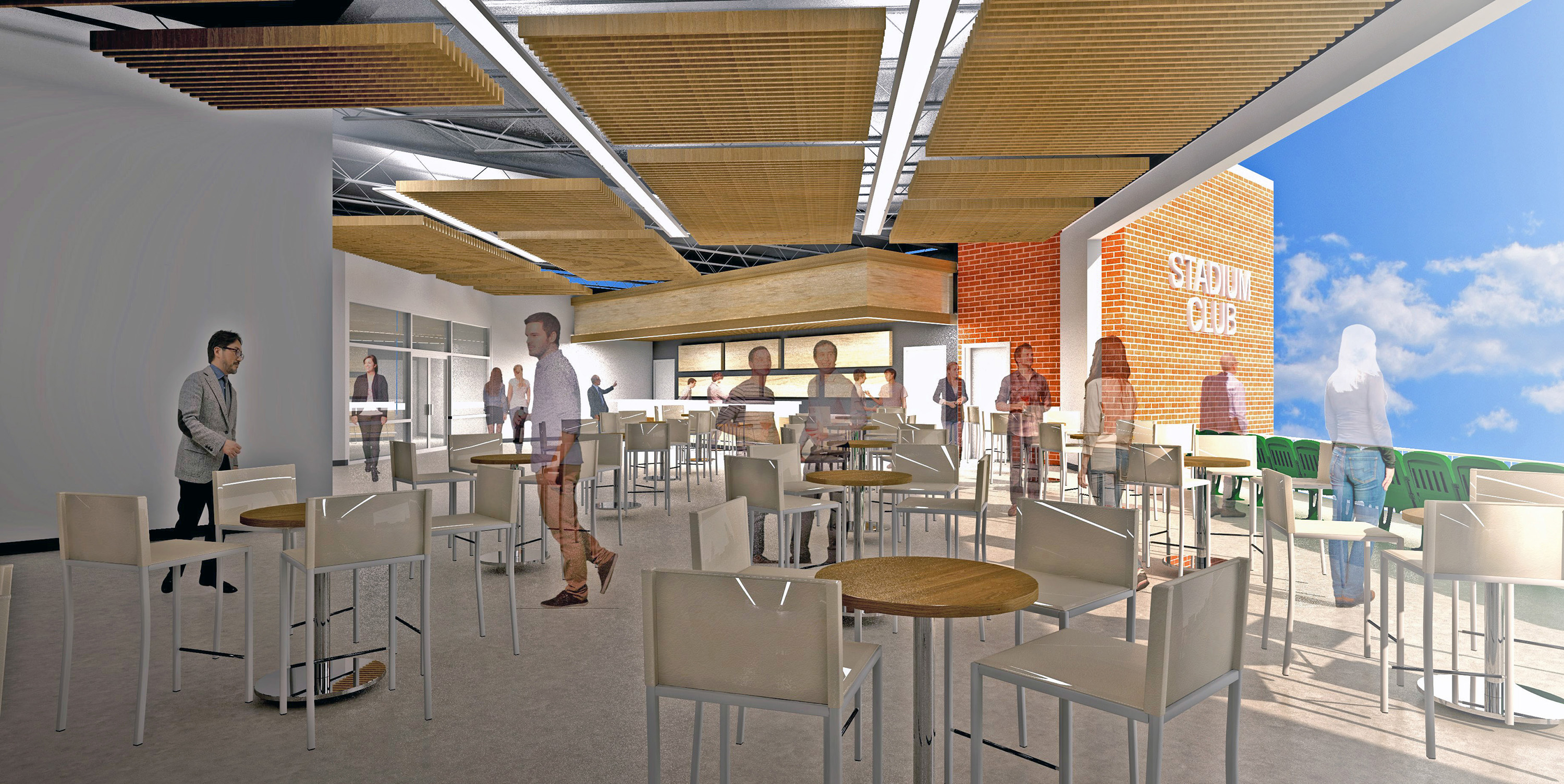 These artist sketches show the improvements being made at UPMC Park. The ballfield is being upgraded even as Major League Baseball has put the Erie SeaWolves on a list of 42 minor league teams it wants to eliminate.
But baseball is more than a sport and larger than a business. Professional baseball is part of Erie's narrative, helping to explain who we are and to reflect on our ideals as a resolute, proud, beleaguered, bemused, optimistic, inclusive, and welcoming people.
My late dad introduced me to baseball and its history, but my colleagues at the Erie Times-News added to my knowledge about Erie baseball when we worked on a special souvenir edition, "Field of Dreams," for the grand opening of Erie's new baseball field in June 1995.
One of my favorite stories in that section is Gary Wesman's take on "Turkey" Mike Donlin, who grew up in Erie at St. Joseph's Orphanage with his 13 siblings after their Irish-immigrant parents died. Wesman's story describes Donlin's talents when he played for the New York Giants, his history of alcohol abuse, his brushes with the law, and his success in vaudeville and in Hollywood.
In 1915, Donlin produced and starred in his own movie, Right Off the Bat. Wesman reported that the 1989 book Everything Baseball describes Donlin's film as "a self-mythologizing autobiography detailing the slugger's rise from small-town hero to big league star."
Places like Erie rely on self-mythologizing tales about overcoming long odds to succeed, because we are all too familiar with such odds. We don't stand out on the map. We are stereotyped as a down-on-our-luck Rust Belt community. Our geography puts us in the center of a lot of bad weather.
To compensate for real or imagined negatives, we like to remind outsiders of key roles that Erie has played in American history, from building the ships for the Battle of Lake Erie to producing Tom Ridge, who grew up in Erie to become Pennsylvania governor and the first Secretary of Homeland Security.
Erie's place in baseball history may not be as illustrious as defeating the British at sea in 1813, but our baseball history has lessons to extract.
For example, in another story by Wesman in that special section, I learned about Louis Bierbauer, an Erie native who, by happenstance, gave the Pittsburgh Pirates their nickname.
As Wesman and others have recounted, Bierbauer, a brass foundry worker, had played for the Philadelphia Athletics but signed with the rival Pittsburgh Alleghenies in 1891. Pittsburgh, in essence, stole Bierbauer and the team became known as the "Pirates."
I learned more about Bierbauer in The Pirates Reader, edited by Richard Peterson. The book includes a 1910 story by Alfred R. Spink about how Pittsburgh manager Neal Hanlon signed Bierbauer. "(Hanlon) went to Erie in the depth of the winter to secure a contract from Bierbauer. He found him on Presque Isle, his favorite 'hang out.' Hanlon had to cross the ice on the harbor in a bitter storm, but he finally reached Bierbauer's shack and before leaving had secured his signature in a contract to play with Pittsburg." (Spink spelled Pittsburgh without the "h.")
Spink's story speaks to Erie's character. We don't cower in the face of bad weather. We embrace it, as the Erie SeaWolves have done. Following our record-breaking snowfall in the winter of 2017-2018, the SeaWolves created an Erie SnowWolves promotion, with stocking-cap handouts and snowblower prizes (we were lucky enough to win one).
Myths arise from elements of truth, and I've thought a lot about what we can learn from Erie baseball as we try mightily to make our community as welcoming and inclusive as possible. I was delighted when the SeaWolves participated for the last two seasons in Minor League Baseball's Copa de la Diversion promotions, to celebrate the contributions of Latino players.
But Erie's opportunity to acknowledge diversity in baseball — as well as the lack of it — goes back much further, to Sam "The Jet" Jethroe. Jethroe starred in the Negro League, helped his Buckeyes team (the Cleveland franchise beginning in Cincinnati) win the 1945 Negro World Series. He was named the National League Rookie of the Year in 1950 when he played for the Boston Braves (later Atlanta), the first black player on that team. Jethroe wasn't born here but he made his home in Erie, so we claim him as one of our own.
Erie also has the distinction of being home to Eddie Klep, a white baseball player who pitched one game for the black Cleveland Buckeyes in 1946.
Researchers say that Klep broke the "reverse" color barrier with his one-game appearance, but is it fair to describe the Negro Leagues as having a color barrier when it was the all-white major leagues that banned black players?
Still, Klep is remembered in "The Ballad of Eddie Klepp" by Chuck Brodsky (the song spells his name with two p's). After I read about the song and Klep's Erie connection in a 1997 Washington Post story, I interviewed Klep's widow.
But I never heard the song until I recently listened to an acoustic version on YouTube. I realized that there are lessons to be learned from the song. According to the lyrics, Klep experienced what it was like to be jeered at and discriminated against because he was in the minority. What else can we learn from walking in someone else's shoes?
That brings me to another observation about the Erie SeaWolves. Every season, these young players put themselves in the shoes of people with physical and intellectual disabilities, when they help out with adaptive baseball in conjunction with Meca Erie.
"The SeaWolves have been supporters of Meca adaptive baseball for two decades. It predates my involvement in the organization," said Coleman. "They volunteer their time on Saturday mornings to play with the kids," he said. "It's very personal to us. We think everyone deserves a chance to play baseball."
But efforts to continue raising money to create a synthetic field for Miracle League adaptive baseball at Hagerty Park are taking a "back seat" right now as the SeaWolves and others fight to keep minor league baseball in Erie.
"We're fighting for our future here," said Coleman. "If we can't solidify our place in minor league baseball, we can't begin to build a field for the community, either."
What can fans do to help that fight?
"Spread the word that we are playing baseball in 2020. We don't want there to be any confusion about that," he said. "It is business as usual through the 2020 season." Buy tickets, he said. Support sponsors. Erie needs to show that its baseball business is strong in the coming season.
Coleman said that the negotiations with Major League Baseball will be a long process. "We don't want these various proposals to take any of the excitement away from what is going to happen at the ballpark. UPMC is going to be a better place to watch a ballgame."
Liz Allen misses her dad, who taught her to love baseball but never bought her a baseball mitt. She can be reached at lizallenerie@gmail.com.
To learn more about Major League Baseball's proposal to eliminate Minor League Baseball franchises, including the Erie SeaWolves, visit www.jeserie.org to read "Erie may lose pro baseball," by Alan Swigonski.