Scaling The Mountaintop
Katori Hall's play about MLK's last day hauntingly relevant
September 14, 2020 at 10:15 AM
Dr. Martin Luther King Jr. didn't know the speech he delivered on April 3, 1968 would be his last, but he seemed to have a sense that his life could be taken from him at any time. The thousands in attendance at the "I've Been to the Mountaintop" speech heard King petition (as he had many times before) for a United States where actions and policies aligned with ideals, where people of color would be afforded the same rights and protections and respect as their white brethren. As he closed out his speech that evening at Mason Temple in Memphis, Tenn., he eerily foreshadowed his own assassination. 
"I don't know what will happen now. We've got some difficult days ahead. But it really doesn't matter with me now, because I've been to the mountaintop. And I don't mind. Like anybody, I would like to live – a long life; longevity has its place. But I'm not concerned about that now. I just want to do God's will. And He's allowed me to go up to the mountain. And I've looked over. And I've seen the Promised Land. I may not get there with you. But I want you to know tonight, that we, as a people, will get to the Promised Land."
The very next day, on Apr. 4, 1968 at 6:01 p.m., King was shot dead while standing on a balcony outside Room 306 of the Lorraine Motel in Memphis. 
It is during the leadup to that fateful evening that Tennessean playwright Katori Hall's The Mountaintop is set. Set exclusively in King's motel room as a storm rages ominously outside, the Reverend Doctor is visited by a mysterious messenger named Camae, who breaks some grim news. After its London premiere in 2009, the play was lauded for its rich symbolism and complex treatment of King as a flawed but extraordinary man, going on to win an Olivier Award for Best New Play in 2010 — the first-ever presented to an African-American woman in that category. Its Broadway debut followed in 2011, with A-listers Samuel L. Jackson and Angela Bassett portraying King and Camae, respectively. 
Now the baton has passed to the Erie Playhouse for a limited production run taking place the weekend of Sept. 18-20, with all proceeds benefiting the Black Lives Matter movement.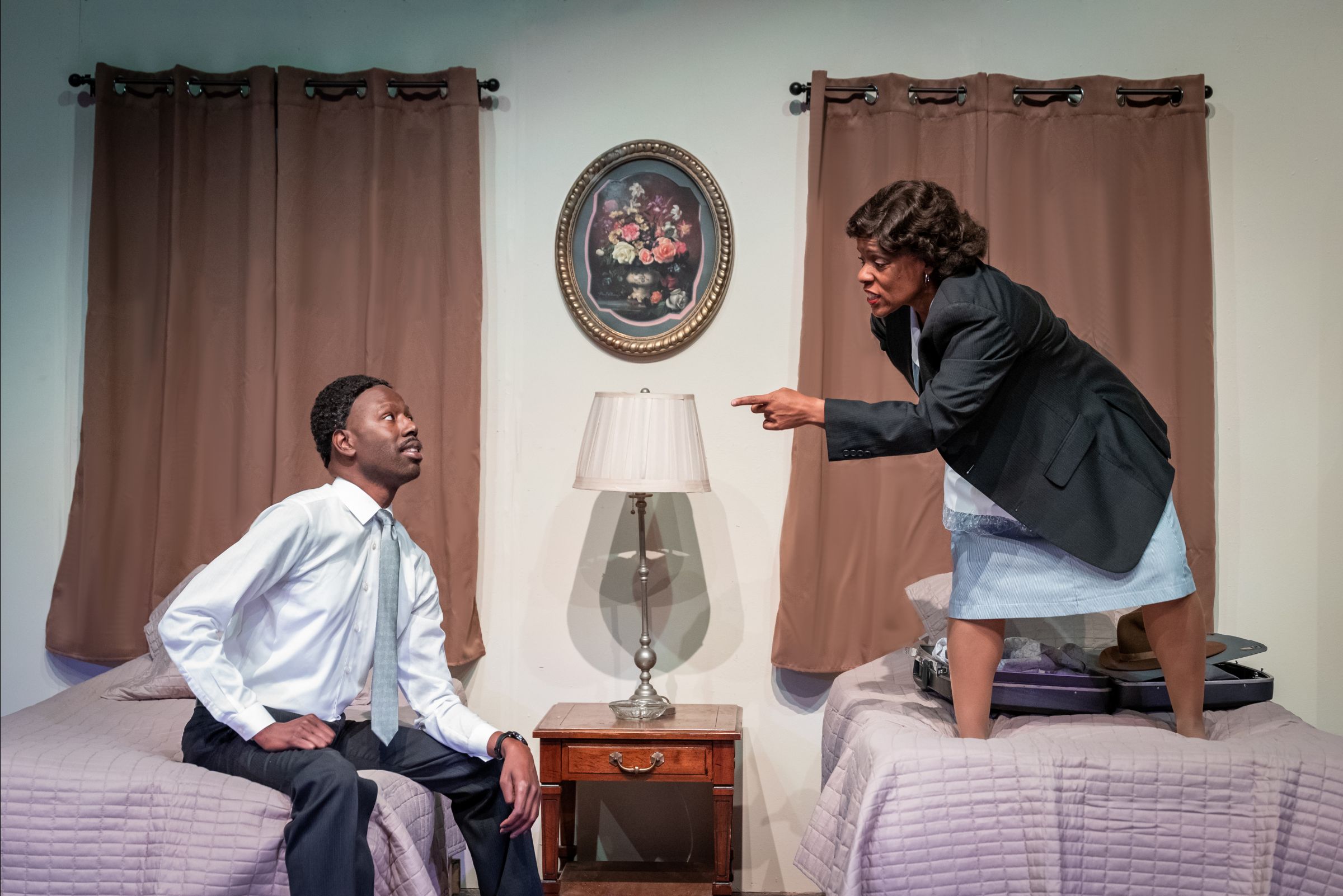 Starring Hayes Moses (above left) and Carla Hughes (right), the evening will be hosted by Nicci Page, with a  live talkback with Moses, Hughes, and co-directors Kate Neubert-Lechner, and Bill Williams.
You'll have to get to The Mountaintop from your desktop or laptop, as the performance will be virtual-only. However, given the events of these tumultuous times, the play's immediacy and relevance can not be denied, socially distanced, or not. 
Streams live Friday at 7:30 p.m., broadcast available through Sunday // $12.40 for virtual access key // erieplayhouse.org