Sew Many Masks, Sow Much Gratitude
Local Facebook group Mask Erie crafts masks by the thousands
Mask Erie came together like so many grassroots movements do — over a drink. It was a Friday the 13th in March and the horrors of the COVID-19 pandemic were just becoming real for most Pennsylvanians. Public health advisories about community spread, reports of medical PPE shortages, murmurings of a statewide lockdown … that's enough to send anyone seeking a little something to take the edge off. But few people are able to transform a glass of wine into over 15,000 face masks (and counting).
Bridget Hannon Foust, a family nurse practitioner licensed in Pa. and N.Y., is just as astounded as you are. "It's absolutely incredible how me drinking some wine and scanning Facebook on a Friday night led to such an incredible endeavor that has been tiring but rewarding beyond words."
"I saw people on Facebook starting to post under many different sites and pages, 'I need a mask,'" she recounted. "It didn't seem like anyone was coordinating any kind of effort — so I started the Facebook group Mask Erie." 
That weekend, she recruited the "Anns" — Ann Millimaci, Ann Fabrizio ("the Google spreadsheet master"), and Annie Sallow — to assist her in inviting others (Anns and otherwise) to the group. By that Monday, it had grown to over 100 members, and it exceeded 1,000 shortly thereafter. The communicability of the novel coronavirus is not in question; Foust's supply-deprived peers in hard-hit N.Y. could attest to that. But once Mask Erie's newly acquired army of "sew-warriors" got to work, the philanthropic spirit proved even more infectious. 
To maximize both the efficiency and quality of production, Foust and her team set out to devise a blueprint. "We chose what we felt would be the best pattern for healthcare and frontline workers — should they ever need to be worn over an N95 or need to have a surgical mask inserted," she explained. "Our mask has a triple layer — you can insert a filter, such as polypropylene, surgical drape, or a blue shop towel — or it can be worn over a medical mask."
Comfort was another key consideration in their design, which is why they opted to integrate bias tape into the masks' construction instead of elastic loops (which can become painful with extended wear). Bias tape is a narrow strip of fabric cut on the bias, or at a 45 degree angle to the prevailing direction of the textile fibers. Compared to fabric cut with the grain, it is stretchier and more flexible, making it a fine (and by some accounts superior) substitute for elastic for fitting purposes.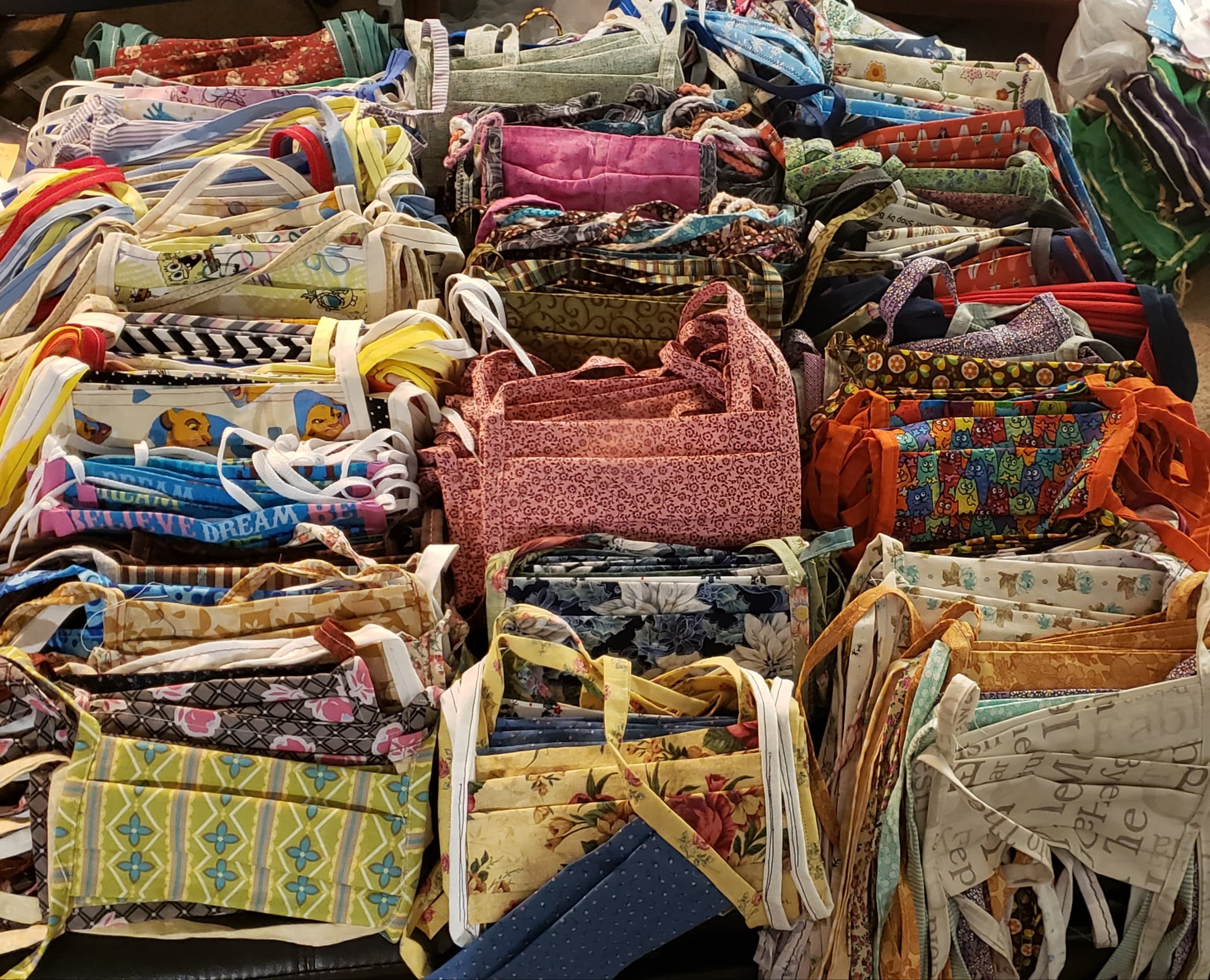 Via Bridget Hannon Foust and the Mask-erie Facebook group
Requests increased "substantially" after quarantine began, and further escalated after the CDC began promoting universal masking. Fabric masks, which were at first deemed inadequate as PPE, were suddenly in great demand. "Remember when hospitals said they would not accept fabric masks? Based on my own observations in hot spots, I suspected that would change." When local officials began to echo that sentiment, she knew she was justified in her convictions to continue making the masks, expressing that it was "fortunate" that they did. 
"The needs and priorities seemed to change daily," said Foust. "At first it was nursing homes, then all essential and frontline workers, and most recently apartments and daycares and outpatient centers, who need them for employees and children." That's without mentioning the general public.
Because Mask Erie had such a vetted process in place — from sign-up to production to collection and delivery — they soon had partnerships with the Erie County Department of Health, ServErie, the Grace Churches, and the Medical Reserve Corp. all sewed up. "In many ways that was a blessing, to be able to have additional assistance handling the individual requests."
Those requests have been served by nearly 100 Mask Erie seamstresses since the group formed, with several "adopting" an organization to donate to. Among the more prolific  contributors have been Val Kuhn Rose, who recruited the Waterford Kiwanis to help produce hundreds, if not thousands of masks. Along the way, the administrative group has assisted members with tips and tutorials on sewing, orchestrating fabric donations, acquiring supplies, and arranging deliveries.
Foust also gives nods to Ashley Westgate of ServErie and Diane Wright of Grace Churches, "who have been instrumental in coordinating efforts with their organizations." Another seamstress, Lauren Azatea, took the lead on contacting individuals who came forward with family personal requests. Foust's high school home ec teacher, Melinda Tackett, is still diligently practicing what she once preached, leaving 25 to 50 masks in Foust's tote box "every. single. day."
Seamstresses need support, and the group has been tight-knit in that regard as well. Local business owners Judy Fenton (Millcreek Sewing and Vacuum), Kelly Giewont (Kelly's Sewing Corner) "not only donated an incredible amount of materials early on, they have also been incredible helping people troubleshoot sewing issues or issues with machines. Another sew-warrior, Janet Rose, has elevated sewing machine humor to an art and co-heads the group's Zoom "sewcial" hour with Foust "to help keep the morale up."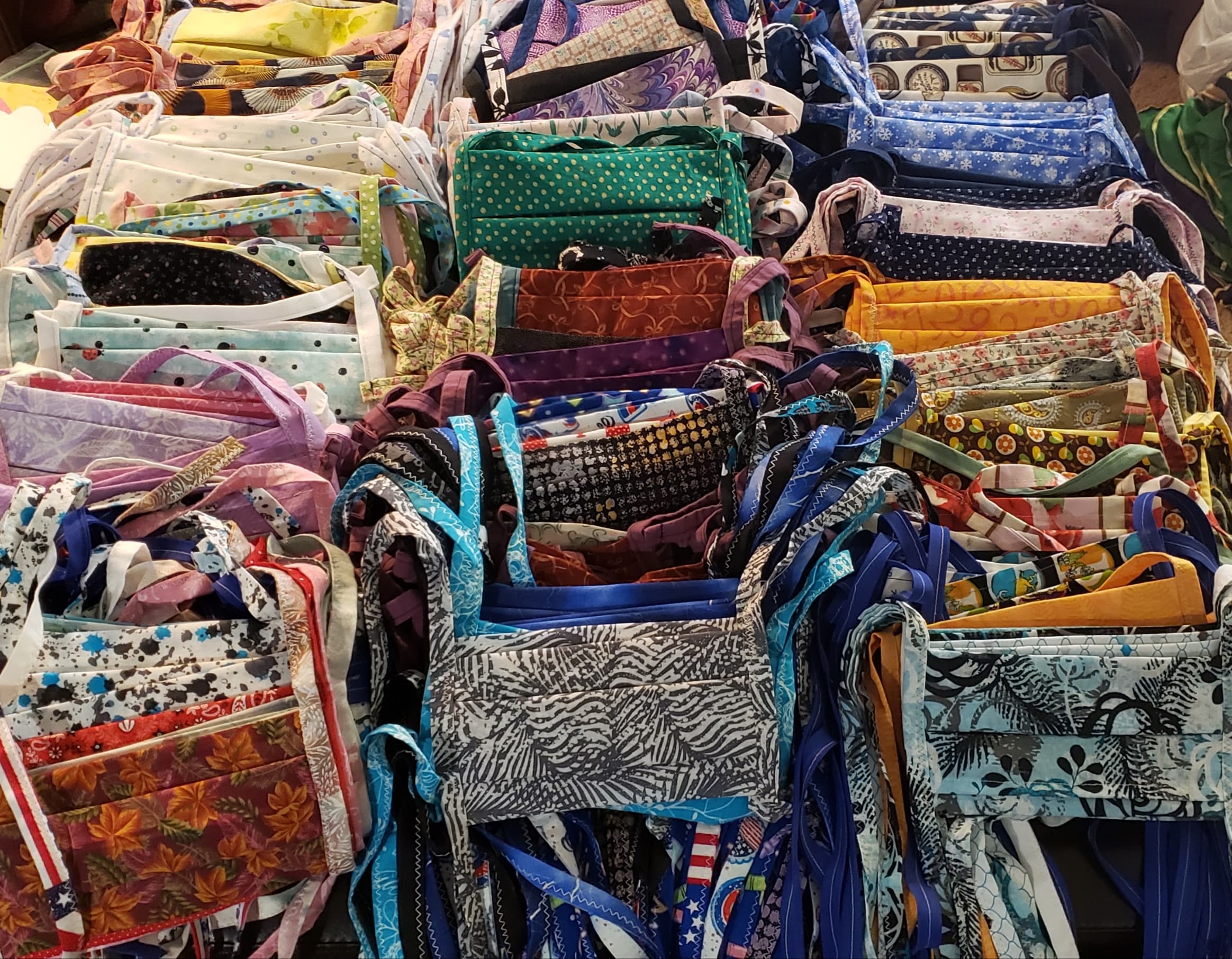 Via Bridget Hannon Foust and the Mask-erie Facebook group
Once production is completed, distribution is carried out by 20 to 30 drivers who pick up and deliver "mask mail" at locations around the county, with locking totes (an innovation of sisters Patty and Peggy Sweny, along with Peggy's husband, after discovering masks were being stolen) playing the role of "mask mailboxes." 
"Overall, it does take a lot of time to coordinate for all of us," admits Foust. "But it is always very positive. No politics have infected our group. Everything is free — we just take donations." 
And freely give them right back to the community with over 100 organizations served. We think that Foust, the Anns, and everyone involved in the Mask Erie effort deserve another glass of wine. 
Foust sends additional special thanks out to volunteers David Exler (bias tape makers), Pam Jonischek-Chodubski and Todd Keefe (ear relief devices), Ann Maas and the owners of Superstitch (sewing machine tips and troubleshooting), Mercyhurst University (washers and dryers), and the Medical Reserve Corps. (washing and packaging).

Matt Swanseger's prior experience with stitchwork definitely befits a horrorshow aesthetic. While he can't help you sew anything, he would love to help spread the word of other COVID-19 community volunteer efforts. Hit him up at mswanseger@eriereader.com with your leads.