Shake Creative Cabin Fever With Erie Phil's Verdi and Dvořák
February 26, 2020 at 1:45 PM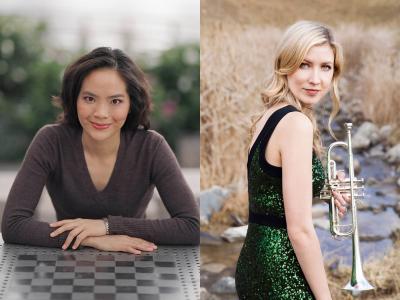 Saturday, Mar. 7
Creativity is not always about invention; sometimes it's about breathing new life into old ideas, cracking a window in a room where the air has grown stale or musty. Although the classical music tradition boasts a strong and sturdy framework, things occasionally get a little stuffy in those hallowed halls. Just in time for spring, the Erie Philharmonic's "Verdi and Dvořák" program showcases composers who've never been afraid to let a fresh perspective circulate.
In the realm of contemporary classical music, those perspectives often belong to women. Featured soloist Mary Elizabeth Bowden, a Gold Medal Global Music Award winner for her work as a trumpeter and the founder of two all-female ensembles (Seraph Brass and Chrysalis Chamber Players), will debut female composer Vivian Fung's Trumpet Concerto during the show. During the lead-up to the world premiere performance (and International Women's Day on Mar. 8), Bowden and Fung will talk about their creative process live at a Jefferson Educational Society public forum on Thursday, Mar. 5 and at WQLN Studios on Friday, Mar. 6. Additionally, Bowden will teach a trumpet master class at the Blasco Memorial Library on Tuesday, Mar. 3. All events are free and complimentary to the public.
Like many other Western traditions, classical music was once almost exclusively the dominion of men. And also in fine Western tradition, these men didn't always agree on creative philosophies. Claude Debussy's musical ideas — which borrowed from Russia and the Far East — were not roundly embraced by his conservative peers, but generated favor among later composers. Bowden literally breathes new life into iconic Debussy piano works with Three Transcriptions for Trumpet and Orchestra.
It's a wonder that Italian opera composer Giuseppe Verdi could breathe when he wrote the first version of Macbeth in 1847, which was one of 20 operas he wrote over a 16-year span. He would go on to rewrite it in 1865, due to a Parisian provision that operas performed in their theaters should include a break for their ballet dancers. Not wanting to alienate the French aristocracy, Verdi took the regulation in stride, creating a bewitching instrumental piece bookended by rousing ascents and descents, at turns mischievous and sinister.
Closing out the program is Antonin Dvořák's Symphony No. 8 in G Major. Following his much gloomier Symphony No. 7, he felt that both he and his audiences needed a breath. Drawing influence from Bohemian folk music, he debuted the generally upbeat piece at a Prague theater (without mandatory ballet interlude) in February of 1890 to great success. Czech and mate. — Matt Swanseger
8 p.m. to 10:30 p.m. // Warner Theatre, 811 State St. // $23-$56 ($12 students) // eriephil.org
For more information on related events, go to erielibrary.org, wqln.org, or jeserie.org