Simone Porter Returns to Erie Phil with Sorcerer's Apprentice
Virtuosic violinist brings fantastical scenes to musical life
February 23, 2022 at 2:00 PM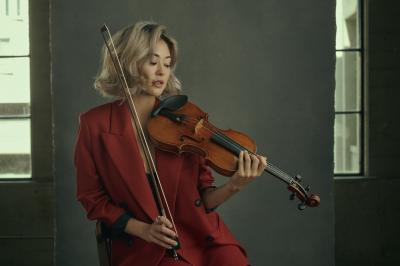 Saturday, Feb. 26
The Erie Philharmonic has set a last-minute change to their program in February. Violinist Simone Porter will take the stage for the Philharmonic's "Sorcerer's Apprentice" concert, replacing Cameron Carpenter as their featured guest.
"While we were looking forward to welcoming Cameron Carpenter to Erie to perform on the mighty Wurlitzer Theater Organ, we'll have to wait a little longer while the organ installation is completed," the Philharmonic said on their website, indicating concertgoers should stay tuned for more details.
The program is set to include Paul Duklas' "The Sorcerer's Apprentice," featured in the 1940 Walt Disney film Fantasia. Porter will be performing alongside the Philharmonic on "Scottish Fantasy" by Max Bruch, with the concert ending with Cesar Franks' Symphony in D.
"Scottish Fantasy" is steeped in the tradition of its country, drawing from folk songs to create a rich musical tapestry. "Under the spell of novels by Sir Walter Scott, Bruch freely uses folk melodies and traditional rhythms to capture the joyous spirit of this beautiful land," the Philharmonic described.
Porter first made her onstage debut at the age of 10 with the Seattle Symphony and first performed internationally at 13 with the Royal Philharmonic Orchestra in London. Since then, she has performed with the New York Philharmonic, the Philadelphia Orchestra, and the Los Angeles Philharmonic. Alongside working with various orchestras and conductors, Porter is a recipient of the Avery Fisher Career Grant in 2015.
"This piece has all of the right ingredients," Porter said after performing the composition with the Grand Rapids Symphony last year. "It has these moving, lyrical, melodic lines for the solo instrument. These rich, ambrosial orchestral textures, violinistic pyrotechnics, moments of 'heart on your sleeve.'"
Bruch's composition is in four movements, with each one telling a story. Porter says Bruch's depiction of the opening is an image of "an old bard, who is contemplating a ruined castle and lamenting the glorious times of old."
"I love playing this piece," Porter adds after describing the distinct style of each of the four movements. "It feels so luxurious. It offers fantastic moments of collaboration and conversation between everybody on stage."
Porter previously played with the Philharmonic back in March of 2019 at Allegheny College. 
8 to 10:30 p.m. // Warner Theatre, 811 State St. // $32 - 52, $10 for students // For tickets and more, go to eriephil.org/calendar/sorcerer