Simply Planning A Wonderful Christmastime
A guide to Erie's holiday happenings
December 5, 2018 at 9:45 AM
By: Matt Swanseger
Spontaneity has its charms, but nothing says holiday magic like obsessively plotting your life down to the millisecond. Well, you're in luck, boys and girls, because we here at the Reader are about to help you light up your day planners like a regular Clark "Grids"wold. You'd better hope for some orthotics in your shoes this St. Nicholas Day, because there is a bustle of activity to keep up with these next few weeks. But if Santa can do it, so can you. (For those with pedometers, Erie is 3,316 miles south of the North Pole, or 7.5 million steps — so your benchmark is set).
SEASON'S EATINGS
If you're going to go the distance, you're going to need the fuel.
Stomach Stuffers
Say "Happy Hollandaise" with a broad selection of breakfasts and brunches with Santa. On Comet, on Cupid, on Donuts and Blintzes!
12/8:  Junior's Last Laugh, 1402 State St. (10 a.m. to 1 p.m.)
12/15:

Mercyhurst Preparatory School, 538 E. Grandview Blvd. (10 a.m. to noon)

12/16: Applebee's, 4002 Buffalo Rd. (8 a.m. to 10 a.m.) with the Iroquois Marching Band
12/16: Bolero, 16 W. 10th St. (11 a.m. to 2 p.m.)
Santa Snacks
Playing Santa's helper this year but fearing for your roof's structural integrity? A couple of cookies won't weigh you down too much (just don't binge during your Hallmark movie marathons). Better yet, take your kids out on the town to eat them in front of you. Parenting is about sacrifice.
12/8 (with hot cocoa): Yehl Ballroom at Gannon's Waldron Campus Center, 109 University Sq. (11 a.m. to 1:30 p.m.)
12/8 (with milk):  Ye Olde Sweet Shoppe, 402 State St. (1 to 3 p.m.)
BONUS: Many of these activities feature crafts, party favors, and/or photo ops with the big guy himself! For more details (or links to more details), it's always worth sniffing around the Erie Reader's extensive online database at eriereader.com/calendar.
Culinary Clauses
Showing up to and supporting as many of these events as possible means you will need to become the model of efficiency. Outside of owning a flux capacitor, one of the best ways to master time management is in the kitchen.
12/6:

The

Whole Foods Co-Op (1341 W. 26th St.) will be hosting a Slow Cooker Class

 with an emphasis on immune-boosting meals at 6 p.m. Take care of yourself (and your errands) while dinner takes care of itself in the Crockpot.

12/11:

Or take the pressure off yourself with

LifeWorks Erie's (406 Peach St.) No-Pressure Holiday Pressure Cooking

 demonstration, hosted by VeganCheers' Lisa Rose from 2 to 3:30 p.m.
BOOZE COATS & UGLY SWEATERS
Drink and Be Merry
Need a bit of liquid encouragement to propel you into the holiday spirit?
12/5:

Never fear — unless the goat-demon Krampus is out and about, as he will for

Krampusnacht

at

Jekyll & Hyde's

(8 E. 10th St.) and other watering holes around downtown Erie, spanking bar-goers for their sins (unless, perhaps, you buy him a shot). 

12/8: Imbibe with a clearer conscience at the Santa Bar Crawl

, beginning at the

Bourbon Barrel

(1213 State St.) from 3 to 6 p.m., before hitting

Docksider

(6 to 8 p.m.),

Big Bar

(8 to 10 p.m.), and wrapping up at

Resolution Nightclub

(10 p.m. to 2 a.m.) Only two stipulations — all merrymaking must be done in uniform (regulation red-and-white) and a $10 donation or unwrapped toy is asked of each Santa, both for verisimilitude and to benefit the children of the Sarah Reed Children's Center.

12/8: A more relaxed (but still formal) dress code accompanies the annual Barber Christmas Ball

 at the

Bayfront Convention Center

(1 Sassafras Pier), benefiting the children and adults with intellectual and/or developmental disabilities, per the Barber National Institute's mission. Each ticket includes hors d'oeuvres, dessert, soft drinks, and two complimentary cocktails (a cash bar is also available).
Drink and Be Ugly
It's always important to dress warm this time of year, but it's even more imperative to dress ugly. Hideously woven from the threads of '70s and '80s nostalgia, tacky fashion has been elevated to savvy fashion with the rise of the "ugly sweater party." In the event your friends are too cold and humorless to invite you to one of their own, these venues are ready to welcome you into their wooly, putridly-patterned arms.
12/7: Dramashop

(1001 State St., Ste. 210) is hosting the third iteration of their

Ugly Sweater Holiday Party, running concurrently (but unconnected) with the year's final Gallery Night from 7 to 10 p.m. Snacks and entertainment provided.
12/15:

Join the

Jesse James Weston Trio

at the

Mound Grove Golf Course Clubhouse (10760 Donation Rd., Waterford, PA 16441) for their Ugly Christmas Sweater and Rock and Roll Extravaganza

. Rock around the Christmas tree — or rock with a Christmas tree around you, blinking lights and all — it matters not. Just rock.

12/19: The Plymouth Tavern (1109 State St.) will offer prize giveaways for the cringiest attire at their Ugly Sweater Party

, kicking off at 9 p.m.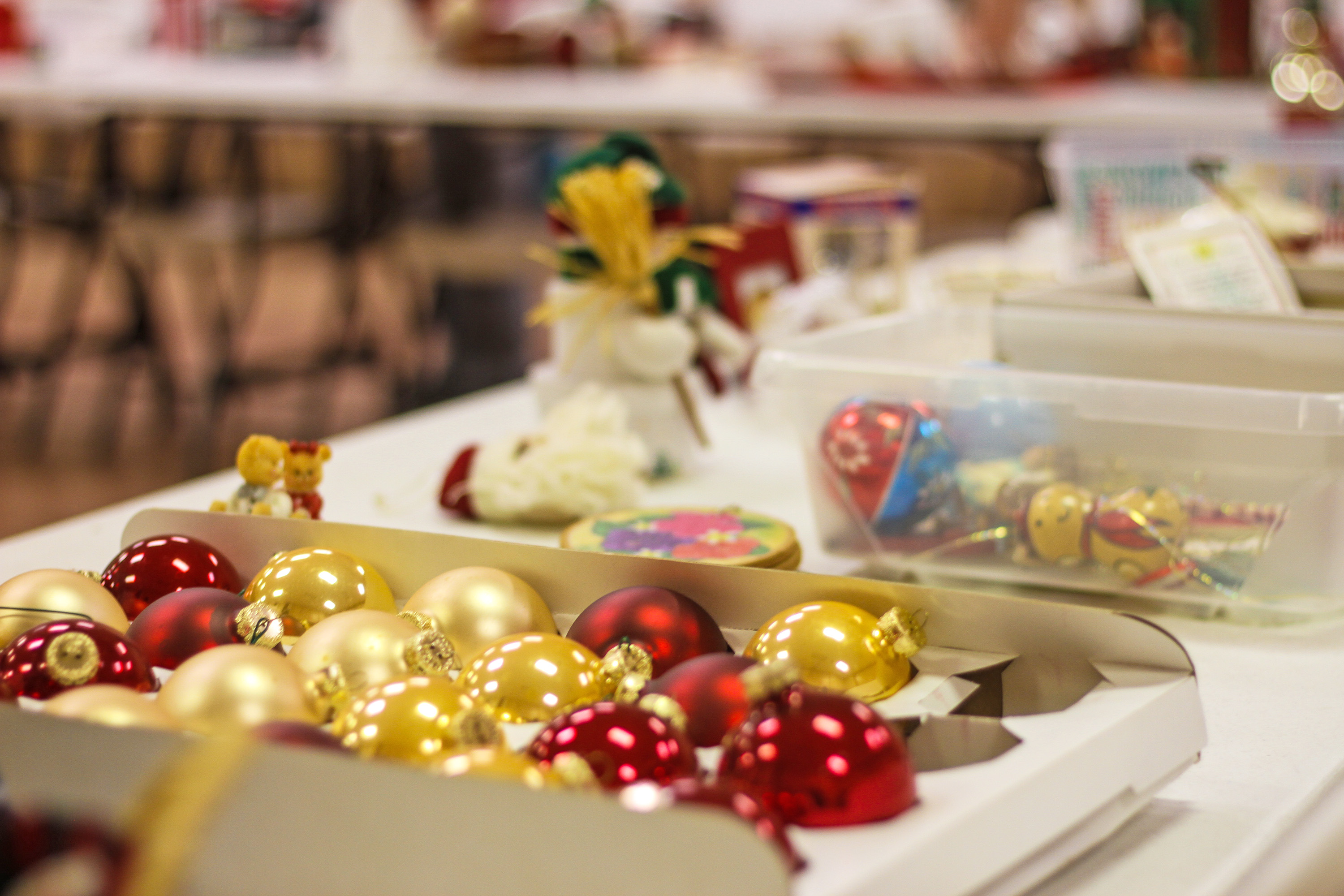 Photo: Jessica Hunter
DECKING YOUR HALLS
Picture this: your neighbors have had their lights up since the day after Halloween. Their stockings have been hung by the chimney with care since Thanksgiving and their shopping lists have been made, checked out, and checked over twice. In stark contrast, your home is more "30 Days in the Hole" than storybook North Pole. Don't you just resent them even the tiniest bit? If you're experiencing these feelings, it could be that you're what psychiatric experts call "repressed festive as fudge" (omitting the "f-dash-dash-dash" word here to avoid soap poisoning). Take the wire cutters to the barbed wire fence around your soul and liberate the industrious elf inside with these events.
Being Your (S)elf
The quickest way to embolden the inner elf is through hands-on experience (unless, of course, you want to be a dentist). Here are a few opportunities to craft your own decor (or craft vicariously through offspring or pets):
12/8:

Children can harness their holiday spirit animals (or interact with live examples from the Erie Zoo and Tamarack Wildlife Rehabilitation Center), bedazzle cookies with the Erie Kiwanis Club, and create accessories for your mantelpiece at the

Tom Ridge Environmental Center's (301 Peninsula Dr.) TREC the Halls

, with activities beginning at 10 a.m. Revisit the TREC on Dec. 9 from 2 to 3:30 p.m. for a

Beach Glass Ornament Workshop

or on Dec. 15 for a

Natural Ornament Workshop

from 1 to 3 p.m.

12/8: Family is the clay that holds us together, especially at the latest iteration of the Erie ClaySpace Family Workshop

 (1505 State St., 3rd Floor), where parent-and-child pairs will collaborate on holiday-themed slab projects from 2 to 3:30 p.m.

12/11 and 12/18: Claytopia (924 W. Plaza Dr.) is not one to screw the pooch (or their parents), offering Tuesday appointments (between 10 a.m. and 2 p.m.) to create paw print ornaments

 with your pup.
Shelling Out For Your (S)elf
Studies show that inner elves also respond well to retail therapy. In case you missed our previous "Shop Local" issue, here are a few pop-ups you can peruse during this season of Yule.
SANTADISIACS
Dutifully adhered to all the consumerist protocols and still can't get in the yuletide mood? Perhaps you just need to relax and let it happen. Lights, dancing, and music are all known Santadisiacs — stimulate your senses and get excited for the season again.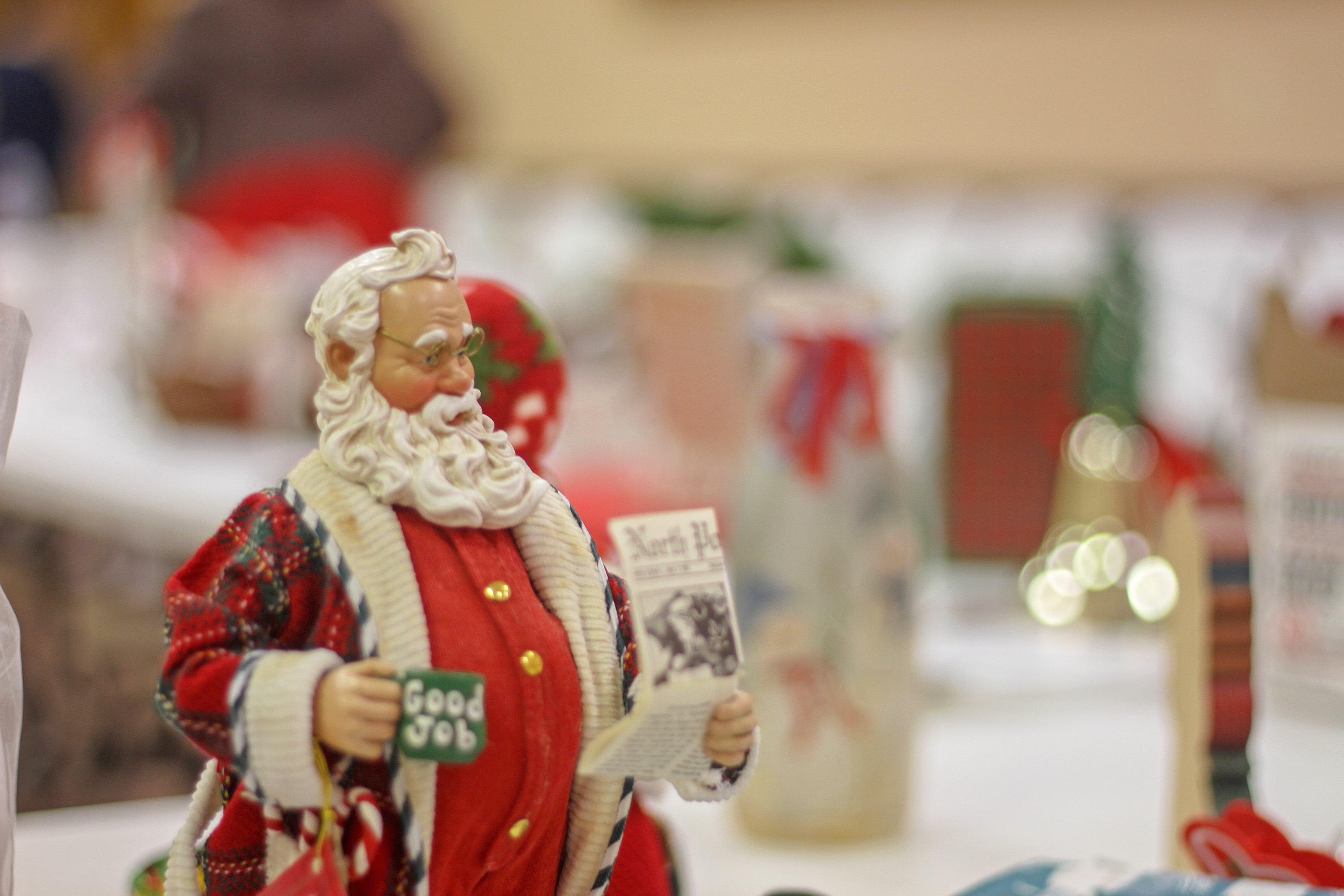 Photo: Jessica Hunter
Aural Santadisiacs
Visual Santadisiacs
Well, ingest any more Santadisiacs and our Christmas spirits will be so a-bulge we'll be staring at emergency lap band surgery. For more great suggestions, take a gander at this edition's Calendar and Spotlight sections or visit eriereader.com
Matt Swanseger has tried his best, but not always been a good boy this year. Send him questions, comments, and/or coal at mswanseger@eriereader.com