Sitting Down with Senator Pat Toomey
Discussing the state of the senate and the GOP, the filibuster, Afghanistan, cryptocurrency and infrastructure bill, Donald Trump, and more
September 14, 2021 at 10:45 AM
On Oct. 5, 2020, U.S. Senator Patrick Joseph Toomey Jr. had something to say. Some suspected it might be an announcement of a re-election bid to represent Pennsylvania for a third term in the Senate with the approaching mid-term election of 2022. Others thought it might be a run in another race in the same year. 
An early favorite amongst Republicans, Toomey, some wondered, might declare a gubernatorial bid. With Pennsylvania Governor, Tom Wolf, a Democrat, unable to seek re-election due to term limits, the election will be wide open. 
Instead, those at the news conference held near Toomey's home in suburban Allentown found that not only would the race to replace Wolf still be wide open, so would Toomey's senate seat. He would serve out the final two years of his second term and then return to the private sector, he told those gathered.
As the Associated Press reported, the 59-year old who built an anti-tax, anti-regulation reputation over the years, "called his reasons (for retirement from public office) 'personal, not political,' and said that 18 years in public office, including six years in the U.S. House from 1999 through 2004, is a long time and had demanded sacrifices from his family."
Toomey's also built a brand of voting along and across party lines. One of just seven Republican senators to vote to convict Donald Trump of incitement of insurrection in his second impeachment trial, he most recently voted against the $1 trillion infrastructure bill, remaining with the majority of his party but breaking from the 18 senate Republicans and the GOP leadership that voted in favor. 
On Aug. 24, Sen. Toomey was in Erie, Pennsylvania, mostly to listen. He attended a roundtable discussion at the Manufacturer & Business Association to hear what Washington could do for businesses in northwest Pennsylvania. He also toured development throughout Erie's urban core, meeting with the Erie Downtown Development Corporation.
After that – and before he had to catch a flight back to Allentown – Toomey headed to Romolo Chocolates for a 20-minute interview. With the clock ticking, we didn't get to that party-breaking vote on Feb. 13, 2021, the midterm elections, why he identifies as a Republican, and what lies ahead for the two-term senator; that'll be for another interview. But we did talk about what drew him to the senate, the U.S.'s withdrawal from Afghanistan, the state of the GOP, the future of the filibuster, cryptocurrency and infrastructure bill, and what he sees as his greatest accomplishment during his time as a senator.
Ben Speggen: What first drew Pat Toomey to want to be Senator Pat Toomey? 
Senator Pat Toomey: I had served in the House, so I had that experience in Congress. I knew that I could have a much bigger impact in the Senate. I actually ran for the Senate in 2004 in a primary challenge against Arlen Spector, and I lost, and then I was in the private sector. But the combination of the political circumstances made it clear that there was a path for me to win in 2010.
BS: But not everybody jumps from the house to the Senate – the teacup to the saucer. What was attractive about the Senate?
PT: The opportunity to have an impact is very, very different in the two bodies. The House is, by design, a dictatorship of the majority, and the leadership of the majority party has enormous control over the entire process, the entire legislative agenda, everything that happens. Often, especially for relatively junior members, you're part of a team and you're going to vote with your team and vote against the other team, and that's what you do. 
In the Senate, it's much smaller – it's less than a quarter of the size (of the House). Also, the rules are such that every individual senator has tremendous ability to stop things. You don't have the ability to dictate what will happen, but you have a very, very powerful set of tools to prevent things that you disapprove, and that gives you leverage, and that gives you an opportunity to influence policy. Because inevitably, if somebody wants to do something, they need your cooperation to do it. 
I'm simplifying it. But that's sort of – 
BS: And that was attractive to you? 
PT: What it meant was that I would be able to accomplish more than I could accomplish in the House.
BS: If you had to do a pulse check on the state of the Senate in 2011, how would you describe that? 
PT: The Senate was functioning reasonably well by the only standards I have to personally judge, which is everything that happened subsequently, right? That was when I was new. I didn't have experience, the history. But it was functioning well in the sense that legislation was routinely on the floor, the amendment process was open, committees were functioning, if you wanted to litigate an idea, you could do that in the form of an amendment to whatever was on the floor, you could get a vote. As a body, as an institution, it was functioning reasonably well. 
BS: And, so, the state of the GOP, then in 2011, when you entered the Senate, how would you describe that? 
PT: At that point, there was a resurgence underway of the Republican Party. We were in the minority, but there was a feeling that we had a lot of energy. A lot of new members came in, in the class of 2010. We had new members from Wisconsin, Florida, Kentucky, and Utah. It was a big class of new members, unusually young, by Senate standards. I felt – and I still feel like – that was a time when the party was coalescing and growing, and not long thereafter, we took the majority. And I think that was evidence that we were on an ascending path.
BS: If that's how it looked like through the door on the way in, how would you sum up the state of this Senate today, as you're about to leave? And the state of the GOP?
PT: Well, as a body, the institution is not working well now, not at all. It's, in fact, barely functioning. And when it does function, it functions badly, and, by that, I mean we don't follow the processes that allow you to have a vigorous, thorough debate on topics, offer amendments and litigate the ideas behind those amendments, and iterate your way to a consensus product – that's the way the Senate is designed to work, the way it used to work, but it doesn't work that way now. And that's a shame.
BS: What do you think the breakdown has been – from something you observed to be functional to now something that's barely functioning? Where do we assign credit for that? Where do we place blame for that? 
PT: It's a complex combination of things. I don't think there's any single one dynamic. But I think ultimately, the driving dynamic has been the increased polarization of American politics, right? That is true of society as a whole, and it ends up being reflected in the elected representatives, whether in the House or the Senate. 
I'll give you an example. A very long-standing senate rule is that it requires the unanimous consent of the body in order to get a vote on an amendment to a piece of legislation. That has long been the case. But for most of the history of the Senate, it was considered culturally unacceptable to deny someone a vote on their amendment. If you disagreed with the substance of it, if you disagreed passionately, then you would make your case as passionately as you could and do everything you could to try to defeat it. But it wouldn't occur to you that you should block the opportunity to have that amendment considered. Now, fast-forward to where we are today, and it's almost standard practice: If you disagree with the substance of the amendment, you don't allow it to be considered. That one dynamic is a huge problem. 
BS: Can we get back? Can we go back to where we were before? 
PT: My belief is, and not everybody shares this view but I'm certainly not alone in this view, is that politics is downstream from culture, and the rules of an institution ought to be designed to enable the institution to function in the culture that prevails at a given point in time. Since the culture has changed so much, I think Senate rules need to change to make it more likely that the body can function in a more polarized culture. So, can we get back? I think we could get back to functioning at a higher level; it would have to happen under a different set of rules.
BS: The filibuster: Do we keep it? Do we scrap it? Do we modify it? 
PT: So first, let me remind you of something you're probably well aware of, but you know, very recently, like, during Donald Trump's first two years in office, Republicans had complete control of elected government – we had the House and the Senate and the White House, and we had a president in the White House was adamant that we should get rid of the filibuster so that we could do whatever we wanted and jam the Democrats and simply pass party-line legislation.
We told the president we're not going to do that, for the sake of the institution, and for the sake of a country. It's important that there be some level of consensus, and the Senate is the place where that has historically happened. It's the place designed for that. 
The filibuster is the mechanism that forces consensus, right? Very seldom does either party have 60 votes. The Democrats have occasionally; Republicans have not been over 100 years. For the most part, it's the mechanism that drives a need for consensus and allows the minority party to have some say in this – and why that's important is because the broader the consensus behind a piece of legislation, the more enduring it's likely to be, frankly, the better it's likely to be in many cases. But even if it's not necessarily great, it is more likely to be enduring. And there's a value to that because it diminishes the volatility of the government and society. 
People have to follow the laws of the past. It's very helpful for people to be able to plan on this and say, 'Okay, this legislation passed. So for the indefinite future, I can expect that this is going to be the set of laws and rules that govern whatever activity this is,' as opposed to a pendulum that's whipping back and forth.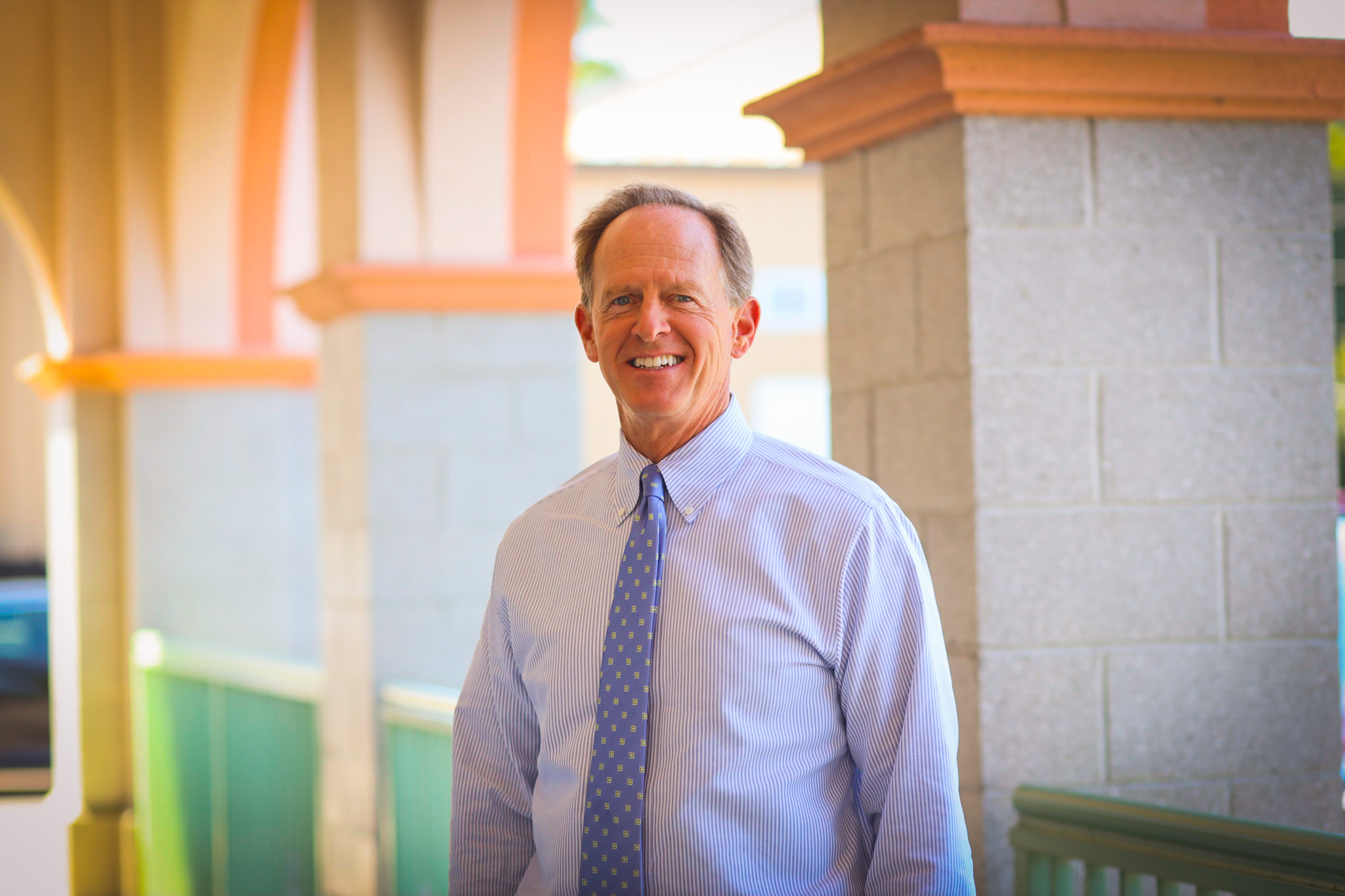 BS: Earlier you talked about polarization. You've voted across party lines, you're bipartisan. Is there room in today's GOP for future Pat Toomeys? 
PT: Oh, yeah. I mean, look, we just passed an infrastructure bill that I did not vote for, but, what, 19 Republicans did. Those republicans provided the votes needed to get the 60 votes with only 50 Democrats. 
BS: A quote in your statement on the infrastructure bill was that it was "too expensive, too expensive to unpaid for, and too likely to threaten the innovative cryptocurrency economy." What got you excited about cryptocurrency?
PT: Not the currency, actually – I'm just agnostic about the value of any given token at best about them. But what I am convinced of is that the underlying technology that has given rise to these tokens is very, very powerful, right? The distributed ledger methodology of validating transactions so that two people can exchange something of value – could be money, could be something else – without needing to rely on a trusted intermediary, that is revolutionary, that is powerful, that is going to change major sectors of our economy. It's going to allow people to transact instantaneously, virtually, at very low cost or no cost. It's going to be really, really good for innovation and our economy. 
Honestly, it was written by people who don't understand this space, which is most Senators, right? And I'm on a steep learning curve. This is changing fast, and there's a lot I'm still trying to learn. But I do know enough to know that many of the participants that make these transactions possible could not possibly comply with the reporting requirement imposed on them by the legislation. And that that was my concern. I don't oppose the reporting requirement that is intended, as long as it's limited to the entities that actually should be obligated to make those reports. This language was far too broad, and so I'm concerned that it could have a chilling effect on the development of the space.
BS: Afghanistan and the U.S. departure: Are we departing on time, too soon, or too late?
PT: First, I was a critic of the Trump announcement that we were going to withdraw by a date certain. We had gotten our (military) presence down to a point, and the consensus was overwhelming that we would continue to have a very modest footprint of manpower on the ground – 4,000 to 5,000 men. We have been running for well over a year now with zero American casualties, zero deaths. Our men and women are not the tip of the spear in combat. That is not the case. That is Afghans who play that role. 
What we've been doing is providing air support, medical evacuation, intel, training – services that the Afghan army desperately needed. And, and with those services, they were willing to carry the fight to the Taliban. They've taken huge losses, huge casualties, and they're still willing to fight and We were able to ensure that the Taliban couldn't take the big cities – they had a lot of the countryside, but they couldn't take the big populations. 
In my view it was a huge mistake to announce, we're going to abandon this. We've had troops on the ground in South Korea, in Germany, in Japan since World War II. And the fact that we've had troops there, they're not getting killed there just as Americans were not getting killed in Afghanistan. But they provided tremendous stability, and that's good for us. 
So first, I totally disagreed with the Trump announcement. And I totally reject the idea that Biden somehow had to carry through because Trump had announced it. He hasn't felt that way about a lot of other Trump policies; he wasn't obligated to carry through on this one. And then it's been handled in a completely incompetent fashion. No planning, the obvious obligation on the part of a president who makes this decision to evacuate American forces would be first and foremost, you maintain your control until American citizens and the Afghans who deserve to be protected have a chance to leave. So we never should have given up Bagram and the other bases that we have, we never should have retreated to one airport in the northern part of Kabul. Huge tactical mistake. And now, we're at the mercy of the Taliban to decide which Americans get out, which Afghans get out. To think that an American president would put the United States of America, the greatest power on the face of the Earth, at the mercy of a terrorist sympathetic organization to decide which Americans are going to live and die is unbelievable to me. Huge, huge failure. And that's the biggest of multiple operational failures.
BS: Should Congress step in, override the president, the executive branch, and redeploy or keep what troops are left? 
PT: So at this point, it's very, very hard now that the Taliban was quickly able to roll up the areas that they would not have been able to. They're there now, they occupy that, the American forces have already left. I think that at this point, the president absolutely has an obligation to do whatever it takes to get every last American out, and to get the Afghans who work for us who risked their lives and their family's lives, and who might very well be killed along with their families, out. It's pretty hard to go back and unscramble the egg on the departure.
BS: You've brought him up twice: Donald Trump. How large is this shadow still hanging over the GOP?
PT: He is a significant influence. There are some Republicans for whom he is their ultimate political hero, and he can do no wrong. There's another group, that's at least as large, that believes he pursued many really good policies and had many important successes, but he is a flawed character and problematic. And then there's a small group of Republicans that completely reject him and want no part of him. 
I think his influence over the Republican Party is going to diminish over time because it is the nature of politics to look forward and not to look backward. He tends to obsess over the last election because he lost it, and he wants to convince everyone that he couldn't possibly have lost, and therefore it was stolen, it was rigged, it was fill-in-the-blank. But that's going to wear thin. And most people are more interested in the future. 
Now, if he decides he's going to run again, which I don't know what he's going to decide, then, he'll be a major force. But I don't know how that plays out.
BS: Final question I'll sneak in: Now that you're looking at the exit – you've decided not to run for re-election – what are you most proud of your accomplishment for the country, for the state of Pennsylvania, and for Erie, Pennsylvania during your time in the senate? 
PT: I think the biggest legislative accomplishment would be the role that I played in the tax reform in 2017 when we really remade the tax code. It was the most dramatic reform in over 30 years. It contributed to the strongest economy, national economy, and Pennsylvania economy in my lifetime. Record low unemployment rates, rising wages, and wages rising most rapidly for the lowest-income workers, so we're narrowing the income gap. The tax reform is not the only reason that we were able to accomplish that, but it's a big contributing part, and I know I played a very large role in getting that through the Senate and designing it, and ensuring the support of all the Republicans in the Senate. So I'd say that that'd be my biggest accomplishment. 
Statewide, there are just so many things; it'd be very hard for me to cite one. The persistence that it took to ensure that we finished dredging the channel for the port of Philadelphia so that we could take in the next generation of supertankers, to ensuring that the Army Corps of Engineers prioritize replenishing the erosion on Presque Isle – literally untold thousands of Pennsylvanians for whom we provided the constituent service that they needed in many cases, change people's lives, breaking through bureaucracy, getting them services, whether it was Medicare, or whether it was in Social Security, or at the VA – it's a long list and I don't think I'd be able to say 'this one clearly ranks above all the other' – just a lot of those. And most of them overwhelmingly because of just an amazing team of people that I had across, and still have across, Pennsylvania, who get up every day and go to work. They feel like my job is to serve everybody in my territory, because they're all constituents, and they do; they do a phenomenal job.
BS: Your team of people, in fact, trying to get you out of here. Thank you so much, Senator. 
PT: All right. Thank you.
This Q&A has been edited for length and clarity. 
Ben Speggen can be contacted at bspeggen@eriereader.com, and you can follow him on Twitter @BenSpeggen.