Sitting Down with The Standby
Following the release of their latest EP, the local alternative trio look ahead
September 11, 2019 at 11:30 AM
If you heard one local musical success story this summer, there's a good chance it was about The Standby. Having gestated as a high school band for four-plus years, frontman Jordan Sigmund explains that the current incarnation of the band has been together for less than a year — but you wouldn't know that from listening to their recently released EP, Over, Under.
Before we get there, we have to rewind a bit to when The Standby — featuring Sigmund on guitar, Lyle Sallade on bass, and Jake Brown on drums — were listeners and local showgoers who would eventually find their own place in Erie's rich arts community.
"Erie's music scene has changed a lot in the past few years," says Sigmund. "It's no longer about knowing everyone. Every time we go to a show, there's always at least a few people we've never seen before. There are multiple smaller communities in the scene now, too. So I guess you could say being a part of the Erie music scene is more about introducing new people to it and getting to know those people more now than it has been in the past. And that's really exciting."
The band's infatuation with their hometown doesn't stop there; they are just as enthusiastic when our conversation turns to local venues and eateries, Sigmund is quick to reference Picasso's, New York Lunch, Like My Thai, and Ember + Forge. He laments the imminent closing of The Ballet Haus, where the band recently held their release show for Over, Under.
"It was such a sick, unique spot, and we met a lot of people through it," says Sigmund. "We of course also have a soft spot for Basement Transmissions, even though we haven't played there in a long time. Hopefully things will line up soon and we'll be able to return, though!"
What's most interesting, however, about The Standby is their knowledge and appreciation of music that spans genres. Over, Under plays like a dark and fiery record born out of the emo and grunge revival scenes made popular by Run For Cover bands like Balance and Composure, Citizen, and Title Fight. This is not to say the band's scope is narrow; the EP is filled with diverse sounds, from reverb-soaked guitars to atmospheric textures and hints of psychedelia throughout. But in conversation with Sigmund, he is just as quick to namedrop Alanis Morissette and Mac Miller as he is alternative and hardcore acts like Knocked Loose, Glitterer, and The Joke's On Us.
As for the making of the band's new EP, Sigmund described an adaptive experience. "Our idea of what Over, Under should be really continually evolved as we were making it," explains Sigmund. "We set out with very few goals in mind other than a general sense of the sound we wanted — which was a watery, thick sounding record with some atmosphere to give it some depth and contrast — and everything else followed. We spent a lot of time experimenting with ideas and sounds last November, and then when Lyle joined in January, everything that we were trying fell into place."
"When we went to record," he continues, "the producer we worked with — Gary Cioni, who's worked with some of our favorite bands like Grayscale, Kayak Jones, and Hot Mulligan — pushed us incredibly hard in bringing attention to things we never would have thought about on our own, and helped us put some creative finishing touches on the sound. This EP was a huge growing process for us, and I think it documents that well."
Those textures and sounds Sigmund mentions come through in droves on Over, Under, from the eerie choral vocals on "Sleepwalk Dance" to the thematic sparseness of standout interlude "Broca." And it's clear these instincts to consistently experiment and take sonic left turns come from the band's skills as music listeners and as observers of pop culture, as well as their peers. Sigmund speaks about the influence of other bands experimenting, and how that's instilled confidence in The Standby to create a release he calls "a snapshot of who we are right now, sonically and visually."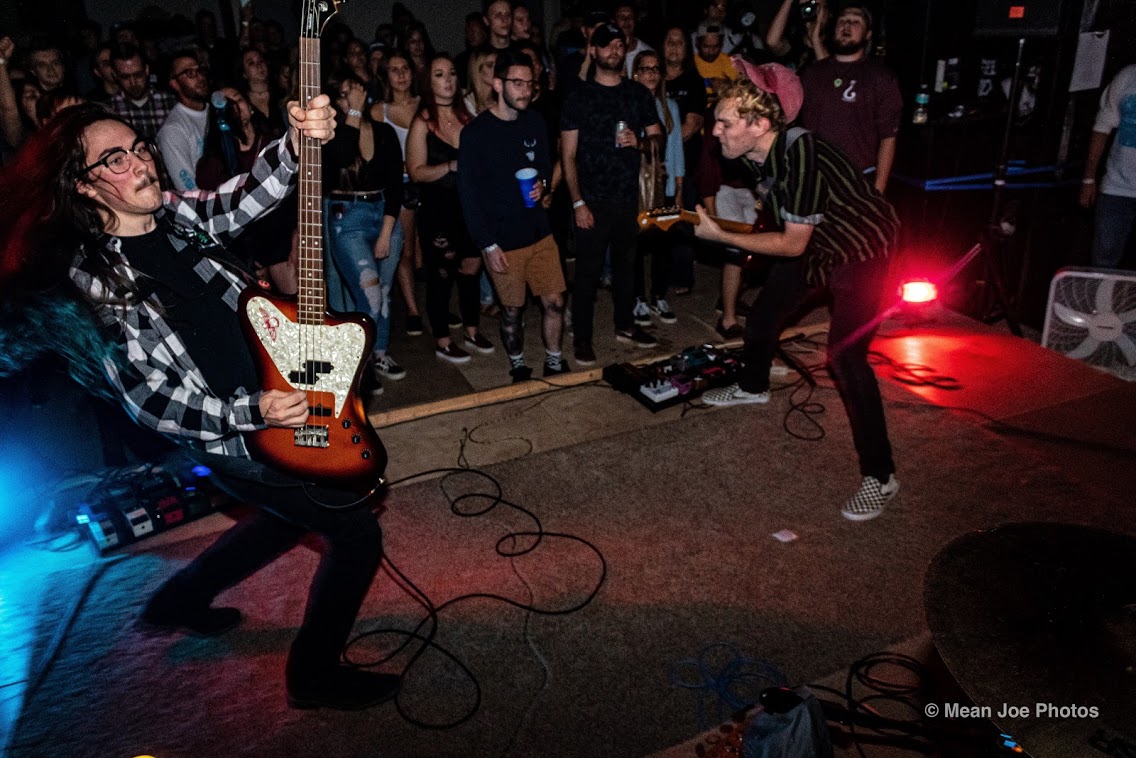 Bassist Lyle Sallade (left) and guitarist Jordan Sigmund (right) of The Standby perform at The Ballet Haus for their *Over, Under EP release party on August 31. Photo by Mean Joe's Photos
"Everyone's genre-bending now to the point where I don't think a lot of people know what to call themselves anymore outside of the vague, 'alternative rock' label. I once heard Alanis Morissette — or at least I think it was her — on a Netflix '90s documentary series [The Nineties], describe making music in that era as being able to do whatever you wanted with it. You could pull influence from anything and find a way to make it work. And that's what making alternative and punk music feels like to me right now."
The visual manifestation of Over, Under arrives in the form of several music videos under the direction of Alex Zarek. Sigmund explains that the band would frequently approach Zarek with a handful of ideas for each video, allowing Zarek to collaborate and eventually take their vision and turn it on its head "in the best kind of way."
Perhaps the most compelling quality of The Standby is their brimming enthusiasm, especially for a band that makes relatively moody music. There is a genuine optimism in the way they describe their excitement to tour and explore new places. They are simultaneously tied to Erie and just on the cusp of breaking out, seemingly pleased to be anywhere at any given time. When asked whether Sigmund has anything else to add, he is quick to plug the rest of the scene.
"Go to local shows!" he exclaims. "Erie artists are doing some incredible stuff right now, and it's a great time to check it all out."
At the end of the day, The Standby are experiencing success for a reason. Yes, it's the quality of their songwriting, and yes, it's also their attitude towards breaking away and pushing boundaries. But if anything is abundantly clear after a conversation with Sigmund, it's that the band's determination to always present the best possible versions of themselves informs every decision.
"Over, Under means everything to us," Sigmund says. "We've been eating, sleeping, and driving to this EP for the past several months, trying to make sure everything about it is exactly how we want it to be. Like I said, this whole release was a massive growing experience for us, and we couldn't be more proud."
Aaron Mook can be reached at amook@eriereader.com