Sounds of the Underground: Punchline comes to Erie
In support of the vinyl re-release of their 2004 debut album, Punchline comes to Basement Transmissions Saturday, June 1.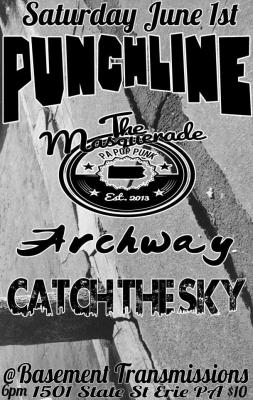 Pop-punk has been on the rise in the last few years, gaining a lot of attention from people within the scene with bands such as Set Your Goals and Four Year Strong really paving the way for the genre to drive forward into popularity.   Even in a city like Erie, where the history of the underground music scene has been dominated by hardcore bands such as Brother's Keeper, Shockwave, xDisciplex a.d., and xRepresentx, pop-punk has been able to flourish. 
One example is In the Day, the first pop-punk band to form in Erie in 2008.  In the Day broke up in the winter of 2011, but they have left a lasting impact on pop-punk in the Erie music scene, igniting a spark that led to numerous pop-punk bands forming in Erie since them, including The Masquerade and Catch the Sky. 
But the pop-punk influence in Erie predates the arrival of In the Day.
Punchline has been traveling to the Erie and Edinboro areas from their hometown of Belle Vernon, in the Pittsburgh area for the past 12 years.  They've even played The Hangout, Edinboro's once go-to all ages venue, more than 30 times in their career, and shot the music video for their song "Coyotes in B Major" at Presque Isle.
"People have always been so great to us in the Erie area," said Chris Fafalios, the band's bassist.  "We have made so many friends and had so many high-energy shows in the area over the years".
While Punchline defines themselves on their bandcamp as "Punk-influenced pop-rock," they often get thrown into the broad categorization of pop-punk.  This may be because "pop-punk" is easier to say than their self-prescribed title, which is a more accurately captures the bands' sound and feel.
Although Punchline are no strangers to the Erie area, Saturday, June 1, will be their first time playing Basement Transmissions.  They are supporting the vinyl re-release of their 2004 album "Action" on a mini tour, showcasing both new and old songs in Morgantown, W.Va., Cleveland, Erie, and finishing up in Pittsburgh.  The album will be sold on limited vinyl available at their shows while supplies last.
"Erie has always been like a second home to us," Fafalios said. "We haven't played Erie in a while, but hopefully we'll be able to capture a little of that old time Lake Effect fun".
Tommy Shannon can be contacted at tShannon@ErieReader.com.

[Editor's note: This article has been edited to accurately reflect the re-release of an album, not the release of a new album.]