Spaeder Completes Lake Swim
Erie native Elliot Spaeder completes the central Lake Erie swim.
July 22, 2014 at 10:27 PM
Elliot Spaeder has been a competitive swimmer all of his life. But on Tuesday Spaeder faced his most difficult opponent, Lake Erie.
The 30 year old graduate of Cathedral Prep and Gannon University hoped to become the 15th person to complete the 24.3 mile central Lake Erie swim from Long Point, Ontario to Freeport Beach in North East, Pennsylvania.
Moreover, he hoped to make it in record time.
He's been dreaming about this moment since he was a kid. Since September, he trained for four hours a day at the downtown YMCA and swam in the lake with members of his team riding kayaks at his side.
"I knew what I had invested into it. I knew I had to do it. There were no 'ifs," Spaeder said.
On Tuesday night, just after 6:30PM, Spaeder made is final push toward shore. About one hundred people lined Freeport Beach to welcome him in. As the silhouettes of kayaks broke the horizon, the crowd began to clap and chant in support, "ELLIOT...ELLIOT."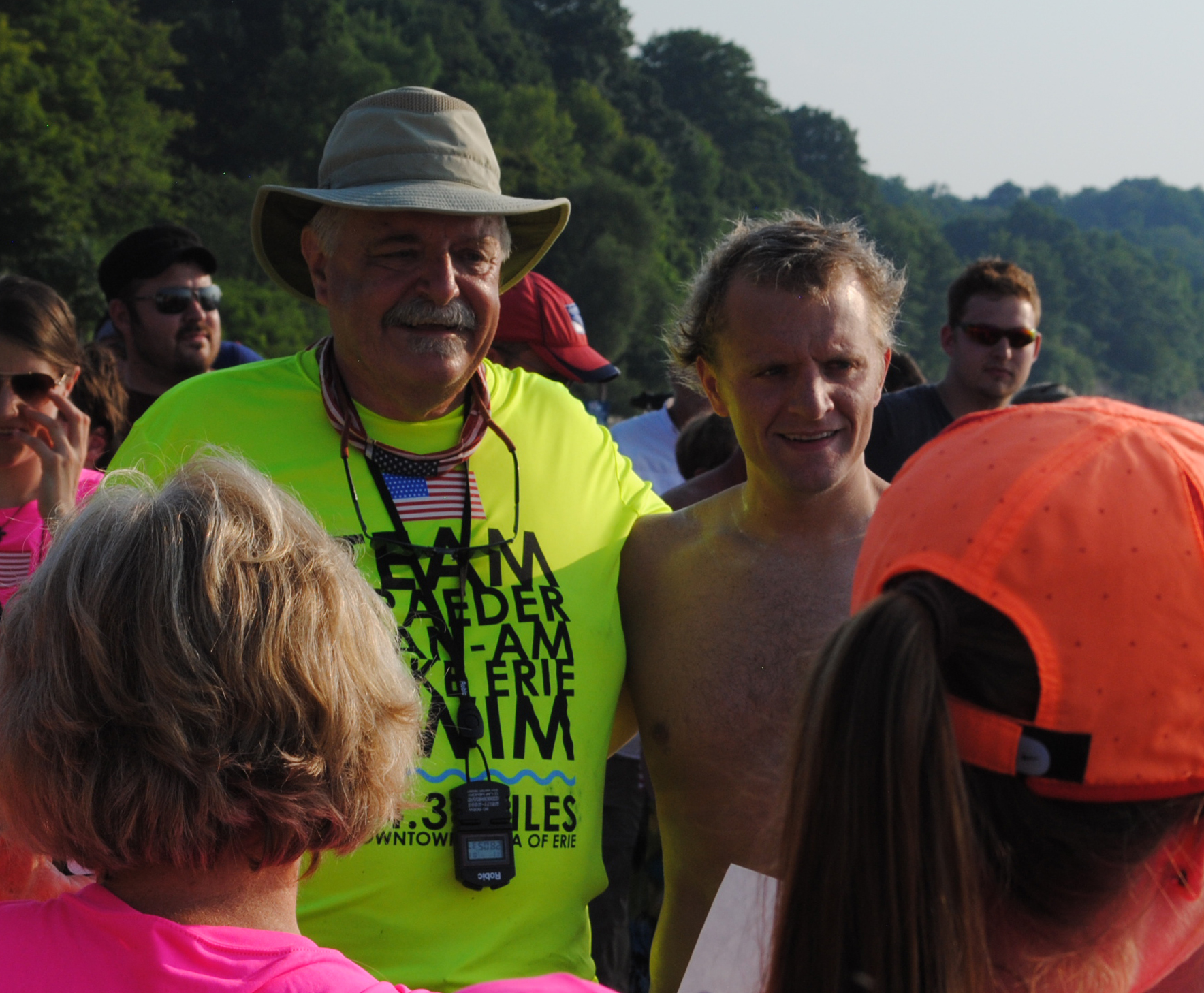 His family waited at the shoreline for his arrival. His father, Tim Spaeder, paced the waters edge, watching as his
son pushed through the last 200 yards of his swim.
"It's been a lifelong goal of his, so it gives me great pleasure to see him attain one of his goals. It's just tremendous," the elder Spaeder said.
Elliot Spaeder stood up in the shallow water of Freeport Beach 11 hours 28 minutes and 6 seconds after he had left Long Point, Ontario and walked on shore, the third fastest time on the course. 
He hugged his parents and his wife. He was congratulated by the throngs of onlookers. He made eye contact with a friend and wryly asked, "Where's my beer?"