Speaker Series is Living Testimony
My point is, we are all people.
August 31, 2016 at 2:30 PM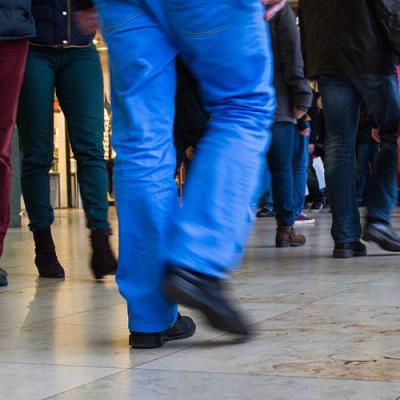 When Sister Helen Prejean came to Mount Saint Benedict last spring to talk about her prison ministry and decades-long fight against the death penalty, I told her Bryan Stevenson would be speaking in Erie on Sept. 13. A broad smile spread across her face. "That's going to be a gift," she said quietly, "Really, really a gift!"
Stevenson, founder and executive director of the Equal Justice Initiative (EJI), has won relief for dozens of condemned prisoners and has argued before the U.S. Supreme Court five times. A recipient of the MacArthur Foundation Fellowship Award Prize, often referred to as the "Genius Grant," he has gained national attention for challenging bias against the poor and people of color.
On Aug. 16, the EJI announced it will build the nation's first memorial to victims of lynching and a museum that explores African American history, "From Enslavement to Mass Incarceration." Both the memorial and the museum are expected to open in downtown Montgomery, Alabama, in 2017.
Stevenson's visit to Erie is indeed a gift, and it comes from activist Doris Cipolla, a Harborcreek resident who established a speaker series in memory of Charlene M. Tanner, her loving partner for more than 35 years. Tanner died of metastatic cancer in 2005. Because of their shared interest in social justice, peace, and the environment, Cipolla hopes the series will inspire others to help create a healing environment for the world.
It wasn't until Tanner's death that Cipolla found the courage to "out" their relationship, in her partner's obituary. For decades they lived a covert life because they feared discrimination and losing their jobs. Tanner was director of admissions at St. Vincent Health Center for 43 years until her retirement; Cipolla was a teacher in the Erie School District.
Since then, Cipolla has become an outspoken advocate for LGBT rights, organizing protests, writing articles, and in 2008 testifying before the Pennsylvania State Senate in opposition to the Marriage Protection Amendment, which denied the legal rights of same-sex couples. In 2014 Pennsylvania's ban on gay marriage, in force since 1996, was ruled unconstitutional. In recognition of her efforts, Cipolla received the 2016 LGBT Community Progress Award from the Greater Erie Alliance for Equality.
"I guess in a way it keeps Charlene alive for me," says Cipolla, who together with her partner, stood in the rain with Benedictine nuns at death penalty protests, served long lines of patrons at Emmaus Soup Kitchen, and held candles on city streets to Take Back the Night against violent crime. 
"I want people to know that gay people are decent people. I want them to see us as loving people. In seeing Char and me as a couple fighting for what we believe in, my hope is others will recognize that people have to be judged by their character, regardless of their sexual status or the color of their skin," says Cipolla. "My point is, we are all people." – L.G.
Stevenson's presentation, Tuesday, Sept. 13 at 7 p.m. in Mercyhurst University's Mary D'Angelo Performing Arts Center (PAC), is free and open to the public with tickets required. Tickets available starting Sept. 6, PAC box office - open 12 noon to 5 p.m. Limit two per person, while tickets last (no phone reservations).