Special Olympics Pennsylvania hosts Polar Plunge
Party at Beach 7 November 21!
November 11, 2015 at 12:15 PM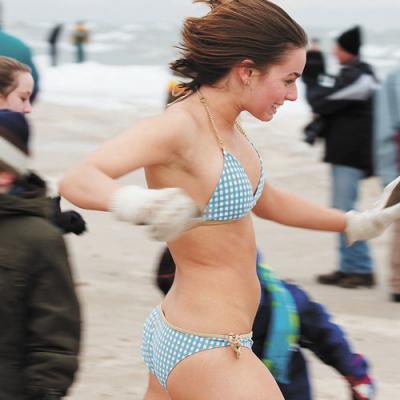 You read that right. The first ever Polar Bear Plunge will rock Beach 7 as heartier souls take to the water, while the rest of us watch in horror and admiration.
Why, oh why? Because Special Olympics Pennsylvania (SOPA) needs your help raising funds to support athletes and their local programs. According to Jessica Kury, Special Events Manager for SOPA, everything the organization provides, from travel to equipment, is free to the athletes. And the athletes don't just compete once per year, says Kury. "They practice and compete all year long and attend multiple sporting events and competitions."
Kury is anticipating 250 to 300 plunging participants and a total of 350 to 450 total attendees, including spectators. "We are rounding the bend to 200 at this time and there [is] still [time] left to register."
Signing up to plunge can be done in two ways: Individually or as a team. There is a $50 minimum donation per plunger. Interested? Visit at www.plungepa.org to register yourself or a team. 
Not sure you want to commit without a few details about the requirements? Here's the good news: Plungers can go in as far (or not far) as they wish. You are not required to stay in for any particular length of time. "Typically people run in and out," says Kury. The event is more about having fun and being silly than about the plunge itself. "It's an energetic and fun environment that anyone can participate in. You don't need to train for it and you don't have to have a special talent or equipment to participate."
Not interested in plunging but still want to support the cause? You can visit the website and support a registered plunger. Or, you can become a "Too Chicken" sponsor by yourself, or put together a "Too Chicken" Team. Incentive merchandise for a wide variety of donation levels is available online.
Whether you are watching or plunging, Special Olympics have an array of activities to keep you amused and warm in Plunge Town, as they're calling it. Sheetz will be on hand with free coffee and hot chocolate, which you can sip while grooving to the soulful rock of The Vendettas or the up-and-coming M4, an Erie band named the 2015 Tri-C High School Rock Off winner earlier this year at the Rock and Roll Hall of Fame.
Food vendors will be available, but they encourage tailgating, so bring your own food, too (no "open containers" or open flames). Pitch a tent to stave off chilly winds, but be sure to come out of it to watch the ice carving demonstration and enjoy juggler extraordinaire, Geoff Bach. 
Action Shots of Erie will be on hand to photograph the brave plungers and will make available on-site a wide range of products from photos to photo gift items ranging in price from $8 to $25. Mementos will also be available online after the event. 
Whichever way you decide to participate, this event supports more than 18,000 athletes with intellectual disabilities across the state. Very cool. 
Registration 9:00 to 11:30 a.m., plunge at Noon // Beach 7, Presque Isle State Park // $50 minimum donation to plunge; free to spectators // plungepa.org