Spiciness and Sincerity Permeate Erie's Thai Cuisine
Three local restaurants welcome tastebuds to new worlds of flavor
March 11, 2020 at 11:45 AM
Bangkok, known officially as "The City of Angels, Great City of Immortals, Magnificent City of the Nine Gems, Seat of the King, City of Royal Palaces, Home of Gods Incarnate, Erected by Vishvakarman at Indra's Behest," is often given another lofty designation — "Street Food Capital of the World." Erie, Magnificent City of Just One Gem, has little in common with Thailand's capital half a world away — about 100,000 mouths to feed versus 8 million, an average daily temperature of 49.9 degrees Fahrenheit versus 82.5, and nary an elephant to be found. Despite our paucity of pachyderms, however, we've cultivated an elephantine appetite for what's often considered one of the world's finest cuisines (whether their predilection for fried insects sways your personal grade is up to you).
Fifteen years ago, Erie knew little of the wonders of Thailand's popular dishes, multifaceted flavor mosaics pieced together from myriad fresh ingredients — garlic, galangal (an earthier, sharper cousin to ginger), coriander, cilantro, Thai basil, Kaffir lime leaves, coconut milk, tamarind, shrimp paste, fish sauce, and chiles are among the more common. Seven Thai dishes were voted into CNN Travel's "World's 50 Best Foods" in 2017, more than any other country. Of these, Thailand's national dish Pad Thai (No. 5 in the CNN poll) was the first to be introduced to Erieites.
Mike Augustine started serving the iconic stir-fried noodle dish out of his former pop-up restaurant within Papa Joe's Pepperoni Cafe and later La Bella. After operating as a pop-up for nearly a decade, Like My Thai permanently settled downtown in early 2015, thanks to a wildly successful Kickstarter campaign that saw them fully funded in just 29 hours. By then, Khao Thai (est. 2009) had already established a foothold with Erie diners a few blocks away on North Park Row. Although it's prepared in a more Chinese tradition, Pad Thai exemplifies the multiplicity Thai cuisine is known for in each bite — palm sugar provides sweetness, tamarind offers tartness, fish sauce (made from anchovies, salt, and water) boosts the umami (or savory) element, and Thai chile amps up the heat.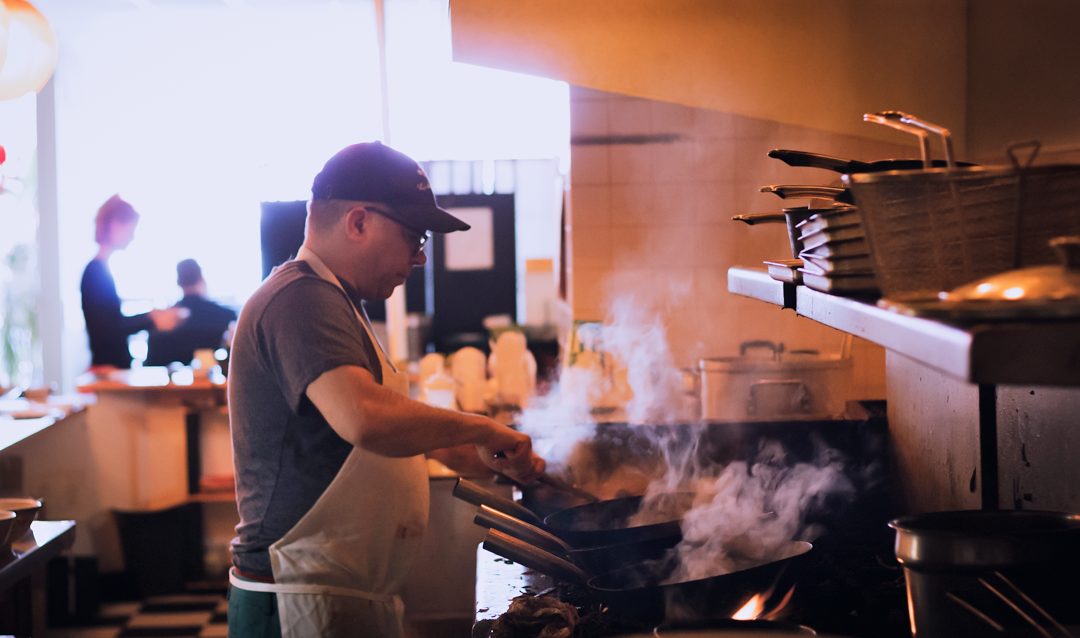 A self-described "control freak," Like My Thai's Mike Augustine still prepares every dish that comes out of his Southeastern Asian-inspired eatery himself, as he has since its beginnings as a pop-up operating out of Papa Joe's Pepperoni Cafe in 2006. Photo by Sam Peterson.
As a non-native from Saegertown, Augustine is especially mindful of capturing the essence or spirit of the dishes he's creating — as a self-described "control freak," he still cooks everything in his restaurant. "We went through great pains to adhere to the prevailing definition of what each dish should be," Augustine affirms. "We make everything we possibly can from scratch, including our curry pastes and sauces."
Although not all of his menu items are of Thai origin (you'll also find delicacies from elsewhere in Southeast Asia, such as Japchae, a very sesame-forward sweet potato noodle dish hailing from Korea), he says that sincerity is his first priority. Spicy sincerity, more accurately. Because like the tropical savanna climate that affects most of Thailand, Thai food usually brings the heat. "I won't burn your head off — unless you want me to," Augustine reassures.
Khao Thai co-owner Douangchay Phetsavanh, a native Laotian who has resided in the United States since 1980, laughs when she recounts how one server acclimated himself to "Thai level spicy" after growing up on "hot dogs and macaroni-and-cheese." Even then, the heat levels customers experience at Khao Thai only vaguely approximate what you'd find in Thailand. Like most Thai restaurants in America, Khao Thai has adopted a 0-5 spiciness scale to appeal to the broadest clientele possible. "We've tamed [the heat] down a lot," she admits. "Outside of the airport, everything is spicy."
Nate Sukaneknan, who opened Millcreek's Thai Eatery with his wife Pam in 2016, agrees. "In Thailand, it's one way." He has adapted his recipes somewhat to American preferences — for example, using breast meat in chicken entrees whereas the Thai utilize the whole bird — but the overall taste is "about the same" as one would experience in his home country, which he left 19 years ago. He explains that Thai cooking is based on carefully layering and balancing five flavors: sweetness, saltiness, sourness, bitterness, and spiciness.
Dinner is traditionally enjoyed as a family, with five main components — a dip or relish paired with raw or cooked veggies (such as nam phrik, or spicy chile sauce), a clear soup (the hot and sour tom yam being most familiar to most), a curry or stew (denoted by the prefix gaeng — the Massaman and green varieties are Thai staples), a deep-fried dish, and a stir-fried dish. Everything is served simultaneously and shared amongst the group. Historically, Thai food was eaten by hand until the Siamese King Chulalongkorn returned from a tour of Europe in 1897 with a fork and spoon. So if you are maladroit with chopsticks (as I am) and dining out at a Thai restaurant, there is no reason to feel self-conscious — they were never really a thing in Thailand anyway.
Rice (khao) is elemental to Thai dining, served with each meal and separate from the main dishes, providing a neutral counterpoint to the complexity. (Count me among the many guilty Americans Sukaneknan has seen dumping the rice into the entree, thus undermining its intended purpose.) The practice of using rice to "reset" the palate between bites is called khluk. Centuries ago, tens of thousands of rice varieties were cultivated in Thailand — today a few predominate. The sweetly-fragranced, long-grained jasmine rice is abundant in Thailand's central plains and is used in fried rice dishes and congee (porridge). Sticky rice rules the northern regions of Thailand, which border Laos, Phetsavanh's home country. To me, it seems a novelty; to her it is second nature. Laotians and Northern Thai often use sticky rice as their utensil, flattening or shaping a platform of starch-stuck grains with the right hand to dip into all the tasty goodness.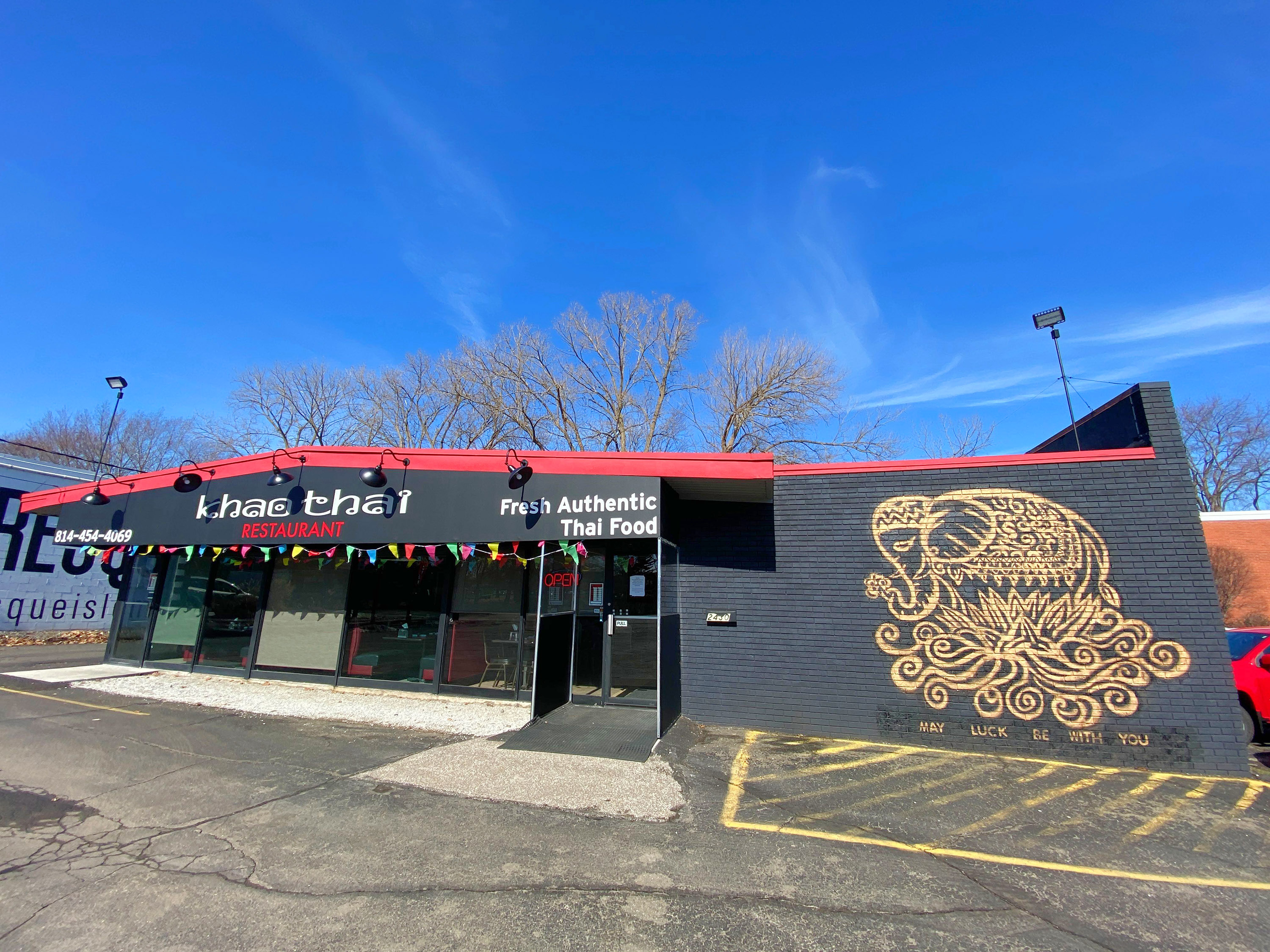 Despite its highly publicized displacement from Perry Square as the Erie Downtown Development Corporation embarked on an ambitious renovation project last spring, Khao Thai is doing just fine. Its new location at the site of the former U-Wanna Pizza & A Pie (2430 W. Eighth St.) has proven a blessing with more dining space, ample parking, and most importantly no loss of business. Photo by Jessica Hunter
Sukaneknan clarifies that lunch follows a different set of rules, as people are often more pressed for time. Many of the popular noodle dishes, such as the ubiquitous Pad Thai and Pad Kee Mao (called "drunken noodles" in America), are typically "street foods" enjoyed on the go during midday recess. Street vendors in Bangkok often showcase impressive arrays of Khao Rad Gaeng ("curries poured over rice"), which are enjoyed as a single plate. Khao Sov, a Northern Thai specialty featuring both crispy and soft rice noodles and vegetables in a spicy curry broth, is another example of lunch fare that he was eager to add to his menu after a customer request. The customer, an international businessman, had ordered it stateside before, but had not ordered it done right.
What is "right," of course, is highly subjective."It doesn't matter how 'original' it is; it depends on the customer's taste," explains Sukaneknan. As with Thai cooking, running a restaurant is about striking the right balance. Luckily for Erie, its Thai chefs are knowledgeable and adaptable enough to play to both sides.
"We're as authentic as we can get away with," says Phetsavanh.
Augustine eschews the word "authentic" altogether, reiterating "sincerity" and faithfulness to the "spirit" of each dish. He does, however, echo a word that is dear to each restaurateur — "welcome."
"We get to introduce people downtown to doing new things and tasting new flavors," he says. "It's very exciting — not only to be the person experiencing it, but also having a forum in which to experience it, to widen one's bandwidth or scope." The fact that Thai food is also adaptable to dietary restrictions has removed additional barriers to entry — it is almost exclusively gluten-free as-is (thanks to rice as the primary starch), and can be made vegetarian or vegan with a "simple swap" of a few ingredients.
Phetsavanh's Khao Thai served largely the same demographic in Perry Square until its relocation to Millcreek this past December. The move, which came as a result of the Erie Downtown Development Corporation's purchase of essentially all of North Park Row last spring, was scary at first but "has truly been a blessing in disguise," according to Phetsavanh's daughter-in-law, Jessica Inthavong.
"We've maintained many of our existing lunch customers from downtown and have tons of new lunch customers from our new neighborhood, as well as a whole new dinner and weekend crowd that we never had downtown," Inthavong continues. "Our menu has remained the same, but we have started having some 'feature items' to introduce everyone to some new Thai dishes. The space is bigger and more comfortable, and dining in and picking up are much more convenient with our parking lot."
During my visit, Phetsavanh embodied the spirit of welcome, eager to share food and conversation over both a refreshing Thai iced tea (cha yen) and a reinvigorating Thai iced coffee (oliang) — a cordial invitation to wakefulness courtesy of sweetened condensed milk and caffeine. In her eyes, the best way to learn about something is to experience it. When it's through the tastebuds, all the better.
Like My Thai, 827 State St. (814) 455-1026;
Khao Thai, 2430 W. Eighth St. (814) 454-4069;
Thai Eatery, 5641 Peach St. (814) 616-8224
Matt Swanseger is a man of moderation, usually opting for a Thai spiciness level of three or four. He can be reached at mswanseger@eriereader.com