Sports Corner
The week that was: Adam Unger has your sports coverage from Monday, Sept. 30 to Monday, Oct. 7.
October 8, 2013 at 8:44 AM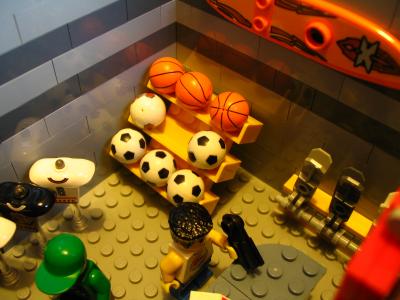 Cleveland takes the Battle of Lake Erie; Penn State falls to Indiana
Both the Cleveland Browns and the Buffalo Bills had to resort to their backup quarterbacks on Thursday, Oct. 3. In Cleveland's 37-24 victory, quarterback Brian Hoyer went down with a torn ACL during an awkward slide and is done for the year, which opens the door for the struggling Brandon Weeden, who started the season atop the Browns depth chart. Buffalo saw former Washington State Cougar Jeff Tuel for the first time in a regular season game, as rookie starter EJ Manuel is shelved for a little over a month with a sprained LCL.
Weeden tossed for 197 yards and a touchdown, while Tuel threw 8-of-20 for 80 yards and a pick six to Browns' safety TJ Ward. Bills running back Fred Jackson had two touchdowns on just 17 carries, and CJ Spiller, who has been used more sparingly as of late, gashed Cleveland for a 54-yard touchdown run. For Cleveland, Billy Cundiff hit three of three field goals; wide receiver Josh Gordon caught four balls for 86 yards and a touchdown, and running back Willis McGahee gained 72 yards and a touchdown on 26 carries.
At 3-2, the Browns are still somehow atop the AFC North despite their quarterback situation. In the preseason, it was said that former Redskin Jason Campbell would attempt to challenge Brandon Weeden for his job, but that didn't work out. In fact, when Weeden hurt his thumb in week two, the Browns went right to third string quarterback Brian Hoyer, who got them their first two wins of the season. But here's the thing: Weeden's level of play on Oct. 3 was shocking. He looked surprisingly confident despite getting benched earlier in the season.
Historically, Campbell hasn't done anything to show the world that he isn't at least a worthwhile backup quarterback. However, none of the quarterbacks on the Browns roster are the answer. At this point, Cleveland could look to the draft for a quarterback again, planning for the future, but this time, unlike Weeden, Brady Quinn, Colt McCoy, and so on and so forth, the Browns will actually have some offensive pieces around the rookie. But for the immediate future, the Browns host the 3-2 Detroit Lions at 1 p.m. on Sunday, Oct. 13 and Weeden looks to be under center.
As for the 2-3 Bills, they cannot be disappointed with what EJ Manuel has done when healthy. In both wins, Manuel has led game-winning drives. However, his sprained LCL and Kevin Kolb's concussion leaves Jeff Tuel and former Duke Blue Devil Thad Lewis as the only two quarterbacks on the roster. The Bills worked out both Pat White and Dennis Dixon over the weekend, but as of Oct. 7, it appears that Lewis, who was recently activated from the Bills' practice squad, will start against the Bengals on Oct. 13 at 1 p.m.
It was a quiet weekend at Heinz Field, as the Pittsburgh Steelers and Pittsburgh Panthers shared a bye week. The 0-4 Steelers look to notch their first win of the season on a visit to the New York Jets at 1 p.m., and Pitt (3-1, 2-1 ACC) looks to continue their ACC winning streak against the Virginia Tech Hokies at noon on Saturday, Oct. 12.
The Penn State Nittany Lions struggled in their first game of Big Ten conference play, as their sixteen-game winning streak against the Indiana Hoosiers came to an end with a final score of 44-24 in favor of Indiana. True freshman Christian Hackenberg was forced to be a crutch for the Nittany Lions, but his 340 yards and three touchdowns were not enough. Hackenberg connected with junior Allen Robinson for 173 yards and two touchdowns. Robinson's 12 receptions led the Nittany Lions.
Indiana's balance offensively won the game for them. The Hoosiers had 150 yards and three touchdowns on the ground and 336 yards and two touchdowns through the air. The lack of run game led to Penn State's defense getting tired and vulnerable. And the Big Ten road will not be getting any easier, as they face Devin Gardner and the No. 18 Michigan Wolverines on Oct. 12 at 5 p.m.
Indians Fall; Pirates and Tigers fight on
The Cleveland Indians were shut out at Progressive Field by the Tampa Bay Rays by a score of 4-0. Right-handed rookie Danny Salazar started the game and picked up a loss after allowing three runs in four innings of work.
Salazar and the Tribe were outmatched by fellow righty Alex Cobb, whose record this season was 11-3. Indians third baseman Lonnie Chisenhall had three hits and catchers Yan Gomes and Carlos Santana both had two, but hits don't win a baseball game. Runs do. The Rays are currently trailing the Boston Red Sox 2-1 in a five game series.
The Detroit Tigers don't have the time to watch the Rays-Red Sox series and look ahead, as they trail the Oakland Athletics 2-1 in the other AL Divisional series. The Tigers started off the series right with a 3-2 pitched by Max Scherzer. Center fielder Austin Jackson, right fielder Torii Hunter, and designated hitter Victor Martinez all scored runs in the first inning. No more runs were scored for Detroit, but the Tigers didn't need any more. However, after a strong first inning in Game 1, the Tigers haven't shown much offensively.
On Saturday, Oct. 5, right-handed pitcher Justin Verlander struck out 11 and allowed only four hits and no runs in seven innings of work. The Tigers ended up losing 1-0 and batting only .219 on the night. On Monday, there was a bright spot in a three-run fourth inning for Detroit. Oakland had built a three-run lead that was answered in the fourth, but Anibal Sanchez's three runs allowed in one third of the fifth inning knocked out almost all of Detroit's momentum. The rest of the game was a stalemate that ended in a 6-3 loss. In order to advance, the Tigers must win at home on Tuesday, Oct. 8 at 5:07 p.m. against the Athletics and Thursday, Oct. 10 in Oakland at 9:07 p.m.
The Pittsburgh Pirates are also in a must-win situation a la the Tigers. After a 6-2 win over the Cincinnati Reds led by lefty Francisco Liriano, the Bucs have split four games with the St. Louis Cardinals. Catcher Russell Martin was also a big factor in the wild card win, hitting three for four with two runs and two RBI. After getting shellacked by the Cardinals on Thursday, Oct. 3 by a score of 9-1, the Pirates generated some offense for righty Gerrit Cole in a 7-1 victory in game two on Friday, Oct. 4. Martin was instrumental yet again, earning two RBI and scoring a run. Third baseman Pedro Alvarez also had two RBI. Alvarez also scored two runs.
The Pirates took their high level of play into Sunday's game on Oct. 6, with two runs coming from all-star center fielder Andrew McCutchen in a 5-3 victory. Martin had two RBI, as did right fielder Marlon Byrd. Liriano took the mound again in game 3, allowing three hits and two runs in six innings. Mark Melancon picked up the win and Jason Grilli earned the save. Game four, the second game at PNC Park, did not go as well. The Pirates failed to close out the series and lost 2-1. Righty Charlie Morton took the mound and worked five and two thirds innings. His two earned runs in the top of the sixth saw him removed from the mound. Alvarez knocked a solo home run out of the park, in the eighth, but he couldn't do it alone. The Pirates are in a do-or-die game with the Cardinals in St. Louis on Wednesday, Oct. 9 at 8:07p.m.
Otters open up Erie Insurance Arena with a Bang; NHL Season is Under Way
The Erie Otters played their first game ever in the newly renovated Erie Insurance Arena, and Otters fans went home happy. The recently relocated North Bay Battalion was no match for the Otters in an 8-4 victory.
Washington Capitals prospect Andre Burakovsky led the way with a goal and four assists. His line mates also fared very well: Center Connor McDavid had a goal and an assist and right winger Connor Brown (TOR) had two goals and two assists. Center Dane Fox also contributed two goals and two assists, fellow center Jake Evans scored a goal, and left winger Michael Curtis found the net as well.
Columbus Blue Jackets prospect Oscar Dansk's save percentage of .800 was not ideal, but the offense was simply on fire. The Otters also corrected their power play struggles , scoring on all three opportunities against North Bay. Last week, a 1-for-6 effort on the power play led to a 2-1 loss to the Saginaw Spirit. After an easy week, the 3-3 Otters play at home against the Owen Sound Attack on Oct. 9 at 7 p.m. and against Saginaw on Oct. 12. The Otters also visit the Kitchener Rangers and the Mississauga Steelheads in the upcoming week.
The Pittsburgh Penguins started off their NHL Season with a strong two-game week. At home against the New Jersey Devils on Oct. 3, two wristers from right winger Chuck Kobasew and center Sidney Crosby put the Penguins up early in the first. Right winger Craig Adams poured a little salt in the wound by putting a snap shot past Devils goalie Cory Schneider to notch the 3-0 win and Marc-Andre Fleury's first shutout of the season.
The Buffalo Sabres, on the other hand, went 0-2 on the week leading up to their game at the Penguins. The Sabres were able to keep their opener at the Detroit Red Wings on Wednesday, Oct. 2 fairly close, but Ryan Miller's .941 save percentage was not enough. 2012 first-round pick Zemgus Girgensons scored on a backhander in the third, but bringing out an extra attacker late was unsuccessful.
Two days later, the Ottawa Senators shut them out in their home opener. Miller was spectacular, saving 45 of the 46 shots he faced. The Sabres had three missed opportunities on the power play in the first period in the 1-0 loss.
The Pens and Sabres faced off in the CONSOL Energy Center on Oct. 5. Sabres goalie Jhonas Enroth got the start due to a "lower-body injury" to Miller, which makes sense given that he has faced 80 shots in his first two games. Keep your hopes up, Buffalo, Miller is listed as day-to-day. It could be worse. On the ice, Crosby, Kobasew, and Adams all scored again on Saturday. Adams scored empty-netter after Enroth was pulled for another forward, and left winger Chris Kunitz was able to convert on a penalty shot. Sabres left winger Thomas Vanek scored Buffalo's only goal on a tip-in.
The sooner Miller comes back, the better, as the week ahead holds lots of firepower lining up against Buffalo. The Sabres host the Tampa Bay Lightning on Oct. 8, the Columbus Blue Jackets on Oct. 10, and the Minnesota Wild on Oct. 14. On Saturday, Oct. 12, they pay a visit to the Chicago Blackhawks.
The Blue Jackets and Wild boast depth at forward, while the Lightning and Blackhawks both have tandems of superstars that are line mates.
Meanwhile, the Penguins host the Hurricanes on Oct. 8 at 7 p.m. and then head to Florida for the weekend to play the Florida Panthers on Friday, Oct. 11 and the Tampa Bay Lightning on Oct. 12.
Adam Unger can be contacted at aUnger@ErieReader.com, and you can follow him on Twitter @AdamUnger28.