Stacking Bars With Dragonfly Lake Scents, LLC
Power couple helps Erie power through bath time naturally
January 29, 2020 at 1:45 PM
You've got your daytime soaps — The Young and the Restless, All My Children, and Days of Our Lives. (A glass of wine splashes in an impertinent suitor's face at a charity ball helping purseless Pomeranians find their forever Vuitton.) Then you've got your primetime soaps — Dawson's Creek, The OC, and Beverly Hills 90210. (Elsewhere, beer bottles shatter as two suitors tussle over the same crush at a weekend tailgate.) And finally, you have your anytime soaps in Dragonfly Lake Scents, LLC. (An immersion blender dutifully whips together natural fats, oils, fragrance, and lye in a Downtown Erie loft.)
There's not much drama to go around at Dragonfly, just the commitment and hard work of a long-established couple who share the same passion. Co-founders Tenise Monterio and Mioshee Greer (aka "The Sexy Siren of Suds") met within an online knitting community and quickly discovered kinship through craftswomanship. Soapmaking was first viewed as "something creative to do" and a "natural progression from knitting," recalled Greer. Initial batches were intended for "around the house." Subsequent batches were offered as favors for friends and family. Soon enough, soap and soapmaking supplies were stacked up to the windows. The duo was literally living life behind bars.
"It was a hobby until it couldn't be a hobby anymore," Greer admitted. Seven years later, Dragonfly's operations are starting to outgrow their headquarters on the third floor of the PACA Building at 1505 State St. "We make about 100 pounds of soap every 10 days," Monterio estimated. During their peak production months of October through December, the two toil approximately 80 to 90 hours a week to keep ahead of schedule. In general, they are working six weeks in advance of a slated release, because that's how long it takes for most soaps to "cure," or evaporate excess moisture.
Soapmaking is a little easier when the weather is cooler, especially given that the PACA Building is without air conditioning — during the height of summer, the ambient temperature in the Dragonfly workspace can exceed 120 degrees. More moderate temperatures are friendlier to both the soap and the soapmaker. After a five-hour production shift one summer, Monterio slipped into heat exhaustion after essentially bathing in her own sweat. If that's not dedication, who knows what is — after all, we have but One Life to Live.
Such daredevilry is nothing new to Monterio. As a child, her mother would drop her off at the family farm in Mississippi for months at a time, where she would milk cows, shuck corn, and yes — make soap the old-fashioned way. What's so inherently risky about traditional soapmaking? Well, the truth is that soap cannot exist without lye, the highly caustic catalyst of saponification. Saponification is a chemical reaction in which a lye solution (sodium or potassium hydroxide and water) is added to fat, producing soap (chemically classified as "a salt of a fatty acid") and glycerol.
Today, lye can be readily purchased online or through a chemical supply store. Homesteaders, however, did not have that luxury and had to concentrate their own "lye water" or "potash" by filtering rainwater through wood ash until it reached the ideal strength — strong enough to float an egg/potato just less than halfway above the surface. The potash was then boiled together with animal fat (such as tallow) in a kettle until a thick froth formed. Soap's on!
As you might imagine, transferring corrosive liquid back and forth between containers poses a certain danger. The first inventory Monterio was ever asked to take was not of soap yield, but of her own fingers. As a relief to both her mother and eventual life partner, all ten were present and accounted for. It's all hands on deck at Dragonfly Lake Scents, LLC — and at press time, there are only two pairs. "These four hands make everything," emphasized Greer. "Every recipe we formulate on our own and is a labor of love."
In the cold process soapmaking practiced by Dragonfly — and most of today's artisanal "soapers" — melted fats and oils are first blended with a lye solution (lye, water, and any alternative liquids such as juice, milk, or tea) to create an emulsion ("trace"). Once trace is achieved (no separation of oils), fragrances or colorants can be infused into the soap batter, which will remain in "gel phase" for the next 24-48 hours. Soapers will often divide a single master batch of soap batter into several smaller batches, coloring and decorating each one differently in preparation for swirling or layering.
"It's creative as well as scientific," says Greer, a graduate of Mercyhurst's nursing program. "It's a science experiment I've performed a quadrillion times."
The gel phase is also ideal for embeds, decorative elements nestled on top of or within the soap — for example, hearts set atop pink Valentine's bars or moons tucked in the corner of a bar the color of a twilit sky. Once the soap is set, it is cut into bars and set aside to cure. Cure time can be as little as four weeks but as much as a year or more, depending on the fats used (for instance, a 100-percent olive oil Castile soap must cure at least 6 months). The longer the cure time, the harder the soap.
Every eco-friendly product Dragonfly batches — including soaps, shampoo bars, lotions, lip balms, body butters, bath bombs, shower steamers, and deodorants — utilizes the maximum percentage of local ingredients possible, although Monterio concedes she's "killed many a plant trying to get them to work in this climate zone." She cited attempts to grow lemongrass and loofah both as abject failures. That's right — loofahs can be grown. The squash relatives are picked from the ground (as opposed to picked repeatedly off the shower floor), dried out, and serve as a sort of exfoliating scaffolding within each bar of Dragonfly soap, completely biodegrading as they're used.
Beyond those few feisty items that Erie cannot cultivate, it's all 814 all the way. As the Detroit-born, Oklahoma-raised Greer likes to say (and wants printed on a t-shirt), "Erie don't bother me." Over 85 percent of the herbal components are homegrown; alternative liquids such as wine, beer, and coffee are sourced from local wineries, breweries, and roasters. When it's time to produce a batch of beer soap, the couple has no qualms about loading a wagon up with Lavery brews and parading it through downtown as they make their way back to the studio.
In fact, they aren't self-conscious about many things. When rolling out of Big Lots with a cartload of coconut and olive oils draws bemused looks, they quip "we ran out of Jell-O, so we're gonna wrestle in this." Instead, they choose to grapple with product-consciousness —availability, quality, and integrity. Everything's natural and rated for minimal-to-no environmental impact — in other words, your future grandchildren won't see the flora and fauna of Presque Isle wearing the same glitter from tonight's bath bomb.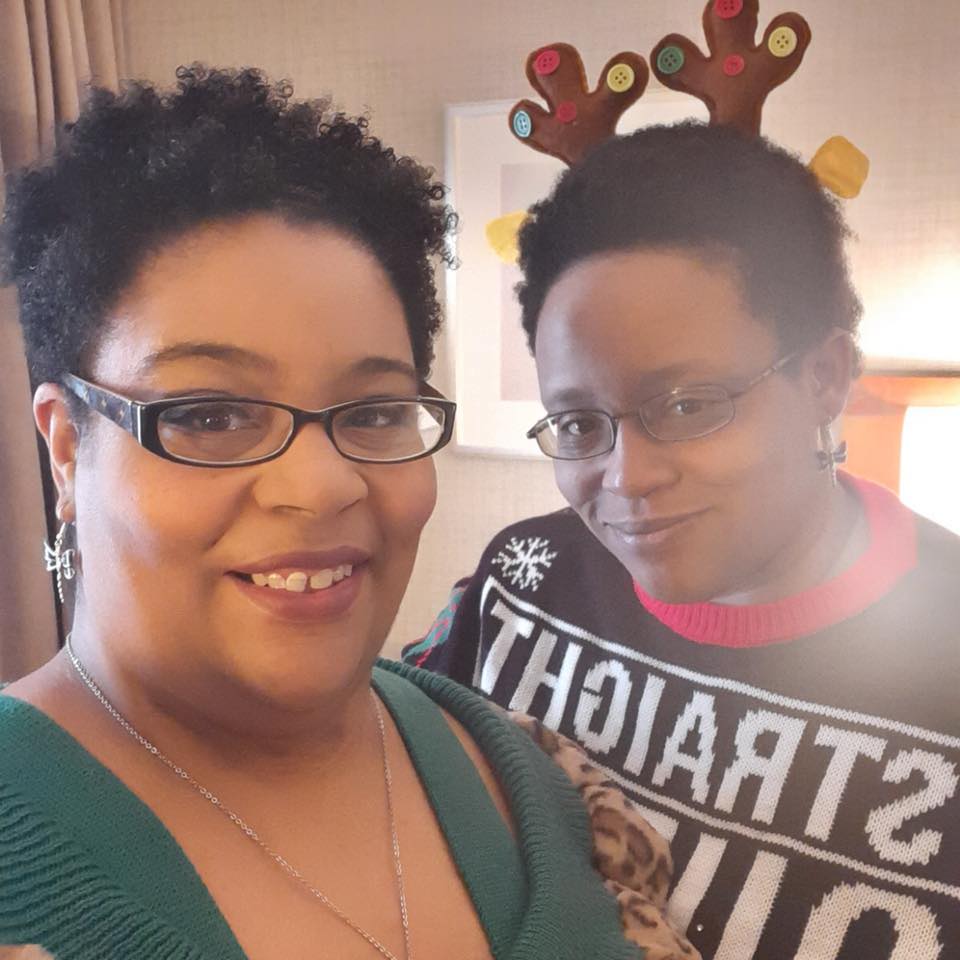 Dragonfly Lake Scents co-owners Mioshee Greer (left) and Tenise Monterio "combined forces" after meeting through an online knitting community. Partners in business and in love, soapmaking taps into a shared curiosity for creativity and chemistry.
As we part ways, the ladies have one embed left to impress in my brain, which itself is more or less perpetually in gel phase: Dragonfly bath and skin care products are not just for ladies. Gentlemen/fellas/dudes/bros, don't be afraid — it's okay to cry and it's okay to be supple. Hell, you can even smell like dirt if you want to (but inside you are so much more) — one of the first products Greer and Monterio ever produced was "hunter's soap" for their landlord, which cloaks the stench of your humanity with the earthy neutrality of potting soil.
"If you like it, I'll make it," affirms Greer.
After weeks of incorporating Dragonfly products into my personal hygiene regimen, I can confirms that my own individual abrasiveness factor* has decreased from about 40-grit to 400. For those not versed in sandpaper, that's what qualifies as "super fine." (*Author's note: Exclusively a tactile metric; I cannot vouch for myself aesthetically or interpersonally).
If you, friends, family, or significant others have skin as well — and I hope y'all do, otherwise perhaps you should be admitted to General Hospital? — you'd be wise to follow suit.
Dragonfly Lake Scents, LLC products are available in person at Attic Rehab (1503 State St.), The Whole Foods Co-Op (1341 W. 26th St.), or PACA (1505 State St., schedule an appointment or pickup via their Facebook page at facebook.com/dragonflylakescents) and online at etsy.com/shop/dragonflylakescents. Special requests are welcome and accommodated to the best of the team's ability.
Matt Swanseger is continuing to wash up his act. Get a hold of him (he's reasonably less slippery than a bar of soap) at mswanseger@eriereader.com