Stepping into Philip Langdon's shoes
Urban writer shares ideas on improving Erie's walkability
In Erie's Little Italy, freelance journalist and urbanism expert Philip Langdon detected a hint of Philadelphia.
At Independence Hill, an eclectic, historic area near West 26th and Peach streets, he came up with some bold ideas to promote the neighborhood and its businesses.
And his tour of downtown Erie, which took place despite a steady downpour, yielded good conversation and ideas about how to preserve Erie's legacy as we make plans to reshape our future.
During his week in Erie, Langdon, the author of the 2017 book Within Walking Distance, Creating Livable Communities for All, saw some shining examples of our built environment, including Lawrence Park Township, which has been approved for placement on the National Register of Historic Places.
Langdon also noted some of Erie's shortcomings, such as the lack of sidewalks on eastside Erie streets near Buffalo Road.
I always enjoy learning about how visitors view Erie, but Langdon's impressions of our community have special significance. A Connecticut resident for many years, Langdon, 71, is a native of Greenville, Pa., in Mercer County, and spent his adolescence here, attending Glenwood School and graduating from Wesleyville School in 1965, then going on to Allegheny College.
He is happy that both of his old schools have found adaptive reuses  — Glenwood as the Erie Federal Credit Union and Wesleyville as the Willow Commons Apartments. Wesleyville School (which had been K-12) has been converted into "affordable apartments for seniors, with lots of nice features and very reasonable rents. It's a good location for senior housing, a very short walk to stores and other businesses on Buffalo Road," Langdon says.
When I learned that Lisa Austin, a founder and current board member of Preservation Erie, had landed Langdon as the keynote speaker for Preservation Erie's annual Greater Erie Awards on April 25, I cheered. In 2002, I did a phone interview with Langdon for my newspaper column, about how front porches create a spirit of community and a sense of security.
I wrote the column after Erie City Councilman Jim Casey suggested a study on whether to make front porches a mandatory part of new housing construction. Casey's idea unleashed a slew of criticism about big-government intrusion, but I knew that he wasn't alone in embracing the benefits of front porches. Langdon had written for The Atlantic magazine about why Robert Davis required porches when he developed the new town of Seaside, Fla. Langdon later expanded his story into a book, A Better Place to Live.
"Davis really wanted a place that was sociable and where people would see one another and strike up conversations with people passing by and feel like it was friendly and inhabited," Langdon told me in that long-ago interview.
Now I'd have a chance to meet him in person, to talk about front porches and other ways to enhance city livability.
But while Langdon was eating breakfast at the cozy Lawrence Park Dinor with Preservation Erie board member Terry Cavanaugh and the people working to put the township on the National Register of Historic Places, I was skimming the heart-healthy menu at UPMC Hamot, where I had undergone a heart catherization the day before.
I consider most parts of Erie "within walking (and biking) distance" for me, but it turns out that my daily exercise routine couldn't compensate for a family history of heart disease.
So instead of chatting with Langdon about mixed-use developments, outdoor dining, start-up businesses, linked parks, neighborhood activism and, yes, front porches — some of the topics he covers in his book about walkability — I interviewed some of the folks who spent time with Langdon and followed up with an email interview.
Cavanaugh, a retired Erie attorney, says that Langdon seemed delighted by the experience of walking through Lawrence Park, which famed city planner John Nolen designed as a company town for General Electric. Cavanaugh says he enjoyed seeing how Nolen's plan tied together housing for "the working class and middle management and the more elite" residents of Lawrence Park.
In Wesleyville, Langdon says that his "biggest surprise" was seeing Curry's Spectacle Shop, at 3202 Buffalo Road, in an old bank building. "The owners have done a remarkable job of preserving much of the bank interior," he says.
Cavanaugh also joined Langdon and a group of civic leaders and city officials for a walking tour of downtown Erie. Langdon noticed the Jimmy John's sub shop in the Richford Arms apartment building on State Street and Perry Square. Instead of building a stand-alone fast-food restaurant — or tearing something down for a restaurant chain — Jimmy John's has been incorporated into an existing building, and that's a good sign, says Cavanaugh.
"The walking tour of downtown — even though it rained the whole time — proved productive in that it got people talking to one another about current and proposed projects that hadn't previously been considered. Sometimes it's helpful to slow down and simply talk," says Melinda Meyer, president of Preservation Erie.
Heather May Caspar, executive director of the Sisters of St. Joseph Neighborhood Network, agrees that Langdon's visit was fruitful. Langdon spent time in both the west- and east-side neighborhoods served by SSJNN.
"We talked in general about revitalization work that the SSJNN has done, including work with the city and with PennDOT for the new sidewalks and curbside gardens on 18th Street," she says. "He shared thoughts on where he'd visited (in Erie) up to that point, and my takeaway was this: While strong attention has been paid to concentrated areas, Phil believes that there is rudimentary planning and groundwork to be laid at City Hall. Some very elementary (his word) walkability obstacles exist across many areas of the city, including connectivity between areas that have been developed, suggesting policy change was going to be required to establish walkability as a citywide priority."
Langdon has been busy since he returned to Connecticut. He just spent three days in Ottawa, at the International Making Cities Livable Conference, where he spoke on walkability.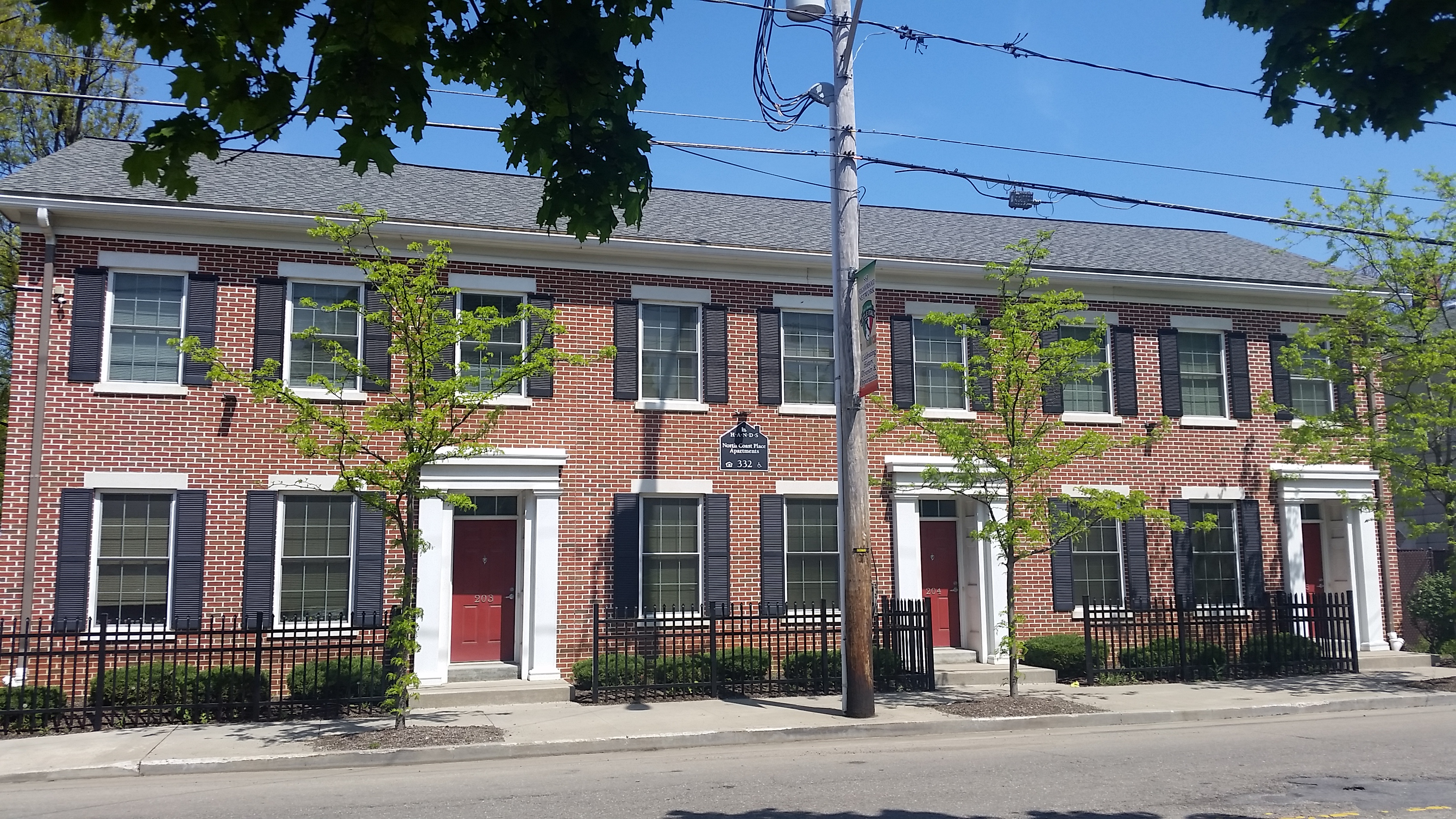 Liz Allen
The North Coast Apartments look like row houses you'd find in Philadelphia, but the building was designed by Kidder Wachter Architecture & Design in Erie for Housing and Neighborhood Development Services in the 300 block of West 18th Street, in Erie's Little Italy neighborhood.
But he's also stayed in touch with the people and organizations that hosted him during his Erie stay, sharing additional suggestions about steps that neighborhoods might take to foster community and improve walkability.
In his book Within Walking Distance, Langdon writes about six cities where walking has become a "central and sociable element of daily life." His first chapter offers lessons from some of Philadelphia's vibrant neighborhoods, which are tightly packed with mixed-use buildings, especially row houses. He got to know Philadelphia by spending weekends there after he started his journalism career at the Harrisburg Patriot-News, 100 miles to the west of Philly, in 1969.
Because of his familiarity with Philadelphia's housing styles, it's not surprising that in Erie, he liked the Greek Revival-style North Coast Apartments, in the 300 block of West 16th Street, in Little Italy. The apartments aren't row houses — they just look that way.
"What really impresses me is that these handsome units are HUD housing, developed by an organization in Erie called Housing and Neighborhood Development Services (HANDS)," he wrote in an email he shared with Gretchen Gallagher Durney, neighborhood manager for the Sisters of St. Joseph Neighborhood Network. The apartments were designed by Kidder Wachter Architecture & Design of Erie.
Langdon elaborated on his thoughts about the row house-like apartment building in his e-mail to me. "Jeff Kidder at Kidder Wachter architects tells me the buildings actually consist of affordable first- and second-floor apartments. The apartments are dignified and draw on Greek Revival architecture — the beautiful style found in the Erie County Courthouse and nearby buildings, a part of downtown Erie I've always admired."
I visited Little Italy to see what Langdon had pointed out. He was right. Standing on the west side of Hickory Street, which intersects with 18th Street, I admired the stately façade of the 10-unit apartment row houses, shaded by leafy young trees and accented with black wrought-iron fencing. The housing opened my eyes to how well-crafted new construction of affordable housing can enhance old neighborhoods.
Langdon also shared ideas with people making plans for Independence Hill, after he joined a group for lunch at Federal Hill Smokehouse, 2609 Peach Street. "Federal Hill (or Independence Hill) occupies a very interesting piece of Erie's geography. There's no other intersection quite like it. My sense is that it could blossom," he wrote in an email in which he talked about some "bold" ideas that highlighted the East Side neighborhood in Portland, Oregon. Independence Hill "is a bit rough and the vehicular traffic is intense, so it might make sense to draw attention to the business area by doing something like painting part of the street with an imaginative design," he wrote.
Langdon also spent time on Erie's east side, at meetings organized by the East Side Grassroots Coalition, the Quality of Life Learning Center, the city of Erie's Erie Refocused team and the Erie School District.
Sister Michele Schroeck, director of the House of Mercy, which is part of the Grassroots Coalition, said Langdon was "surprised that a lot of places didn't have sidewalks." Finding remedies for that is part of the coalition's new strategic plan.
Gary Horton, director of the Quality of Life Learning Center, said that Langdon's time with the coalition members at the JFK Center, 2021 E. 20th St., was "very constructive and productive." Horton was happy that Langdon got to see that teenagers are engaged in devising revitalization plans for Erie's east side.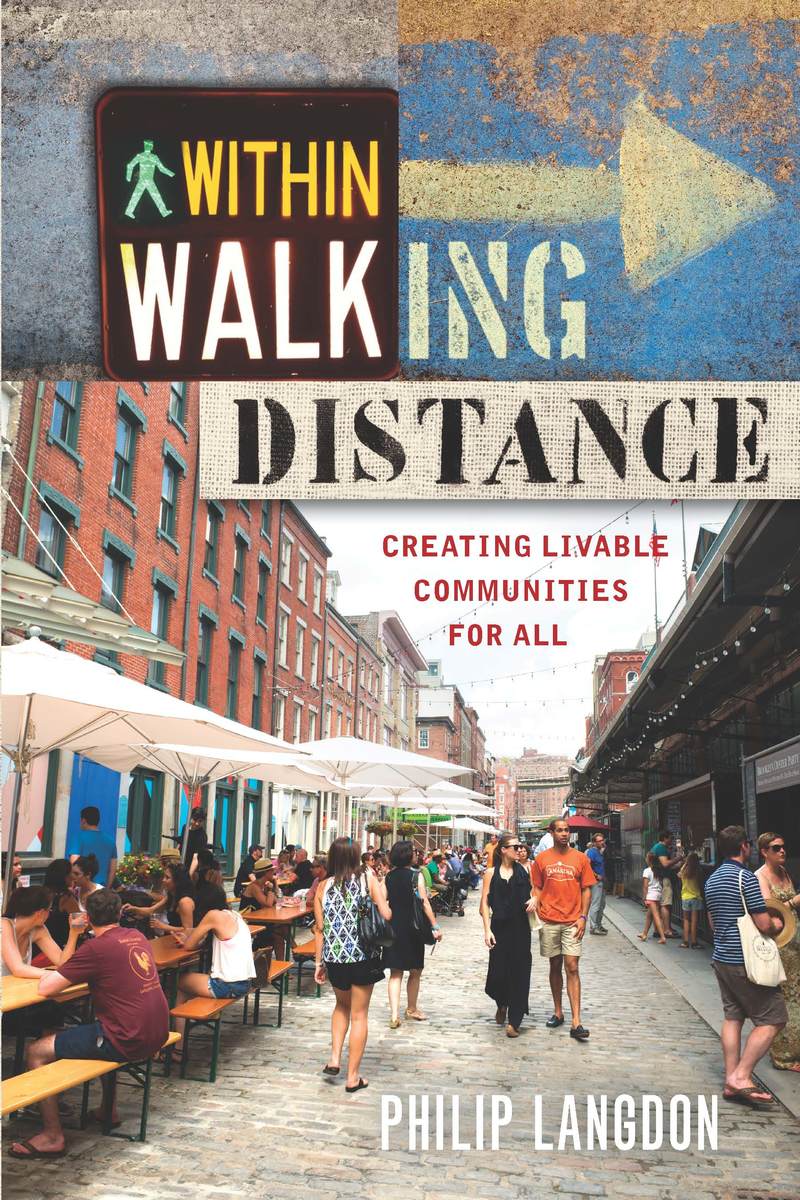 Island Press
Philip Langdon's book Within Walking Distance details six cities where walking has become "a central and sociable element of daily life."
"We tell them leadership is a full-time job. You have to practice it all the time, like you do dance, basketball or soccer," Horton said.
Cavanaugh is pleased that Preservation Erie found a speaker with "a connection to Erie and a basis of reference" when discussing ideas about how to bolster our pedestrian scale.
And you can't have walkability without sidewalks. "I saw many blocks where the sidewalks were badly deteriorated or nonexistent, making it difficult for students to walk to school and for all sorts of people to walk to destinations," Langdon wrote to me. "Erie also needs safer crosswalks, with markings on the pavement to make it clear that pedestrians can expect some degree of safety," he wrote.
I'm impressed that although Langdon has departed from Erie, his ideas are still floating around and sparking creativity. Caspar, the director of the SSJ Neighborhood Network, says her organization is mapping the murals and community gardens in Little Italy. That map, she says, could lead to a walking tour of the neighborhood. Langdon would concur.
"I think people can get a greater appreciation of their neighborhoods if tours that explain their history, architecture and earlier residents are offered," he said. "Tours of parks or natural areas are also useful; they give people a sense of what's there and of what makes a place special."
Liz Allen, a member of Erie City Council, has developed a walking tour of her street, Lincoln Avenue, which has lots of front porches. You can reach her at lizerie@aol.com.