Street Corner Soapbox: AL MVP debate
Another debate! No, it's not Ted Williams v. Joe DiMaggio...or is it? Jay Stevens opens a can of worms.
October 17, 2012 at 10:34 AM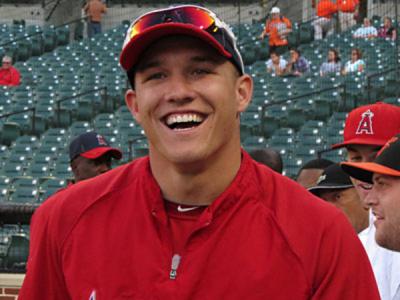 It's time to open that can of worms: Mike Trout of the Anaheim Angels was in 2012 the best player in the American League.
Those that follow baseball closely are now either gnashing their teeth and penning obscene letters to the Erie Reader, or nodding heads in agreement, maybe even patting their own backs a little. For those more casual fans, or those who aren't fans at all, here's the deal. The AL MVP award essentially comes down to two players: Mike Trout and Miguel Cabrera of the Detroit Tigers.
Cabrera is the Triple Crown winner, the argument for the Detroit third baseman goes – the first since 1967. He led the league in batting average (.330), home runs (44), and runs batted in (139). His team made the playoffs, he hit in September, he hit in the clutch. He's gritty. A veteran, a sure Hall-of-Famer. And home runs, RBIs, and batting average are the statistics that the writers that award the MVP tend to focus on.
But here's the thing: the case for Cabrera doesn't really consider the game of baseball. Trout, after all, who had nearly as good a year in the traditional statistics as Detroit's third baseman – he hit .326 with 30 home runs and 83 RBIs – contributes in so many other ways. Cabrera is a plodding base clogger. Trout has super-speed and is an excellent baserunner. He stole 49 bases this year, getting caught only five times. The 20-year-old wunderkind also plays elite defense in centerfield. Cabrera has the range at third of an oven mitt. That he has only 13 errors this year is a testament to how few plays he got to this year.
But how much better than Cabrera was Trout? According to some new statistical measures, quite a bit. WAR – or "wins above replacement" – is a calculation combining fielding, baserunning, and walks with other more traditional measures of baseball prowess. According to baseball-reference.com's variation of WAR, Trout had a WAR of 10.7 – worth more than 10 wins above an AAA player's expected production at the position. Cabrera notched a 6.9. According to WAR, Cabrera wasn't even the second-best American Leaguer in 2012. That would be New York Yankees second baseman Robinson Cano.
But that's stat-geek talk. Statistics can be made to say anything they want, right? Well, yes. They can. But all you have to do is watch the games to see how great a fielder Trout is and how poor Cabrera is. Trout passes the eye test. He does so much more than Cabrera: he hits, fields, and runs.
That's the thing. Many folks attack the argument for Trout as being the product of obscure, modern, and "meaningless" stats like WAR. That line of thinking claims the case for Trout comes from stats-obsessed people who don't watch the game. But it's the case for Cabrera that's stats-obsessed. Only the stats that Cabrera-backers cite come from the back of trading cards; they're stats used for fantasy baseball, but not the best stats for understanding baseball.
There's evidence that in the past, those who voted for the MVP understood the importance of defense and baserunning. In 1947, for example, Ted Williams won the Triple Crown, hitting .343 with 32 home runs and 114 RBIs, but it was the centerfielder known as much for his defense as for his bat – Joe DiMaggio – who won the MVP.
Maybe this year, they'll get it right again.
Jay Stevens can be contacted at Jay@ErieReader.com