Street Corner Soapbox: Redistricting Erie
Redistricting. What it is? Why does it matter? And what does it mean for Erie?
January 11, 2012 at 12:00 PM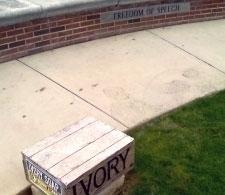 Redistricting. Maybe you know what it is and how it works, but maybe you're a political junkie. Otherwise it's kind of mysterious and baffling, something relegated to the paper's back pages. No wonder: its battlefields are the stuffy committee rooms scattered across our state capitals, and its most compelling image is a map filled with jagged polygons that resemble shards of broken glass.
So, what it is? Why does it matter? And what does it mean for Erie?
Redistricting, simply, is when the political boundaries for state senate and state and federal house districts are redrawn to reflect changing demographics. These districts are supposed to contain the same number of citizens to ensure that everybody is equally represented, so that as populations shrink or grow, their districts change size, too. That's why redistricting occurs every 10 years, and across the country simultaneously: it's based on census data.
In Pennsylvania, redistricting happens in two ways. For U.S. House seats, the legislature passes redistricting maps like any other normal piece of legislation. For the state legislature, a bi-partisan committee draws the maps, which are approved by the legislature.
And that's when the fun begins: gerrymandering. That's the term for stretching or warping a district to give an advantage to a particular party or incumbent. Legislators draw maps to pack like-minded voters into districts to make them safe for incumbents, or split up voting blocs among other districts to give their political party more legislative seats.
Which is what happened in Pennsylvania this year. Republicans, controlling the assembly, rigged the electoral maps to solidify their hold on the capitol to ensure that a majority of Pennsylvania House representatives are Republican. The end result is a bunch of districts that look like spilled milk, some with tendrils curling around various streets and neighborhoods. According to GIS analysis by the software company, Azavea, the state's proposed federal House districts are some of the "least compact" -- the most spread out -- in all of the country. House District 7, for example, looks like an amoeba on the verge of splitting, held together by the tiniest of corridors the width of a single hospital complex.
Not that Pennsylvania Democrats are free from blame. Their proposed map was just as rigged, but only in their favor. And the Republican redistricting plan sailed through the state house and senate thanks to wide Democratic support. After all, much of the plan makes incumbents safer, and the only thing that means more to a politician than the interests of their constituents is keeping the seat.
So what does redistricting mean for Erie? Slow growth meant that Erie lost a Republican State House seat -- John Evans', who is retiring. More egregiously, Erie County's U.S. House District has been carved in two. The eastern and southern chunk of Erie County, including Northeast and parts of Millcreek, has been sent off to House District 5, which spans most of north Pennsylvania from Oil City and Franklin over to State College and is represented by Republican Glenn Thompson from Howard Township, halfway across the state. Mike Kelly's House District 3 keeps the rest of Erie and gets chunks of the rural west and the area around New Castle.
The result is that HD 5 -- a safe Republican seat -- becomes slightly less conservative, and HD 3 -- a perennial swing district -- becomes more conservative and now favors Kelly's re-election. In short, the city of Erie's influence, with its Democratic tendencies, will be erased from the U.S. House.
Of course, the redistricting plan was rushed by legislators from conception to vote with little time for public comments. And who can blame them? The whole process stinks, no matter which party runs it.