Street Corner Soapbox:Voting Rights Act Goes Before Supreme Court
Is Supreme Court Justice Anton Scalia a racist?
March 6, 2013 at 11:59 AM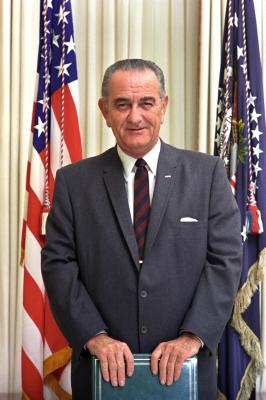 Supreme Court Justice Anton Scalia last week in the oral arguments in Shelby County v. Eric Holder called a provision in the landmark Voting Rights Act a "perpetuation of racial entitlements."
The provision he thus dubbed a political favor for African-Americans – and the provision at risk in the case before the court, is Section 5 – which requires that certain states, counties, and municipalities with a history of racist voting laws – Alabama, Georgia, and Mississippi, among others – must clear any changes to voting laws with a panel of federal judges. Scalia apparently opposes this piece of legislation because he feels Congress is politically motivated to continue renewing it, not because it's in any way needed.
"That's the concern those of us who have some questions about this statute have," said Scalia. "It's a concern that this is not the kind of question you can leave to Congress."
This is a dumb thing to say.
First, it could be that there's more support in Congress for the bill today than in the 1960s, not because it's politically expedient as Scalia claims, but because there are fewer racists in Congress.
Second, racism still influences voting rights. Remember the battery of voter ID laws that were recently passed across the United States? Studies have shown that voter ID laws impact low-income minorities the hardest, because those groups are the least likely to have driver's licenses. And in these laws, Republican legislators, knowing African-Americans tend to vote Democratic, saw a chance to influence an election in a year that an African-American was running for President.
The Supreme Court itself noted the political motivation of voter ID laws when it upheld Indiana's version in 2008. It was "fair to infer that partisan considerations may have played a significant role" in the crafting of the bill, read the court's majority opinion. But the court – with Scalia on the majority – approved the law, anyway.
Here in Pennsylvania, a judge put our voter ID law on hold because the state hadn't done enough to ensure voters had proper identification, but it took Section 5 and the federal panel of judges to halt a similar voter ID law in Texas because of the bill's "unforgiving burdens" put on minority voters.
But perhaps the dumbest thing about Scalia's comments is the idea that Congress isn't fit to decide whether to continue to renew the Voting Rights Act and its Section 5.
"The complaint is really that the political process itself – and indeed the American people – have been corrupted by an ideology with which Justice Scalia strongly disagrees," wrote Joey Fishkin on the blog, Balkinization, "an ideology in which the Voting Rights Act is sacrosanct."
Get it? Scalia is weirded out by Americans' belief that all people have the right to vote, and that the federal government needs to oversee the process to make sure it's fair. The Supreme Court justice cannot fathom this idea of fairness, and can conceive only that Congress is motivated by politics. His worldview insists the Voting Rights Act is a gift, a favor, a back-scratching goodie for African American voters.
Not a surprising conclusion from a man whose start came as a political appointee in the Nixon administration.
Scalia's "crime," however, isn't that he's opposed to Section 5 of the Voting Rights Act. It's that he so crassly expressed his politically-motivated racist views for all to hear. Section 5 is in real jeopardy – the conservative wing, led by Chief Justice John Roberts, opposes it – but not on the grounds of "racial entitlements." Instead, its existence is endangered on procedural grounds.
Roberts, for example, loves the idea that other states harbor racism, too. In the Shelby County v. Eric Holder oral arguments, he challenged the argument that Section 5 still combats racist lawmaking by asking the government's lawyer, rhetorically, "Do you know which state has the worst ratio of white voter turnout to African-American voter turnout?" "I do not," says the hapless lawyer. "Massachusetts," answers Roberts. Why then should we single out only certain states, implies Roberts? His solution to his own riddle, of course, is to scrap Section 5's federal protection of minority voters everywhere.
And so, even as the Supreme Court proclaims the era of racism is behind us, it threatens to throw wide open the doors of racist politics.
Jay Stevens can be contacted at Jay@ErieReader.com, and you can follow him on Twitter @Snevets_Yaj.