Summer Music Guide
The music scene around Erie is filled with summer events.

Summer Programming at the Chautauqua Institution
The Skinny: For decades, our region's bookworms, news junkies, thinkers, and innovators have flocked to the Chautauqua Institution in Western New York for intellectual stimulation. This summer's programming continues that proud tradition.
Take Friday, July 31 for example.
Within a single day, The Rev. Dr. Dwight D. Andrews will explore the relationship between jazz and spirituality, two high-profile political strategists (Fred Davis and Mark Putnam) will offer insights about presidential campaigns, the life of an African American seamstress in 1905 will unravel in Lynn Nottage's play Intimate Apparel, the Chautauqua Opera will perform Tchaikovsky's Eugene Onegin, and Garrison Keillor will close things out with his whimsical storytelling.
If that's not enough, the Institution also features two art galleries, a sculpture garden, several dining establishments, and plenty of places to admire Chautauqua Lake as you debate the day's merits. Better still, it's only a forty-minute drive from Erie.
On Radars Because: The range and diversity of high-quality programming is really phenomenal, and unusual – there aren't many places in the world where Charlie Rose, the Beach Boys, former Attorney General Alberto Gonzales, and the top five contestants from season 14 of American Idol can all appear within a month.
You Should Attend Because: A comprehensive list of the worthwhile events would go on for pages. Like fiction? Drop by on Thursday, July 30 to hear Emily St. John Mandel read from her apocalyptic, fragmented character study Station Eleven. Maybe dancing is more your thing? On Tuesday, July 21 the Golden Dragon Acrobats will take to the stage, drawing inspiration from twenty-five centuries of Chinese gymnastics. For history buffs, Pulitzer-Prize winner Isabel Wilkerson will explain the African American migration from the south to the north during the Jim Crow era (and beyond) on Thursday, August 6.
And there's plenty more – for a full listing of the summer's events, check out Chautauqua's website at ciweb.org.
– Dan Schank
8 Great Tuesdays
The Skinny: 8 Great Tuesdays makes for eight great parties on Tuesdays, unsurprisingly. Port Erie hosts this free concert series every year, drawing in thousands of people to the Burger King Amphitheater at Liberty Park for its great live music and fun atmosphere, with artists like country music artist Chris Higbee and Americana roots rockers Donna the Buffalo in store for the 2015 lineup. Even more, Higbee will lead the bike parade from Harley Davidson of Erie Bikefest up to Liberty Park before his July 14 concert.
On Radars Because: It's about the biggest party that you'll find on a Tuesday, making the typically tame weekday feel like a Saturday jam. Past performers have blown the roof off of the amphitheater (figuratively, of course, as literally blowing off the roof would be quite terrifying and costly). Erieites have grown accustomed to seeing great summer shows like Rusted Root, Walter Trout, and Here Come the Mummies with local favorites Falling Hollywood all for free.
You Should Attend Because: It's like a massive party in a club is going up to 8 Great Tuesdays – but it's outdoors, on the bay, next to the beautiful lake, and it's free. In fact, it's like eight of those. While the full 8 Great Tuesdays schedule was not available before the Reader went to print, it's a pretty safe bet that Erieites won't be disappointed, especially since Higbee, Donna the Buffalo, and a strong possibility of The Clarks will make up three-eighths of the lineup. What's more is that 8 Great Tuesdays is about more than just the music, as simply experiencing the event makes for a good time. The view alone of a packed concert along the Bayfront is worth a trip or eight to Liberty Park, plus there is always all of the festival food to enjoy.
– Alex Bieler
Edinboro Art and Music Festival
The Skinny: It's coming up on the third weekend of May in northwestern Pennsylvania – blooming, balmy (maybe), and beautiful.
And, in nearby, sunny (maybe) Edinboro – just like it has for the past decade or so – that means music, lotsa music, that's all good, and all free, and plentiful enough to fill up a few almost-summer days and nights.
Starting the night of Thursday, May 14 and continuing through Sunday, May 17, the Downtown Edinboro Art and Music Festival – deep-steeped and well-simmered in the fine, long-storied lines of Appalachian music and folk traditions – is always a sweet, sweet way to usher in the Erie region's music festival season.
On Radars Because: I've said this before: One of the coolest things I've found about this one (and I've been to every one) is that it's a pretty good-and-sizable gathering, one that may attract some thousands over that three-day stretch. But, no matter where you go, it feels small, and intimate, and unhurried.
And good damn fun for the whole family, at that.
You Should Attend Because: This year's fest kicks off with its traditional opening jam by organizers/hosts/pickers Fred Parker and Friends, followed up by longtime East Coast jam masters/mainstays Donna the Buffalo Thursday night at Culbertson Hills near downtown Edinboro.
From there, for a good few days, it just sorta doesn't stop, featuring headlining sets by regional favorites like Big Leg Emma, Jim Avett, and Driftwood, along with well-known local acts like Eric Brewer & Friends, Potwhole, Claire Stuczynski, and Tiger Maple String Band. There's lots of other worthwhile music there, too, along with all manner of cool arts and crafts, cool artists and crafters, and cool workshops on things related to art-ting and craft-ing (that's the 'Art' part of the festival).
The now-11-year-old jamboree "kinda has its own little personality," said Parker, the Edinboro gallery owner who leads Tiger Maple String Band and is one of the annual event's chief volunteer organizers.
Chances are, if you've been there before, you'll know what he means – and, probably, be planning on coming back.
Putting it into a this-is-like-that context, "I think of us as the little sister festival to the Great Blue Heron Music Festival," Parker said, talking about one of the region's premiere summer live-music events, featuring many of the same performers (plus more) on Fourth of July Weekend in nearby Sherman, N.Y.
That makes sense: Both may be a little way from home for most, but, for almost everybody, being there feels a lot like being with family.
For more details, head on over to EdinboroArtAndMusic.com to start making those mid-May plans.
– Ryan Smith
Great Blue Heron Music Festival
The Skinny: At the Great Blue Heron Music Festival, it's seemed to me, you're apt to run into a lot of friendly folks, in cozy situations, enjoying good live music, and good-life times.
"I've been right here for the last 20 years," a wide-smiled guy said to me one of those times, showing off his wife, his daughter, and his grandchild while they all relaxed and jammed out together in the same spot he's always (really, always – for the last 20 years) set up around at the Great Blue Heron.
"Just look out there," he said. "It's beautiful."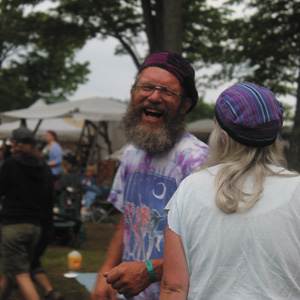 Dude was talking about the Heron's rolling, lush-wooded grounds in nearby Sherman, N.Y. (where the festival, now in its 24th year, will be happening again on Fourth of July weekend). He was talking about the music (at that moment, a crazy-awesome, blow-out Sunday-closer set by area jam powerhouse Big Leg Emma – and pretty much everything that came before it). And he was talking about the people, and the place in general: It seemed to him (and it seems to me, and alotta other folks, too) that there may be, indeed, some kinda good magic in them there hills.
On Radars Because: Putting that good magic to good music – and plenty of it – this year's Heron lineup, soaring from July 3 through 5, includes performances by Donna the Buffalo, The Town Pants, Los Straightjackets, Driftwood, Smackdab, Jimkata, Big Mean Sound Machine, Big Leg Emma, Sean Patrick McGraw, and a couple dozen more jam/roots/rock heavy-hitters from around the region.
You Should Attend Because: Getting down at the Heron, well, it's an experience to have, and have well.
"This isn't a crowd – it's a community," Erie resident Renee Semrau, who's been a part of the Heron family most years in the last decade or so (as a vendor, volunteer, or regular ticket-holder) said to me when I ran into her there a couple of years back.  "Sometimes I think, 'We've hit every realm of this place possible' – until we come next year, and it's a totally different experience."
And "each of those experiences changes you," she said. "That's why people keep coming back to this... (and) everyone just gets closer. Here," – and she meant right there, right then – "people are beautiful. There's just that essence in this land."
Lots of other people, from festival-goers to performing artists to grandparents to event organizers to volunteer garbage collectors, have said much the same thing when I've asked them to talk about the Heron.
And, in my experience, their heads and hearts are right in the right place.
For a full lineup and other details, tickets, directions and everything else you wanna know about the Heron – past and near-future – visit greatblueheron.com.
– Ryan Smith
Romolo Chocolates Summer Music Series
The Skinny: Moving deftly from chocolatier to impresario, Romolo Chocolates owner Tony Stefanelli is entering his sixth year of presenting arguably the highest quality music series in the Erie region.
There's only one way to put Stefanelli's free summer music series: It's his gift to music lovers, like himself, the overall community and of course, his customers
For this year, all artist contracts had not been signed by the Erie Reader's deadline, so Stefanelli was unable to provide the schedule or lineup.
Judging from the past, however, the concerts will be held June through August (unless Stefanelli is extra generous this year and adds a September date).
On Radars Because: Looking at past lineups, we can almost be certain of the high quality of musicianship among Stefanelli's choices. Most will be nationally/internationally-known and critically-acclaimed, one or more will be a poll winner (Downbeat, JazzTimes, Jazz Journalists Association), or possibly even a Grammy recipient.
Stefanelli got started by sticking a toe in the music promoter/presenter waters in 2010, hiring individual musicians from New York and elsewhere to be featured with local rhythm sections, usually JD Jazz (Joe Dorris, drums; Frank Singer, guitar, and on at least one occasion, the highly regarded bassist Tony Grey).
One of the noteworthy things about Stefanelli's bookings is his choice of less common instruments in jazz, such as harmonica (Hendrik Meurkens) and violin (Christian Howes). You might also place vibraphone or vibes (Meurkens) and multi-percussion (the all-female group Cocomama) in the "uncommon" category.
Perhaps Stefanelli explained this penchant in a past interview. "I don't like doing typical things," he said. "If I build a candy store, it's not a typical candy shop. Even when I played music, I tried to step out of the norm and see what happened."
A bassist for many years, Steffanelli studied for two summers in New York with the great Dave Holland under a grant he received.
You Should Attend Because: Some of the most exciting moments in the summer series result from Stefanelli's curiosity and adventurousness.
Howes, who opened the 2013 season, was little known, even among the most knowledgeable jazz fans. They sure know him now. He was stunning and had folks abuzz with his incredible technique and high-voltage style. Wow, people were saying afterward.
On harmonica, Meurkens recalled – although didn't quite match – Jean "Toots" Thielmans, the now elderly master of the instrument.
Stefanelli has his faves who he'll hire almost every year. He calls it his "greatest hits" approach – bringing back people who received enthusiastic receptions the first time around.
At the head of the list is live-wire, dramatic organist Tony Monaco. Don't be surprised if he shows up again this season. Tenor saxophonist and superior composer Pete Mills, Monaco's Columbus, Ohio pal (Howes also hails from Columbus) and colleague, may come along for the ride – and to play.
June will be here before we know it, so see you then on comfortably warm evenings (Stefanelli's had amazing luck with the weather) on the Romolo Chocolates piazza and the sprawling lawn between Romolos and the Bayfront Highway.
Get there early; music begins at 6 p.m.
– Bob Protzman
The Gathering at Chaffee's
The Skinny: I've said it before: This is one two-day fest that tons of folks from around here wait, with happy anticipation (and with good reason), all year long for – the good-and-intimate, and even more good-and-groovy, Gathering at Chaffee's.
On Radars Because: Keeping it small-ish, but continuing to spread out a little to keep including more and bigger regional and national acts, the 2015 Gathering lineup (like last year's) is a veritable who's-who of both well-established favorites and up-and-coming jam and rock masters, including The Heavy Pets, Consider the Source, Spiritual Rez, Big Something, Conehead Buddha, and the Hornitz, just to name just a few.
You Should Attend Because: Chaffee's is one where you can get good and comfortable right off the bat, and, after that, get set for plenty of awesome tunes and positive vibes.July 24-25 // 8296 Mill St., Girard // thegatheringatchaffees.com.
– Ryan Smith
Roar On The Shore
The Skinny: Whether you absolutely loved it, or totally hated it, hair-and-chainsaw-rock monsters Jackyl's appearance at the 2013 Roar on the Shore was, well, memorable.
And, this year, with frontman Jesse James Dupree serving as the massive motorcycle rally's grand marshal, no less, they're back again, along with hair-metal mavens L.A. Guns, April Wine and Dokken, making for what's sure to be another Roar to remember.
On Radar Because: As part of his duties (the ones that don't involve chainsaw solos, anyway), Dupree's set to lead an anticipated 5,000-plus bikers to the Hub at Perry Square before taking the stage with Jackyl around 9 p.m. Thursday, July 16.
The other headliners will fill the four-day event with a lot more high-hair, high-octane tunes: L.A. Guns at 8:30 p.m Wednesday, July 15; April Wine on Friday, July 17; and Dokken on Saturday, July 18.
You Should Attend Because: Organizers have said for the Roar-loving crowd, this year's lineup may just be the best one yet. July 15 to July 18 // Downtown Erie // RoarOnTheShore.com
– Ryan Smith
Erie Downtown Block Party series
The Skinny: It's a set of summer music happenings (and large gatherings of friends, and friendlies) that a lot of people in and around Erie wait through every fall, winter, and spring for: the Downtown Block Party series.
On Radars Because: Presented by the Erie Downtown Partnership as a way of promoting local, cool culture (and, at the same time, raising substantial funds for various area agencies and organizations), the block parties kick off June 4 with Geek Army and Whisky Road Rock Show performing at U Pick 6 Tap House on State Street, and keep happening every Thursday, with a new spot and new headliners every week, through Aug. 27.
You Should Attend Because: This year's installments of the series – now 10 years old and celebrating 'Rockin' the Block for a Decade' – features plenty of well-known-and-loved local performers and locales, along with lots of worthwhile causes to help.
Good reasons to party like it's (almost) the weekend. June 4 through Aug. 27 // Various Downtown Erie Locations // ErieDowntown.com, 455.ERIE
 – Ryan Smith
UPMC Sunset Music Series
The Skinny: Between the middle of June and July each summer, right smack-dab in the middle of the week, each week, majestic Presque Isle State Park becomes even more alive – with the sounds of some of the region's best live music.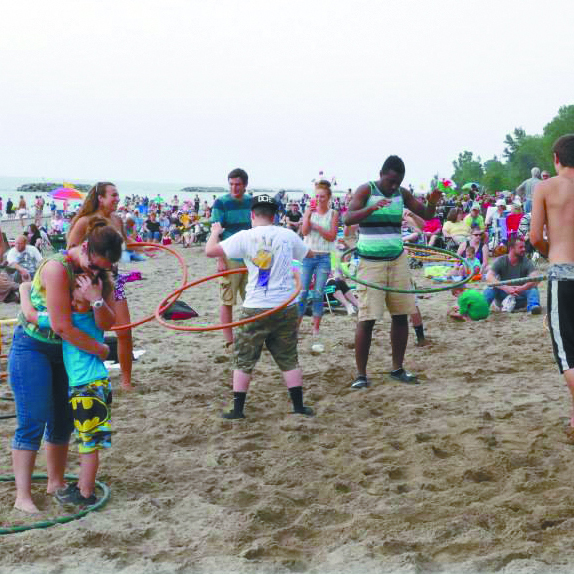 On Radars Because: The UPMC Sunset Music Series brings it – open to and free of charge for everyone – to Presque Isle's beautiful Beach 1 every Wednesday evening, with shows starting up at 5:30 p.m.
You Should Attend Because: This year's Sunset Music Series kicks off June 10 with performances by The Romantic Era with Six Year Stretch, and runs through July 15, when it will wrap up with a show from Tennessee Backporch and Tyler Smilo.
Other Sunset shows are worth catching, too – there's Steven Trohoske and The Mighty Sea on June 17; SIRSY and Daybreak Radio on June 24; REFUGE and M4 on July 1; and JD Eicher & the Good Nights with Mans Room Band on July.
Summer sounds in Erie: Sweet. Wednesdays, June 10 to July 15 // Beach 1, Presque Isle // DiscoverPI.com/Events
 – Ryan Smith
WQLN Sounds Around Town
The Skinny: WQLN's already-very-cool Sounds Around Town events (all of which get recorded for airing both on Erie's public radio and TV stations) return this summer even more very-cool: There's an expanded schedule, a refurbished open-air performance space, and an all-new lineup of some of the region's finest live music-makers.
On Radars Because: The shows – free and open to all – start at 7 p.m. each Friday from July 10 through Aug. 7, pond-side at the pavilion on WQLN's campus. If it rains, no worries – they take it indoors, where showgoers can also take an opportunity to check out the inner workings of public media in Erie.
You Should Attend Because: This year's performers are The Groove (July 10); Tennessee Backporch (July 17); M4 (July 24); Tyler Smilo (July 31); and Daybreak Radio (Aug. 7). 
Fridays, July 10 through Aug. 7 // WQLN Campus, 8425 Peach St. // wqln.org.
– Ryan Smith
Blues and Jazz Fest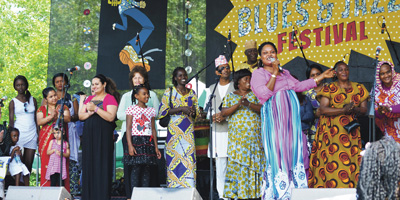 The Skinny: The Erie Art Museum has put on this free two-day fest for over two decades, dedicating a day each to high-quality blues and jazz from around the world.
On Radars Because: Blues and Jazz Fest brings in some pretty great performers, leading people to commit their weekend to hanging out at Frontier Park. Past standout acts have included George Burton, Roby "Supersax" Edwards, and Red Baraat, creating a festival atmosphere right on the corner of West Eighth Street and the Bayfront Parkway.
You Should Attend Because: It's two full days of blues, jazz, and fun right in Frontier Park. The No BS! Brass Band and Eddie Henderson's Trumpet Summit are set to play on Sunday – the fest's traditional jazz day – and given the event's success rate, the rest of the lineup should be pretty intriguing when it gets announced as well. Plus, Blues and Jazz Fest is a great place to see familiar faces and enjoy some entertainment all for the wonderful price of zero dollars, and we all know how great of a word "free" is.
Aug. 1-2 // Frontier Park // ErieArtMuseum.org 
– Alex Bieler
CelebrateErie
The Skinny: Every summer, a large section of State Street in the heart of downtown Erie gets shut down so that Erieites can do two of the area's favorite things in the name of The Flagship City: listen to loud music and legally drink in public. Welcome to CelebrateErie.
On Radars Because: It's an Erie tradition. The event always brings in past classic rock heroes – although some may say that some of them might be a bit past their prime – with highlights including last year's Cheap Trick.
You Should Attend Because: It's another way to support your city. Regardless of how you feel about whoever gets named as a CelebrateErie headliner, there are always plenty of performances from Erie all stars, and sometimes even from a supergroup conveniently called the Erie All Stars. Add in the regular features like the always fun chalk walk that adds some color to State Street and the artist colony and you have an event that has a little something for everyone. 
Aug. 13-16 // Downtown Erie // celebrateerie.com – Alex Bieler
Erie County and Crawford County Fairs
The Skinny: As is tradition, both Erie and Crawford counties will put on a pair of fairs to celebrate the summer and provide Northwest Pennsylvania with live music, alternative events, and, of course, fair food like funnel cake.
On Radars Because: Both the Erie and Crawford county fairs have been providing Northwest Pennsylvania with good, family fun for years and give attendees plenty of chances to go see different musical acts and other interesting performances and eat funnel cake.
You Should Attend Because: There's always a festive atmosphere at a county fair. Crawford already has a couple big country music names planned for this year, with both Justin Moore and Jake Owen set to visit Meadville in August. As for the Erie County Fair, there are a whole bunch of different events that should grab your attention, from Buffo the World's Strongest Clown to the antique tractor pull. And of course, there's always the funnel cake. 
Erie: Aug. 24-30 // 13993 Route 8 & 89, Wattsburg // wattsburgeriecountyfair.com
Crawford: Begins Aug. 22 // 13291 Dickson Road, Meadville // crawfordcountyfairpa.com
– Alex Bieler
Presque Isle Downs Outdoor Summer Concert Series
The Skinny: Presque Isle Downs is going to help Erieites feel a little country this summer with five star-studded Friday night shows. The series will kick off The Charlie Daniels Band June 19 and won't stop packing plenty of country punch until Jamey Johnson closes out the quintet of concerts on Sept. 11.
On Radars Because: Erie loves a good country concert and the Outdoor Summer Concert Series has five of them on tap in 2015. Plus, you won't be cooped up inside for these shows; you'll be out next to the horse racing track. Plus, if you ever need to find a way to spend some time before and after the shows, there's always the casino itself.
You Should Attend Because: The Outdoor Summer Concert has something for country fans old and new. Ever wanted to hear The Charlie Daniels Band play "The Devil Went Down to Georgia" under an Erie sky? Here's your chance. Add in other big country names like Travis Tritt, Jamey Johnson, Crystal Gayle, and Pam Tillis and Lorrie Morgan's Grits & Glamour Tour and you have a noteworthy music series on your hands. 
June 19, July 3, Aug. 21, Aug. 28, and Sept. 11 // 8199 Perry Hwy. // presqueisledowns.com
– Alex Bieler
Schickalay's Summer Music Series
The Skinny: Of all the cool Erie gyro joints to go catch awesome, live summer-night shows, Schickalay's on the Bay is the one … well, it's the one.
On Radars Because: Heading into only its second year of presenting its Summer Music Series in the large greenspace/open-air venue behind Schickalay's West Sixth Street establishment, the lineup is looking tasty, and damn stacked.
You Should Attend Because: Returning favorites Badfish (a Sublime tribute band) are headlining the first night of the series on Sunday, May 31, along with local pop troupe The Romantic Era.
From there, there's eight more good shows (including a humdinger pro-wrestling event!) to try hard not to miss: Ark Band with Chaka on June 7; Zach Deputy with The L.E.C., June 21; Guns N' Roses tribute band November Rain with French Kiss, June 28; Freekbass with DJ Sneek, July 12; Jake's Blues with Eric Brewer & Friends, July 19; Pro Wrestling Rampage (PWR) Live, July 26; ekoostic hookah with Big Leg Emma, Aug. 9; and Mosaic Foundation with Preach+Connect, Aug. 23.
Head to the Schickalay's Facebook page for more details, and get ready to get nice and sun-and-sound-kissed close to home this summer. – Ryan Smith
May 31 through Aug. 23 // 2860 W. Sixth St. // facebook.com/SchickalaysOnTheBay