Sundae Driving Dessert Euphoria for Alternative Diets
Tantalizing treats to satisfy your sweet tooth and support animals
Sundae is a vegan gourmet dessert bakery for people and dogs that seems to be everywhere. You may have noticed owner Samantha Randall, sometimes with her adorable golden retriever Charlie, at their pop-ups around town. Sundae has been seen at Gallery Nights, in Perry Square, at Frontier Park, and pretty much anywhere community events are happening. You'll be able to spot them by their matching outfits and the black and white tent filled with delicious treats and merchandise. 
Sundae began three years ago when Randall says she had a difficult time finding vegan desserts in Erie. "As a 20+ year vegan with food allergies, I found it very frustrating to never have a dessert option available anywhere. So, I created what was missing. Now, no one has to be left out," said Randall. A vegan diet is plant-based and avoids the use of all animal-derived foods such as meat (including fish and shellfish), dairy, eggs, and honey. The desserts are all homemade, placed in biodegradable packaging, and each treat has its own clever and sensual name. 
"The names are indeed sensual and spicy; they are just an extension of myself. My personal favorite is our 'Worship Me' cookie. It's a raspberry chocolate chip cheesecake-filled cookie with sea salt. It's an experience. Our doggy friends absolutely love our 'Mickies' dog cookies. Never had a complaint from them," said Randall.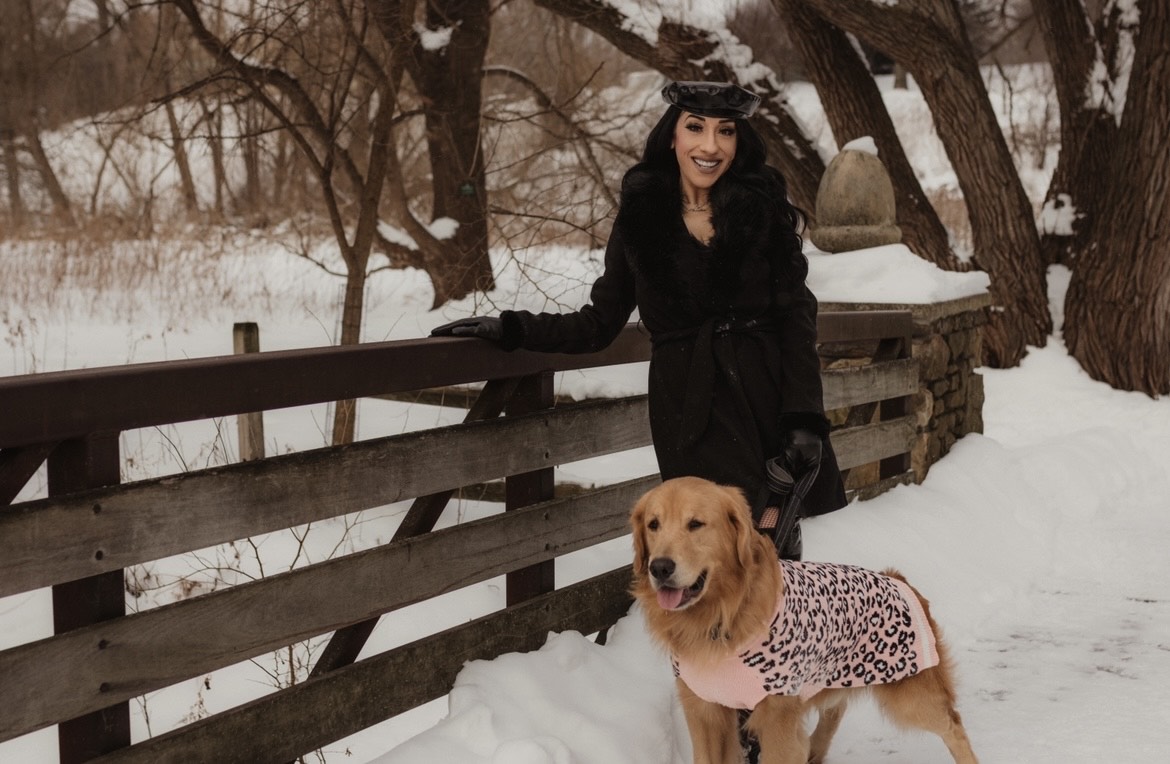 Sundae vegan gourmet bakery owner Samantha Randall and her golden retriever Charlie are a regular presence at vendor fairs, farmers markets, and community events. Photo by Roxann Hudock/Roxann Marie Photography.

Sundae's mission is to help aid in animal rescue and to end speciesism with 15 percent of all proceeds benefiting local shelters, farm sanctuaries, and oceanic conservation. "I advocate for the voiceless and educate the ignorant through decadent gourmet goodness to prove that delicious food doesn't have to be at the expense of a beautiful being. I choose the organizations that need the most help. I rotate among all local no kill shelters. I donate to farm sanctuaries that save countless animals from slaughter, I donate overseas to organizations that save dogs from trucks headed to slaughter in the dog meat trade, stop deforestation in the Amazon, and support oceanic conservation to protect marine life. I try to bring awareness to what people may not know is actively happening and show a way that together we can make a difference," said Randall.
Randall says Sundae has donated roughly $5,500 to date from the sale of her sweet treats, which is no small feat in a community with limited vegetarian and vegan options. "It can be very difficult but the community's response to my desserts has been overwhelming. I am so grateful and thankful for the support. I'd say that roughly 85 percent of my customers aren't vegan or vegetarian but are choosing to make better choices and mostly because they love our desserts," said Randall. 
With demand increasing for more conscious options, Randall says future plans may or may not include opening a vegan gourmet restaurant at the right time. For now, she says her next move is an ice cream trailer serving vegan soft serve ice cream with Sundae desserts. It will be Erie's first mobile vegan dessert bakery and creamery.
Sundae vegan desserts can be purchased at their pop-ups, or by ordering directly anytime by emailing sundaevegansweettreats@gmail.com. A variety of options are also available for purchase at the Purrista Cat Cafe in Erie. Keep up with Sundae on Facebook and Instagram for all of the latest news and tasty offerings. 
Amy VanScoter is a local communications professional and registered yoga instructor. She can be reached at avanscoter@gmail.com