Surprise Disguises: Drawing on Erie History For Halloween
Past residents led fascinating double lives
October 24, 2023 at 8:00 AM
When my kids were little, I'd sew cute or trendy Halloween costumes for them — a furry mouse, a suave magician, the Karate Kid, Ghostbusters, GI Joe. But I'm not very creative in crafting my own costumes. When I greet trick-or-treaters, I'm either dressed as a non-scary clown or a cheerleader — and sometimes a mash-up of both.
My mom made the clown costume for my youngest sister in the early '80s and I bought the cheerleader clothes — a pleated skort and a sleeveless V-neck top — after St. Andrew's Catholic School closed in 2007. "I don't even want to ask why you are buying that," the Rev. Richard Sullivan, St. Andrew's pastor, joked as I made a donation for the cheer gear.
I don't inhabit some weird fantasy world, I assured him. Rather, I wanted to play dress-up with my granddaughters, pretending to be a cool chick, instead of a nerd like I was in eighth grade when my friends and I made the cheer squad and had to wear skirts that hung below our knees (the nuns measured hems) and waffle-weave blazers.
But as Halloween approaches, I'm ready to retire those costumes to step into the shoes of some interesting but relatively obscure characters who made brief appearances in Erie's history.
Judge Florence Ellinwood Allen (no relation to me), the first woman appointed to a U.S. Circuit Court, had a shot at breaking the glass ceiling of the U.S. Supreme Court decades before Sandra Day O'Connor was named a justice in 1981. Internationally known mathematician Artemas Martin was also a farmer who sold lettuce on State Street. Alexandra Kozlowska posed as a man until her gender was revealed when she fainted at an Erie boardinghouse. Charles Crozat Converse wrote the music (but not the lyrics) for "The Erie Hymn," more commonly known as "What a Friend We Have in Jesus." He also came up with the first gender-neutral pronoun.
I researched Crozat Converse's Erie connection after a Jeopardy! clue piqued my interest. I learned about Allen, Martin, and Kozlowska-Zeleski from the 50th anniversary edition of the Erie Daily Times. I read every inch of that edition, published on April 12, 1938, on microfilm when I edited the newspaper's 1995 Erie Bicentennial tab. It's jammed with uplifting stories (Erie violinist Franz Kohler showed Helen Keller how music created vibrations), stunning news (99 Erie deaths blamed on "bicycle craze" in 1908), points of civic pride (Erie resident James Gibbons, an Irish immigrant, fired the first shot for the Union in the Civil War), and appalling revelations (the KKK forced an Erie woman to flee town in April 1923).
The 50th anniversary edition also took pains to celebrate Erie women. "From the pioneer women … to the present, (the) history of Erie women tells of high courage, endurance in trial, and of alertness and wit to meet the daily adventure," Society Editor Mary McKee wrote. "Among the living 'great ones' whose nativity was in Erie County is Judge Florence E. Allen … who was prominently mentioned among the possibilities for elevation to the Supreme Court to fill a recent vacancy."
According to McKee, Allen was born on a farm south of Girard and spent time there with her grandparents after her parents moved to Ohio. The "History of the U.S. Sixth Circuit Court," written for the U.S. Bicentennial in 1976, said that Allen was born in 1884 in Salt Lake City. She died in 1966. Wherever her birthplace, Allen forged ties here, with the Erie newspaper covering her career as she moved up through the judiciary by winning elections to the Common Pleas and Supreme Courts in Ohio and then being appointed by President Franklin D. Roosevelt to the Sixth Circuit in Cincinnati in 1934.
The Sixth Circuit history notes that First Lady Eleanor Roosevelt urged FDR to consider nominating Allen to the U.S. Supreme Court in the late 1930s. "She was a true pioneer in the fields of law and women's rights," the Sixth Circuit history said, pointing out that in addition to her New York University law degree, Allen received 16 honorary degrees. She was also an honorary member of the Erie Women's Club at West Sixth and Myrtle streets, according to McKee's story.
Like Judge Allen, Artemas Martin received a host of prestigious honors, including honorary degrees from Yale, Rutgers, Hillsdale College and the University of Michigan. He was also named an honorary member of the London Mathematical Society. Antonella Cupillari, associate professor emerita of mathematics at Penn State Behrend, co-authored two papers about Martin with Patricia Allaire, assistant math professor at Queensborough Community College of City University of New York. Their papers are deep dives into math calculations that Martin labored to perfect, too complex for a non-mathematician like me to understand.
But there is no doubt that Martin, who died in 1918 at age 83, was, in Cuplillari's words, "a fascinating person." She wrote in an email: "His contribution to the production of American mathematical journals was important. While not a stellar mathematician, he was a strong representative of the average dedicated mathematicians who were fundamental to the establishment of the mathematical culture in America."
According to the professors' research, Martin was born in Western New York and grew up near Erie. He learned to read and write at home and had less than five years of formal schooling. "He worked as a teacher in district schools in the late 1850s, but otherwise earned his living as a farmer and oil well worker," they wrote in The Wittenberger Articles: Artemas Martin on Averages.
Martin's background as a farmer drew scorn from an unknown Boston Post writer in a story published by The New York Times on Dec. 11, 1885. Martin had moved to Washington, D.C., to be the librarian for the U.S. Coast and Geodetic Survey. The article described Martin as a "tall, ungainly" truck farmer and "an odd sort of person (who) has a half dozen prefixes and suffixes, all given to him by learned societies …The problems of calculus are to him mere child's play … Twice every week he was found in his stall (on State Street), as little known to his customers or to the people of the city (of Erie) as was the vendor of poultry or the seller of beads and buttons in the neighboring stalls."
I like the notion that a farmer skilled in calculus impressed Ivy League scholars, yet felt at home in Erie. I found thousands of references for "Artemas Martin" through a Google search — his math books are even cited on GoodReads.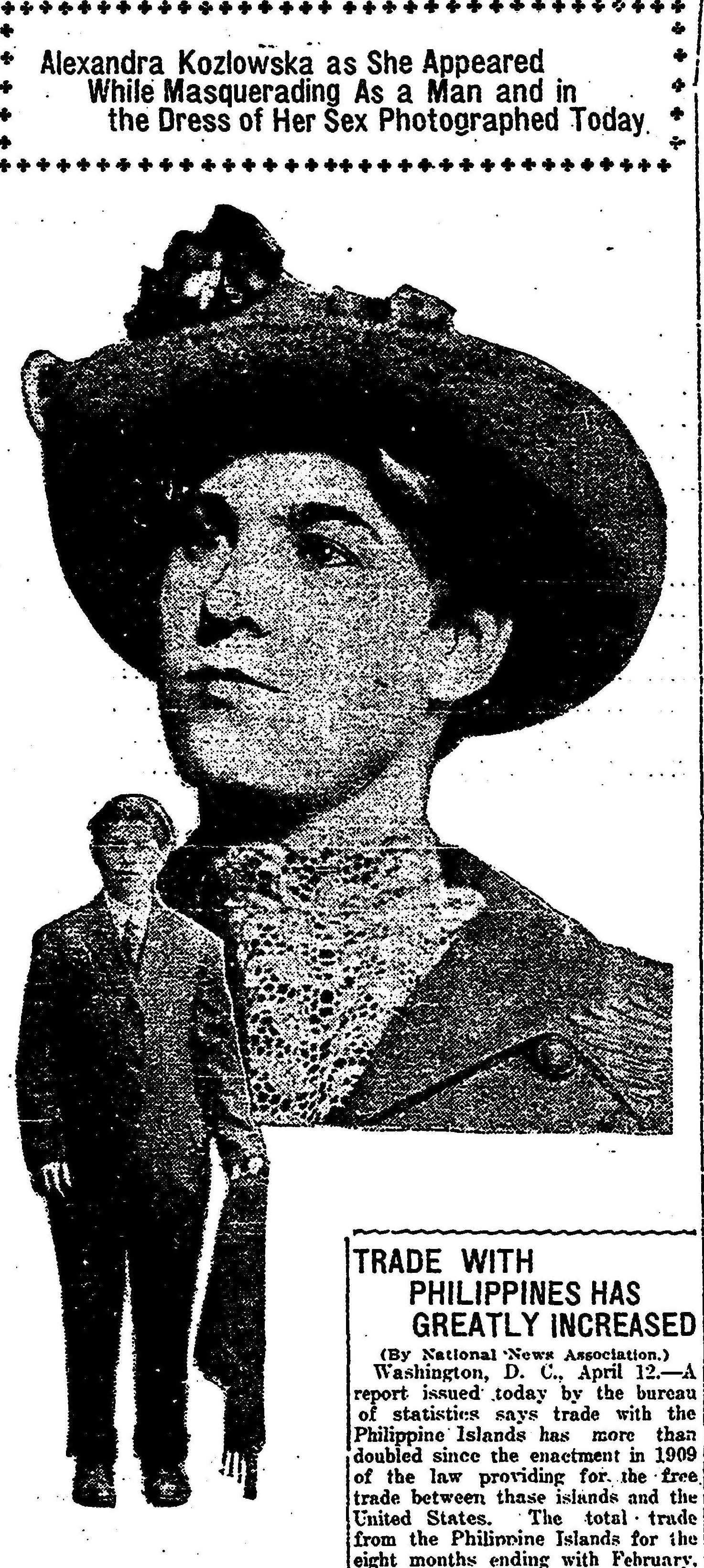 Alexandra Kozlowska (left) successfully disguised herself as a man, living and working in manual labor in Erie, as an attempt to seek out her missing, grieving husband after the death of their child. (Hagen History Center)
Alexandra Kozlowska, however, doesn't have a digital footprint, only scant information from several Erie Daily Times and the Erie Dispatch stories.
"MASQUERADED AS MAN AND DID A MAN'S HARDEST WORK. Alexandra Kozlowska Worked Six Months in Local Manufacturing Concerns Before Her Sex Was Discovered — Worked in a Boiler Shop, Mined Coal and Drove Mules While Going About in Vain Searching for Missing Husband," reads the Times' seven-deck headline from April 12, 1912.
There's no byline, but Kozlowska awed the reporter. "If all the women professing the beliefs promulgated by the leaders of the suffragette movement possessed the determination, the grim courage and persistence of Alexandra Kozlowska, the women would rule for a certainty and man, poor man, would be relegated to the precincts of the nursery, the kitchen, and other feminine pursuits."
The story explained that Kozlowska had emigrated with her parents from Poland when it was part of Russia to Gary, West Virginia, at age 15. A year later, she married George Zeleski; they had a baby who died at two months. Her husband then disappeared.
After suffering from typhoid fever, which caused her to lose her hair, she figured that her husband abandoned her because of his grief. Determined to find him, she disguised herself as a man and found work in New York City, Philadelphia, and the coal fields near Pittsburgh. Hearing that people from her husband's region of Russia lived in Erie, she moved here and posed as a man to work a paper mill and, later, as a drill-press operator.
Six months into her life in Erie, she fainted at an Erie boardinghouse. "The women who rushed to her assistance made the discovery in their ministrations that Alexandra was a girl — a soft-fleshed, well-moulded girl — and when Alexandra was revived and accused of passing herself off as a man, she promptly confessed, as well as she may, for in all her masquerading as a man, Alexandra had been a model of propriety … there were no reproaches awaiting," the Erie Times reported.
The young woman told the paper she would continue to search for her missing husband, and the story ending on an approving note: "Hats off to Alexandra Kozlowska-Zeleski, known when masquerading in the guise of a man as Stanley Kozlowska."
Whatever happened to Alexandra/Stanley? I don't know. But in the Times' anniversary edition in 1938, 26 years after the original glowing story, the newspaper's headline described her masquerade as a "hoax" and accused her of "duplicity."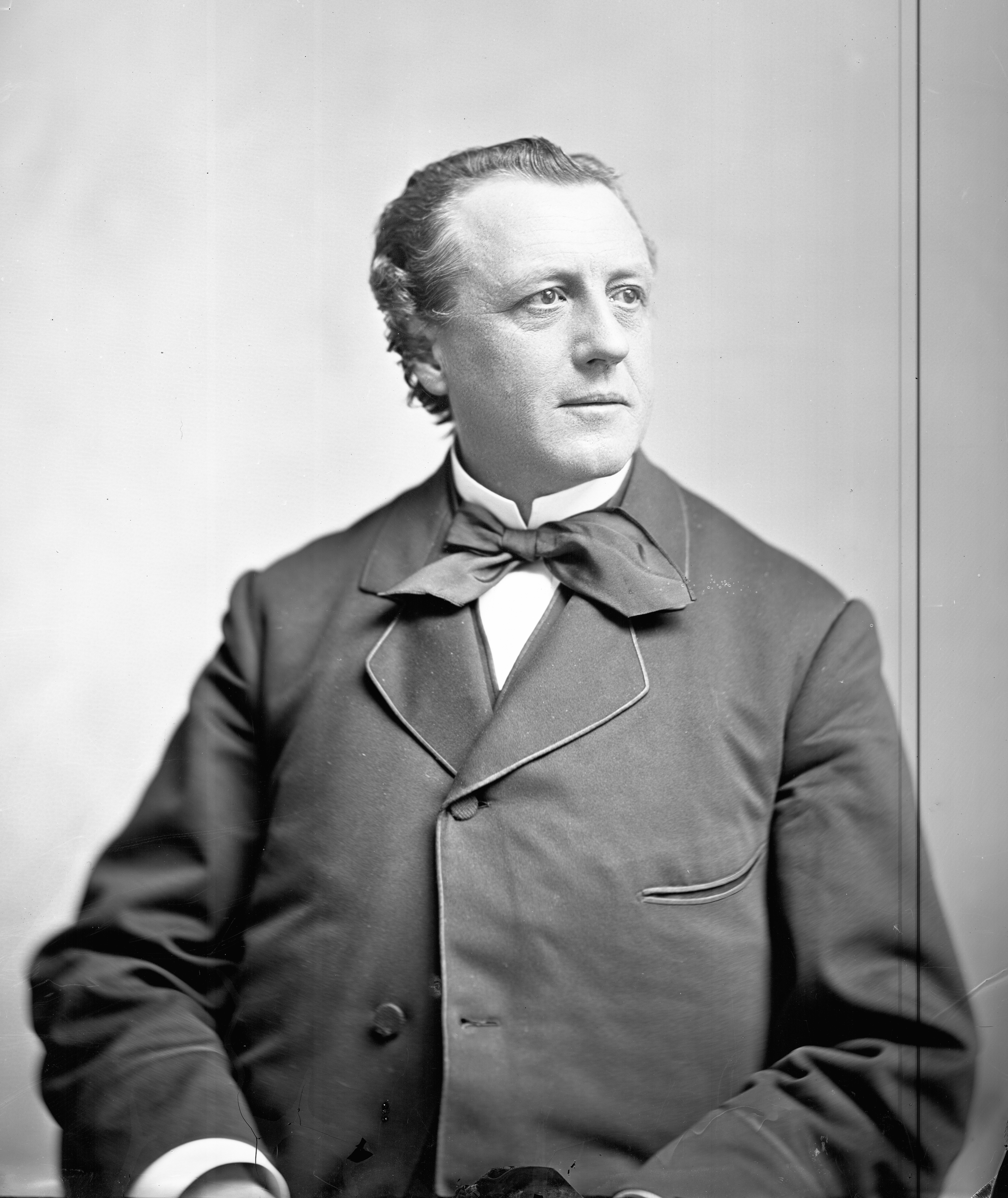 Charles Crozat Converse wrote the music for the popular hymn "What a Friend We Have in Jesus" while living in Erie. He often referred to the song as "The Erie Hymn." (Hagen History Center)
If only she had crossed paths with Charles Crozat Converse in Erie. He set to music a poem by Joseph Mendicott Scriven, an Irish immigrant to Canada whose life was beset by tragedy. The song is popularly known as "What a Friend We Have in Jesus" but Converse called it "The Erie Hymn," which he wrote in 1868 when he was working in Erie.
After I heard a Jeopardy! clue referring to the "Erie Hymn," I did some research into Converse, who was born in Massachusetts in 1832 and died in New Jersey in 1918. Some sources say the rhythms of Lake Erie inspired his music. The "Erie" connection turned out to be a sidelight when I learned that Converse had coined the first gender-neutral pronoun, "thon," a contraction of "that one," in 1858.
According to merriam-webster.com, "The initial reason that thon caught on was that one or more editors at Funk and Wagnalls took a shine to the word." In its 1903 dictionary, Funk and Wagnalls defined "thon" as "Pronoun of the 3rd person, common gender, meaning 'that one, he, she or it,' a neoterism proposed by Charles Crozat Converse, and apparently complying with the neoteristic canons, since it supplies an antecedent blank, obeys a simple and obvious analogy, and is euphonious."
I looked up "neoterism," which means a new word or phrase, and "euphonious," defined as "pleasing to the ear." Should I dress up as Florence, Artemas, Alexandra/Stanley, or Charles for Halloween? Or a mash-up of all four of thon?
My husband, however, votes for the cheerleader costume.
Liz Allen will likely just wear her Eerie SeaWolves Howl-O-Ween jersey for Halloween, to celebrate the team's Eastern League championship. You can reach her at lizerie@aol.com.