Tabla for Two Returns to Erie
Duo to perform at Mercyhurst University
February 5, 2014 at 7:24 AM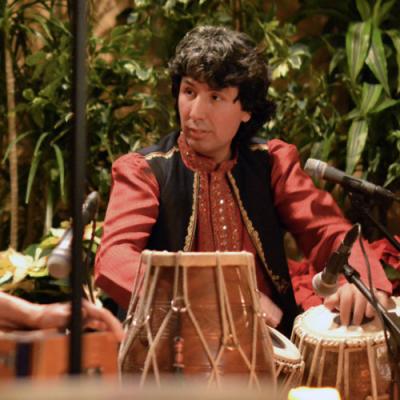 Tabla for Two
Percussion Duo to Perform at Mercyhurst University 
We kill the engine, grab our gear, brace ourselves for what awaits, and throw open the doors to the car. The biting winter wind nips at us until it sinks its teeth deep enough to make us quicken our pace from where I parked my car fifty or so yards away at the end of the driveway to the house that neither of us have been in before but are about to enter.
It's a bitter, black January Thursday night in Erie and photographer Brad Triana and I hustle, joining a group huddled together, shuffling toward the house on South Shore Drive that is our collective destination. The beats of the group's shuffling feet crackle against the raspy huff and puffs pluming out from scarf-covered mouths. A marching chorus of percussion, we make our way to the door, tap off the blanket of snow from our coats and boots and settle in for an evening of tabla – something I just heard about a few days back.
The house is warm and gorgeous, open and inviting – filled with art, people, and wine. It's a who's who of art and culture, from artists to musicians to collectors to appreciators – all laughing, talking, preparing for the concert that's about to take place.
Have you seen them before? one man says to another in between sips of wine. They're mesmerizing.
Absolutely hypnotic, a woman punctuates her description of Tabla for Two before peeking into the room where they musicians have set up. If you're not witnessing them, you're missing out.
With our glasses of wine refilled, we make our way into the intimate concert space, and settle in, right in front, sitting on the floor with our legs crossed and ears open, because unlike others here, we haven't seem them before and we don't want to miss out.
To describe what happened next as a concert falls short of what truly happened. And to attempt to capture such an experience in words isn't easy. As I scribble away in my steno pad, I find myself pausing, unable to write, locked into the moment.
It is mesmerizing. And hypnotic. And it was the communication of two people speaking a language through the art of tabla – and we were all present to that great conversation.
Most often used in Hindustani classical music, the tabla isn't all that different to its Afro-Cuban and Latin-American cousin, the bongos. In fact, the world "tabla" comes from the Arabic "tabl," simply meaning "drum." These drums are said to have their origin in Sufi poetry in the 13th century, which explains why the vast array of sounds they can produce are said to reflect bol – or mnemonic syllables created by the tapping of fingers and pressing of the heel of the hand to bend and sustain pitches.
Then, at its most basic, Tabla for Two is a conversation between Masood Omari and Abigail Adams Greenway. But at its most complex, the music created between the musicians reflects a meeting of East and West through a beautiful language for which words aren't necessary.
"We don't know of many other Western women playing the tabla," says Erie native Greenway between songs. "This is an art form I've dedicated my life to now. I practice this art eight hours a day."
Greenway first met Omari, a native of Ghazny, Afghanistan, a few years back by chance in an Afghan shop in Georgetown where he was teaching tabla, an instrument he's been studying for twenty-two years. Having toiled in the renowned Punjab lineage, Omari received his gurmani – or mastership – in 2002, and is now sharing that conversation and history with Greenway.
An appreciator and maker of art her entire life, Greenway says after the performance that she feels like she's "channeling the music, the beat, language" and that passion for the instrument has led her to accomplish in just a few short years what she felt could take decades.
"This," she says, turning her shoulder and craning her next to look at the instruments that lay behind her, "is beautiful. And I want to share that with everyone I can."
Fortunately for those not in attendance that cold January night – and, well, for all of us, too, should we crave a second helping of the mystical conversations of Tabla for Two – we can hear them play Omari's original compositions at 8 p.m. Monday, Feb. 10 at Mercyhurst University, as the two are the third event of the 25h anniversary season of the Visiting Artists Series.
"They're speaking the language of music," says Albert Glinsky, professor of music at Mercyhurst, who was in the attendance for that intimate performance. "That language is universal – something we can all appreciate and understand. We're excited to share that at Mercyhurst with Erie."
Tabla for Two will perform at the Walker Recital Hall. The show is free and open to the public. A separate master class for Mercyhurst music students will be held at 2 p.m. Tuesday, Feb. 11 in the Walker Hall. The public is welcome to attend and observe. For more information, to watch videos, and to see Tabla Art Greenway is creating, visit TablaForTwo.com. To find out more about the concert and master class, call 824.2394.
Ben Speggen can be contacted at bSpeggen@ErieReader.com, and you can follow him on Twitter @ERBenSpeggen.