Taking it To the Streets
In 2102, a van and a narrow patch of asphalt changed Bob Sonnenberg's life permanently.
November 12, 2014 at 7:20 AM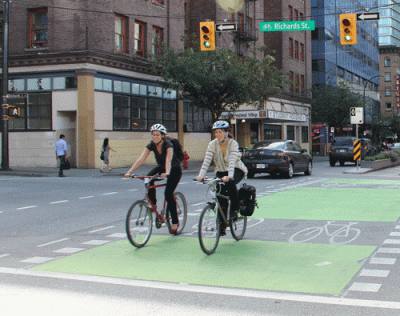 A bicycle commuter in Erie, Bob Sonnenberg was riding on the bikeway by the Bayfront Parkway, west of the Chestnut Street boat launch where it narrows quickly to less than four feet to the left of three planting beds.
Sonnenberg was on the left of one of those beds when a van struck his bicycle. He suffered multiple fractures in his upper left arm. Now, Sonnenberg no longer commutes on his bicycle and still suffers from pain.
There were two ironies to this event:  The accident occurred four months after Pennsylvania enacted a law requiring motorists to give bicyclists a 4-foot berth, and it took place on what is considered one of the safest bikeways in the community.
One of Bike Erie's board members, Eric Brozell, says, "Erie is not, by any means, a bicycle- or pedestrian-friendly city. There are absolutely no bikeways that go south from the center of the city and the worst is upper Peach Street; there are barely any sidewalks let alone bikeways."
A recent improvement in bike infrastructure has been the installation of bike racks throughout the downtown and nearby areas, thanks to a design collaboration between the Erie Art Museum and other community agencies. Also, more employers have started providing secure long-term bike parking for their employees, and local buses now have bike racks installed for cyclists to use. In addition, automobile drivers are now more aware and tolerant of cyclists than they were a decade ago, according to Brozell.
But Erie still remains far from being a bicycle-friendly community. Cleveland and Pittsburgh have committed to making traversing their cities safer for cyclists and are both bronze-level members of the League of American Bicyclists, an awards process that must be applied for and renewed every four years.
Earlier this decade, Cleveland adopted a bikeway master plan and established numerous trails and bike lanes throughout the city. In January, the planning commission announced plans to more than double the amount of bike routes by adding 70 miles of dedicated lanes, trails, and pavement markings. The goal of the master plan is to connect every Cleveland neighborhood to a bikeway network.
This past September, Pittsburgh opened a protected, two-way bike lane on Penn Avenue going into the heart of the city, the street that topped the list of bicycle accidents in Pittsburgh between 2005 and 2009.
Why bother making Erie a bike-friendly city? Simple: because a bike- and pedestrian-friendly city is healthier.
It has been proven that the physical health of the community improves as people get more exercise, and less carbon dioxide is pumped into the air with fewer cars on the road. Cycling has been shown to improve mental health and productivity, as well, reducing costs for businesses.
It can also lead to health care savings. A study in the Journal of Physical Activity and Health found that the bicycle-friendly city of Portland, OR, could realize $7 to $12 billion savings in health care costs by the year 2040, just by expanding its bicycling infrastructure. Portland holds one of the few platinum-level ratings from the League of American Bicyclists.
The non-healthcare-related economic benefits are real as well, if not more compelling. In Minnesota, for example, the Department of Employment and Economic Development estimated that, in 2009, the value of all goods and services attributed to bicycle riders' spending came to $261 million, supported more than 5,000 jobs and helped generate $35 million in taxes.
Studies nationwide have shown that bike-friendly cities have more thriving small businesses because cyclists (and pedestrians) are more apt to stop, investigate, and buy because they are more fully engaged with their environment. Bottom lines at retail shops often blossom handsomely, especially if cyclists have a convenient place to secure their bicycles
Bike Erie is doing its part to increase the bike friendliness of the city. Members are working with The Downtown Partnership to create a bike-friendly downtown and with Erie Insurance to help it meet the needs of cyclists who work there. BE's Peddle Meddle program, provided by the Sisters of St Joseph, teaches bicycle mechanics and safety to 12- to 17-year-olds.
It also has a working relationship with Erie City Mission's Grace House, where it provides bicycles and safety information to women. "Maintaining a bicycle is far more economical than keeping an automobile on the road," says Brozell. "It's a great way for people in lower economic circumstances to improve their budget."
But, I hear you asking, what about Erie winters, the snowfall? How can we ever provide a bike-friendly environment with two feet of snow?
Perhaps the Scandinavians can answer that question, since every country in that region makes the top-ten list for most bicycles per capita. And they see some snow.
If they can figure it out, so can we.
Mary Birdsong can be contacted at mBirdsong@ErieReader.com, and you can follow her on Twitter @Mary_Birdsong.