Ten Hours in Havana
Dispatches from an American in Cuba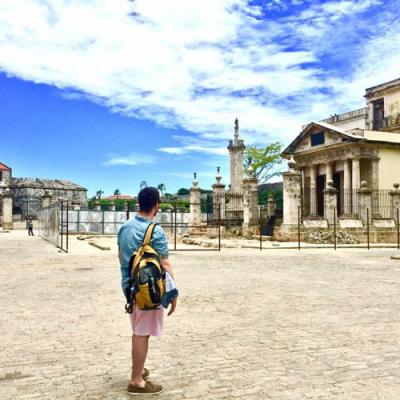 With less than three hours left in Havana before we need to board the cruise liner that delivered us from Key West seven hours ago, we stroll along Avenida del Puerto in search of a large marketplace locals encouraged us to visit. There, we were told, we would find trinkets, memorabilia, relics — all locally crafted — to return to the States with us as more-than-photographic proof that we'd been somewhere U.S. citizens had largely been unable to visit for decades.
From the moment my partner in travel and cultural curiosity — and the exploration of life in general — Michelle and I set foot in Cuba earlier in the morning, it'd been nothing but blue skies, occasionally punctuated with clouds so clean and crisp they seemed to be drawn by a divine designer. Now, as an impending storm challenges us to quicken our pace, we hear from folks headed in the opposite direction that the market's closing, the storm inevitable. It will reach land before we reach the bazaar, they report.
We about-face, duck into an alcove housing several vendors, and gather up a few other items. The sellers seem willing to negotiate prices, but for the handful of collectables we want, ten pesos doesn't seem unreasonable. We reckon that whatever upcharge we incurred is more than made up for in conversation with the locals, a chance at a real people-to-people experience, as they pepper us with questions about America as quickly as we ask them about Cuba.
Aside from the opportunity to strengthen diplomatic and commercial ties, this — an authentic people-to-people experience — served as a driving force for President Obama's move in 2016 to open American relations with Cuba. And it's why and how we got here.
It's hard not to write about American-Cuban relations without making it political. Politics is, after all, what has kept the two countries separated since the 1960s. When my parents were less than half the age I am now, they routinely practiced the drill of seeking shelter under school desks from weapons capable of altering the face of a nation and the landscape of the world. Such worldviews are still hard to shake, even fifty years later.
But some will say fifty years has been too long before the detente. Others will say it hasn't been long enough. Plenty of opinions lie somewhere in the middle.
Following through on campaign promises, President Trump is seeking to roll back Obama's loosening of restrictions, which means what has been made possible now may not be in the near future. So, with a long weekend at our disposal, we booked a cruise, secured our visas, and headed to Havana, if only for ten hours, to get in while we still could. We will leave the politics alone, for now.
Although direct flights to Havana are possible, cruises serve in essence as oversized water taxis, carrying aboard Americans crossing international waters with relative ease. Although we're told we're aboard the smallest vessel in the fleet of the global cruise line company we booked with, its ten floors still give it a mammoth feel — large enough that when hugging along Havana's shoreline, it draws locals who point at it with fingers and cameras, some perhaps in awe and intrigue, some perhaps in disgust or fear.
When approaching Havana by boat, it's difficult to ignore the cranes cropping up along the waterfront. It's equally hard not to wonder what this means for Havana, for Cuba, and for the Cuban people, because in many ways, Cuba appears exactly how you'd want it to: a place unstuck from time's pace, isolated from the movement of the world around it. Classic American cars dart down streets lined with old buildings. The whites seem whiter, the brights brighter, but not without greys and grit — an optical overload of beauty mixed with dilapidation a la vibrant street murals on eroding edifices. A land impervious to deep change — until perhaps now, as signs point to new construction and companies like Google are expanding technology infrastructure here.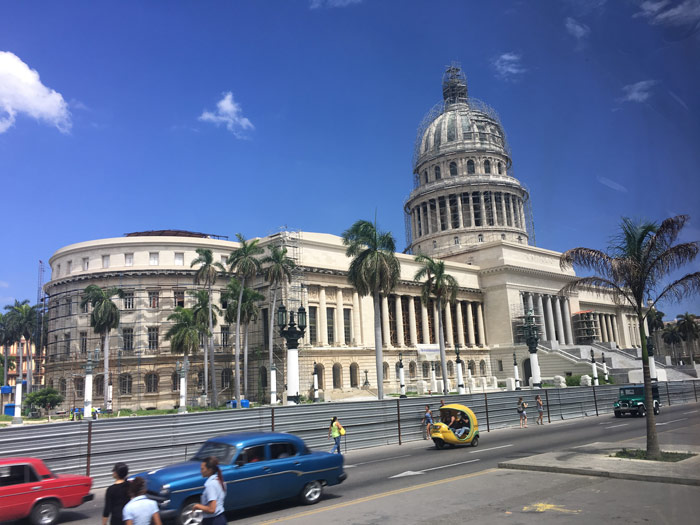 We start our day with a walking tour of Old Havana. Along the way, we learn from our guide that 5 million tourists per year visit (slight overstatement). Cranes, backhoes, and cinderblocks abound because the country wants to more than double that number to 12 million in the next few years (rather optimistic in quantity and time).
The walking tour proves helpful in setting a boots-on-the-ground context and educational experience, with facts like this — as well as guidance in how to properly smoke a Cuban cigar (dip the freshly cut tip into rum so that you enjoy both the taste of tobacco and rum) — sprinkled throughout the as-to-be-expected looking plazas, buildings, and historical sites.
Whether he's truly excited that we're awestruck with agape jaws or it's just theatrics, our tour guide is rarely not on during our limited time with him. Just last year, 500,000 Americans visited Cuba and that number is increasing. And although there's the perception that Americans are going there to bring things back (souvenirs, cigars, and rum), they undeniably take to the island new ideas, concepts, and ways of viewing the world. An open door to Cuba has left a window open more widely to world.
There's money to be made in tourism, today's largest industry on the island. More than a quarter of the population now works in the private sector, and lifting an American embargo spells not only an increase in goods but the potential increase in quality of life for a people growing less dependent on the state for their livelihood.
There's money to be made in tourism, today's largest industry on the island. More than a quarter of the population now works in the private sector, and lifting an American embargo spells not only an increase in goods but the potential increase in quality of life for a people growing less dependent on the state for their livelihood.
After the tour ends, we make the most of our remaining time: a quick ride in a '53 Chevy (fun!), a few beers and Cuba libres at Sloppy Joe's (delicious!), a ride in a cocotaxi (thrilling!), and a walk along their bayfront parkway (beautiful!), which leads us to our standoff with the approaching storm. We can book it back to the ship and call it a dry end to the day — or not. When in Havana…, we say, and push away from the waterfront and into the city.
We don't feel unsafe off the well-worn tourist path. More panhandlers approached us during the tour than when we were on our own.
Despite the noticeably crumbling infrastructure, those in these quarters were warm, friendly. While litter dots the streets — evidence of a country still struggling to provide for its people — most are smiling, ostensibly content in spite of, not because of, their lot in life.
As the sky rips open with rain, several locals — their children running amid friends and family — point us in the direction of a piazza to seek shelter. Others are there gathering to watch the rain.
Women await a dance studio to open. Small groups chat between thunderclaps. Kids dart out into the street to kick up puddles, some create a makeshift slip-and-slide out of metal ramp. Others retrieve plastic cups and begin dousing each other in unadulterated, universal happiness.
As the storm lightens, we hail a pedicab. After a few re-routes — a sinkhole down one alley, another blocked by cars — we hop off and spend our last rainy hour or so in a small, literal hole-in-a-building ground-level bar.
Two Cubans — a cook and a bartender — are working the joint and we are their only company. From the eagerness in their questioning, we presume that we've ventured deeper into Havana than most visitors.
Where are you from in America?
Pennsylvania and Ohio.
Pennsylvania: Pirates or Phillies?
Pirates, I say, learning geography and sports are not mutually exclusive subjects.
Ohio? LeBron James?
Yes, Michelle says, learning sports on the island, although predominantly dominated by baseball, do not diminish the legend of The King, The Chosen One.
Steph Curry — he's better.
We laugh and debate that, a bit, before politics inevitably surface. The two men are curious why Trump does not think or act like Obama. Why would someone want to halt or reverse progress made between two peoples after so long?
We try our best to explain it, but between our now-dwindling time before departure and the language barrier, it is difficult. They're still confused. We are, too. Our questions of what happens after Raul Castro steps down in 2018 (he's said he won't seek re-election in 2018) yield similar unsure responses.
As two women, similarly in search of shelter approach, we toast the men one last time.
To Cuba, we say. To America, they reply.
Ben Speggen can be contacted at bSpeggen@ErieReader.com, and you can follow him on Twitter at @BenSpeggen.