Thanksgiving Eve Preview
Block out your schedule for "Blackout Wednesday" 
November 21, 2017 at 4:30 PM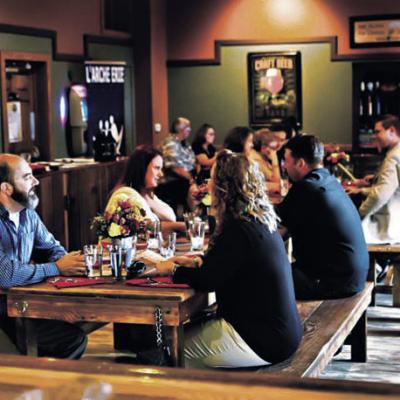 In the early 1620s, Patuxet tribesman Squanto famously introduced the Plymouth settlers to corn and other Native American crops, helping prolong their survival. Four centuries later, usurpers of Native American lands have infamously taught themselves how to convert these foodstuffs into grain alcohol.
Fast forward to Thanksgiving Eve, or "Blackout Wednesday" as it's come to be called, which rivals St. Patrick's Day and New Year's Eve in terms of excess consumption. Diaspora of the 814 (and elsewhere) shall flock to their hometown pubs and taverns, mesmerized by the siren's song of bottom shelf drink specials. Hangovers are probable; reunions (many of them unwelcome) are inevitable. Nonetheless, the tradition endures like gelatinized cranberry discs in your grandmother's pantry, eternal and without expiry. 
Like any item in a holiday spread, you can avoid or ignore it if you wish. But chances are you will be goaded into trying it (even if you decided long ago that you never wanted any part of it again). As a service to you, the Reader has gathered five of the most palatable options at the table for your judgment. Whether you indulge or not, well, that's all gravy.
Bayfront Brawl IV
Ingredients: One cage, eight local fighters, and 14 fights, including three title bouts. Whisk together with frenzied crowd, siphon mayhem into Bayfront Convention Center.
Recommended if you like: Watching others knock themselves out rather than hitting the mat yourself. If you perchance don't mind taking a few shots, cageside tables with full cocktail service will be available. This is the perfect opportunity for fans of UFC and other mixed martial arts organizations to get a taste of the action (without tasting your own blood). 
7 to 11 p.m. // 1 Sassafras Pier // $30 general admission, $50 VIP // 452-4857 // erieevents.com
The Throwdown: All-Vinyl Dance Party at Jeykll & Hyde's
Ingredients: DJs Steve Maynard and Ben Frazer, a couple turntables, and dozens of vinyl records, in a variety of funky fresh flavors from the 1970s to today (don't sweat the older stuff; good tunes are nonperishable). Funk, R&B, classic hip-hop, and throwback jams will be spun into auditory confectionery that pair perfectly with a pint of draught beer (from one of an unrivaled 46 taps).
RIYL: A little stank on your (turntable) platter, something that will energize your feet and pique your musical curiosity.
10 p.m. to 2 a.m. // 8 E. 10th St. // no cover 
Thanksgiving Eve Release Party at Lavery's
Ingredients: Hops, barley, water, yeast, and of course, a loving commitment to the art of craft brewing. The release of Lavery Brewing's barrel-aged Devil Bird Holiday Porter is an annual rite. Aged in bourbon barrels, this heady brew is a little sassier than your average porter. Balaclava IPA (named for a ski mask), a newer entry to the winter lineup, derives an avalanche of tropical fruit flavor from its hops. 
RIYL: Calling dibs; supplies are limited so you'll have better luck if you show up early. Reinforcing the lucky vibes will be the Mulligans, stirring the airwaves with a stew of Irish pub tunes.
3 p.m. to midnight // 128 W. 12th St., Unit 101 // no cover // laverybrewing.com
Wobble Before the Gobble at the King's Rook Club
Ingredients: Bass, beats, and original rhymes served in five courses at the King's Rook Upstairs Lounge. If your tummy isn't rumbling yet, it will be when house chef Bass Bandage ladles out a helping of "subwoofer surprise" (dubstep, trap, EDM, etc.) to both open (10 to 11:30 p.m.) and close the night (1 a.m. to 2:30 p.m.) In between these DJ sets, three guest chefs will offer live demonstrations — FRESCO (a.k.a. Brandi Fresco Carlini) from 11:30 p.m. to midnight, Tone Fach (a.k.a. Tony Facchiano) from midnight to 12:30 a.m., and Charles Brown from 12:30 to 1 a.m. Marvel at these MCs' lyrical knife-work as they slice, dice, and chop raw thoughts and feelings into deft phrasings, bringing it all to a rolling, flowing boil. 
RIYL: Real talk — and, of course, wobbling. 
10 p.m. to 2:30 a.m. // 1921 Peach St. // free to members
Cult Classics Presents Jive Turkey Jam at Scotty's
Ingredients: Whatever you want to bring to the party, honestly. There is no such thing as too many cooks in the kitchen at Scotty's Martini Lounge's open jam nights, typically coordinated by local songstress Jess Royer. This time around, she's invited the rest of her Cult Classics bandmates (fellow vocalist McKenzie Lee Sprague, guitarist Nick Warren, drummer Michael Hibbler, and bassist Rob Seaman) to help her out. Usually the quintet specializes in the folksy, bluesy, soul-drenched and dreamy, but tonight it's more than willing to expand its palate. Ms. Royer and Ms. Sprague will find a way to harmonize — they always do. 
RIYL: Cooking up your own menu. 
9 p.m. to 2 a.m. // 301 German St. // free (minus whatever you've already invested in musical equipment/talent to join in on the tunes)
Of course, there is plenty of more out there to suit your appetite. Just make sure you have a ride home — because a booze coma tonight precludes a food coma tomorrow.
Matt Swanseger has never met a turkey he couldn't jive with. Contact him at mswanseger@eriereader.com