The 2019 Year in Review
Erie (tries) to roll with the changes
December 18, 2019 at 10:00 AM
If prior years have taught us anything, it is to expect the unexpected. So should you find a nude stranger sitting on your kitchen floor drinking milk — as one Erie homeowner did this past fall, after hearing the free-spirited interloper's singing echo through his halls — all you can do is pour yourself your own glass and do your best to harmonize. (Or call the authorities, which was the course taken in this scenario.)
Did 2019 do a body good? Or did it find us in a vulnerable state? The naked truth, naturally, lies somewhere in between. Erie continued to fortify itself with new construction, new funding, and new energy, but was also exposed to familiar environmental threats along its coastline and some of the same problems that have plagued its older neighborhoods for generations. No shocking discoveries there, just more reminders that we must overcome that inertia if we are to pick ourselves up off the linoleum and proclaim our dignity. 
THE EMPLOYMENT LANDSCAPE
That wascally WABTEC
If 2018 was a year of big ideas and big promises, 2019 was more about putting our heads down and starting to get to work. Yet for Erie's second-largest employer, a highly publicized labor strike left whether its work would be done very much in doubt. 
In late February, Westinghouse Air Brake Technologies Corporation (WABTEC) completed its merger with GE Transportation, marking the end of an era for one of the historical drivers of the Erie economy. Over GE Transportation's century-long reign in Erie, its union workers had attained many hard-fought rights for themselves and their families, and the shift in ownership evoked both optimism and apprehension. Optimism because the last decade under General Electric hadn't been exactly hunky-dory (thousands of Erie jobs lost with the opening of a new locomotive plant in Ft. Worth, Texas); apprehension because there was no telling how the new relationship would play out. 
Unfortunately, members of the Locals 506 and 618 of the United Electrical, Radio and Machine Workers of America (GE Transportation's unionized workforce) would have to pump the air brakes on hopes of a new collective bargaining agreement with WABTEC. Scott Slawson, president of UE Local 506, urged WABTEC to honor the provisions of their most recent contract with GE through a temporary extension so that both work and negotiations could continue without issue for both sides. The two parties failed to come to terms by the time the merger became official, and what followed was one of the largest strikes the United States had seen in years. 
Approximately 1,700 workers held out between February 26 and March 8, many camping out and picketing outside the Lawrence Park plant's gates to occasionally ugly effect, allegedly shouting and cursing at non-union members who did show up to work. UE Locals 506 and 618 opposed WABTEC's two-tier wage scale ("legacy wages" for union employees, significantly lower wages for new employees and those returned from layoff), mandatory overtime, forced vacation days (during the annual shutdown period), reduced time off for bereavement, and no defined grievance procedure. On March 9, after agreeing to a three-month truce, negotiations resumed. 
On June 6, a long-term bargain was finally struck, with WABTEC conceding to most of the union's demands (excepting equal pay for new and recalled workers). As part of the deal, WABTEC agreed to add 100 new workers over the course of the four year term. Incidentally, the company announced the layoff of 100 workers in December. Nonetheless, the WABTEC merger meant the trains would keep a-rollin' off Erie assembly lines for now, welcome news after a decade of dreading the worst.
Service industry serves the biggest portion
Ironically, those toasting the greatest remaining pillar of the Economy Past were often doing so within the very foundations of the Economy Present. The service sector — particularly food and drink — collectively employs the most individuals in Erie County, according to the State Department of Labor & Industry Report released in February. If there's one thing Erie has never lacked for, it's appetite.
This year, Erie savored the addition of both long-coveted franchises like Sonic and Jersey Mike's and new local favorites like Andora's Bubble Tea and the Gem City Dinor. Two new distilleries (Erie and Altered State) opened their doors to customers, while two of Erie's most prominent breweries added second locations. Lavery Brewing Company moved into the former Blue Canoe Brewery in Titusville this summer, while Erie Brewing Company moved into the former Millcreek Brewing Company this fall. Meanwhile, John Melody (former owner of Molly Brannigan's, which has joined the Red Letter Hospitality family of restaurants along with The Cork 1794 and The Skunk & Goat Tavern) and business partner Russel Stachewicz shared plans for two new ventures, the Bay House (a seafood-centric eatery nestled into the Courtyard Erie Bayfront parking garage) and the Brew House (built on the site of the U Pick 6 Beer Store, also owned by Melody). The Bay House plans, in particular, hint at things to come for an expanded bayfront entertainment district. 
Erie Insurance provides for the future
As far as individual employers go, Erie Insurance continues to reign supreme in both numbers and influence. Erie's only Fortune 500 company posted a net income of $257.2 million through the first nine months of 2019, up from $225.9 million during that same time frame in 2018. A $135 million, 346,000-square foot office building is slated for completion next year — its construction the most visible sign of the company's growth. It's not just sitting on its profits, however; it's reinvesting them into the community through initiatives like the Secure Erie Accelerator and the Erie Downtown Development Corporation (EDDC). 
Although there has been some unease as to how entities such as the EDDC will reshape Erie's downtown and what it means for residents (more on that later), motions toward progress should be viewed as a positive. Now it is up to those in power to ensure that progress benefits the many and not just the few.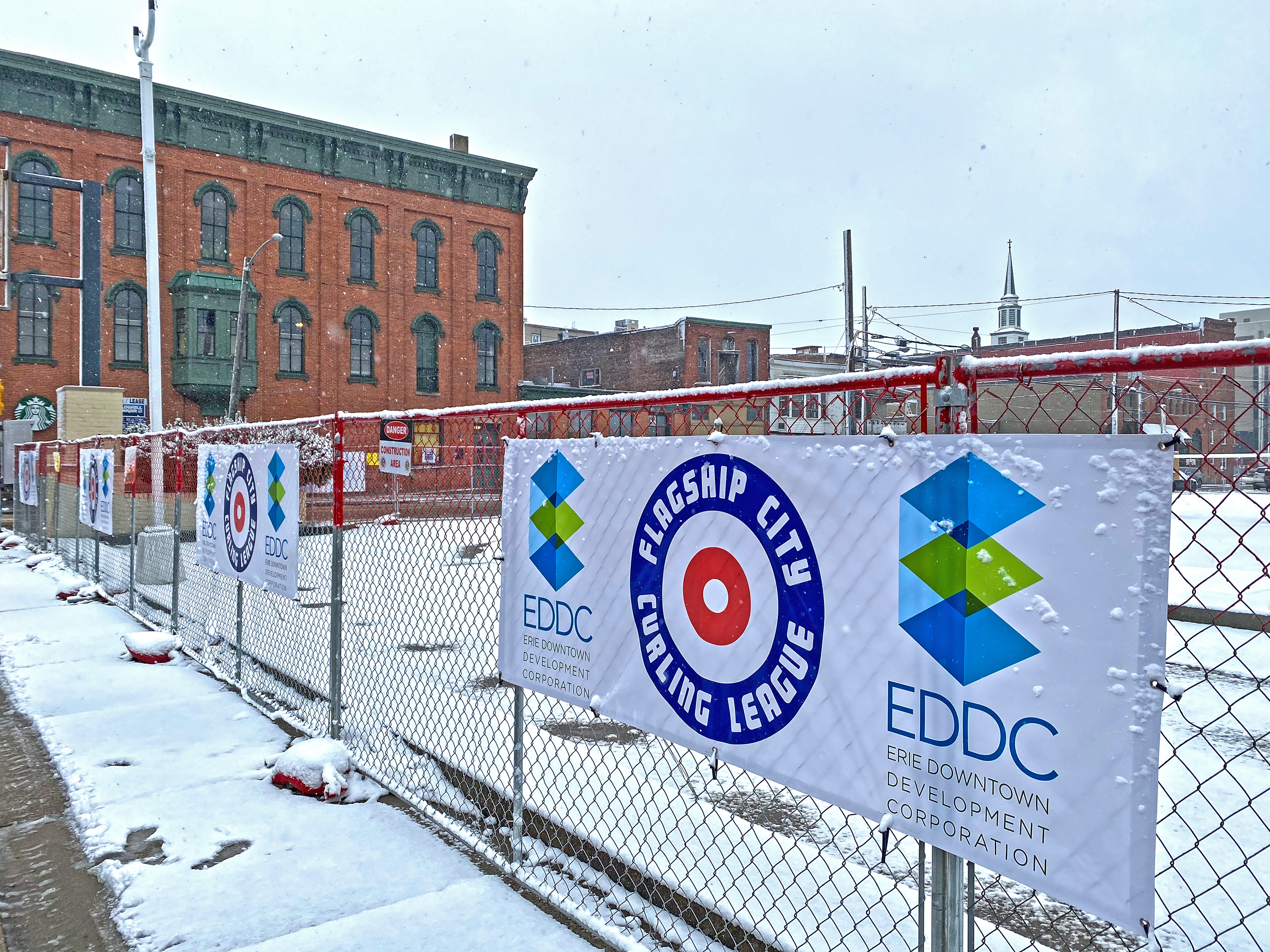 The Erie Downtown Development Corporation added to its property acquisitions throughout 2019, setting the stage for a major transformation for the heart of downtown. A five-story mixed-use building will eventually be built on this site at Fifth and State, formerly occupied by a McDonald's restaurant.
Healthcare in good shape
Erie's two major hospitals, UPMC Hamot and AHN St. Vincent, appear to also be in robust health as their facilities underwent major expansions and upgrades. Construction began on UPMC Hamot's seven-story Patient Care Tower downtown, a $111 million project that will add to the hospital's emergency and medical imaging departments. UPMC Hamot also debuted the Hillman Cancer Center, on the former premises of the Regional Cancer Center in Millcreek, following $7 million of upgrades. 
The city's third-largest employer will be further fortified with a $26 million expansion of its Magee-Womens Research Institute. Included in the plans is an embedded research lab at Penn State Behrend in Knowledge Park — and the corresponding academic programs to maximize it, as the college will begin offering degrees in biomedical engineering, biochemistry, and molecular biology. All told, the institute is projected to create 200 jobs and inject up to $50 million in medical research funding over the ensuing decade. 
Allegheny Health Network, the city's fifth-largest employer, is not exactly wheezing to keep up. This year, they put the finishing touches on the AHN Cancer Institute at St. Vincent, located at the corner of West 25th and Myrtle streets. The $25.4 million, 36,474-square foot facility will assume the majority of the hospital's cancer services, excepting surgeries. Combined with upgrades to its women's and infants unit, Health & Wellness Pavilion East Side, new emergency department, and operating rooms, AHN's investment tab came out to $130 million. 
And with the Lake Erie College of Osteopathic Medicine announcing its largest incoming class ever (and a new campus in Elmira, N.Y.), it appears there will be the human investment to match. All told, the region is well-positioned for the future of healthcare and healthcare research. 
Everybody needs a little THC/CBD?
As we turn over a new leaf in 2020, we would be remiss not to mention society's most debated plant and the industries evolving around it. Erie County has seen new businesses sprout up with the implementation of Pennsylvania's medical marijuana program, which licenses a finite number of state-approved dispensaries and grower-processors, in addition to issuing certifications to patients on the basis of 23 qualifying conditions (anxiety and Tourette's Syndrome were added this year). Rise Erie Dispensary celebrated its one year anniversary in April. A month later, Calypso Enterprises — Erie County's only approved grower-processor — began cultivating its first product for distribution in its 5,200-square foot facility at 910 Downing Ave. Calypso's Premium Marijuana Flower became available for sale at Rise Erie in December, and the company's marijuana concentrate will ship soon.
Elsewhere, another cannabinoid continued to enjoy unprecedented popularity. Cannabidiol, or CBD, is non-psychoactive and not subject to the same regulations as THC, marijuana's most potent ingredient. It's been promoted as a reliever of everything from anxiety to acne and is sold seemingly everywhere. With the legalization of industrial hemp (marijuana's relative) a year ago, Erie County farmers are starting to cash in. Most notable among them is Waterford's Mark Troyer, who for years was known for his potatoes (and potato chips). While he has not flushed that operation down the tube(r), he is capitalizing on the CBD craze with Farmulated CBD, the region's only vertically integrated CBD company. Farmulated is growing (up to 20 acres next year), processing, and will market its own CBD products.
With an increasing number of Pennsylvanians — including Governor Tom Wolf — supporting legalization, cannabis could become a new cornerstone of the regional economy in the not-so-distant future.
Redefining our economy
Cannabis is just one regional industry in its infancy, but several others seem poised to grow up in Erie County as well. The Erie Innovation District's second Secure Erie Accelerator, a 10-week mentorship program for startups, invited more young companies to town to feel out the Erie business landscape and encourage them to lay down roots. Among them were: Vita Inclinata Technologies (helicopter load stabilization technology for helicopters), United Aircraft Technologies (aerospace fuel economy and maintenance solution), MintM (sales and marketing application), FletchApp (time and attendance management app), Findparts.Aero (aircraft spare parts), NGEMS (hospital asset-tracking), and MiMirium (personal data encryption).
The technology and information security industries have been targeted as priorities for the future in Erie, as evidenced by developments like Velocity Network and Gannon's forthcoming iHACK Center (Institute for Health and Cyber Knowledge, as well as new locations for the IT firms Federal Resources (formerly of Northern Virginia) and ValueMomentum (based in New Jersey). A concerted effort has been made by local incubation initiatives and universities (among them: Innovation District, Ignite Erie, Industry+University Business Acceleration Collaborative, the Idea Lab at the Erie County Public Library, Ben Franklin Technology Products, CIVITAS, Innovation Collaborative, ECGRA, the Erie Community Foundation) to pump fresh ideas into Erie, while developers scramble to find places for them to live and work within the city limits. One thing is sure — Erie must adapt to the changing times or be left behind.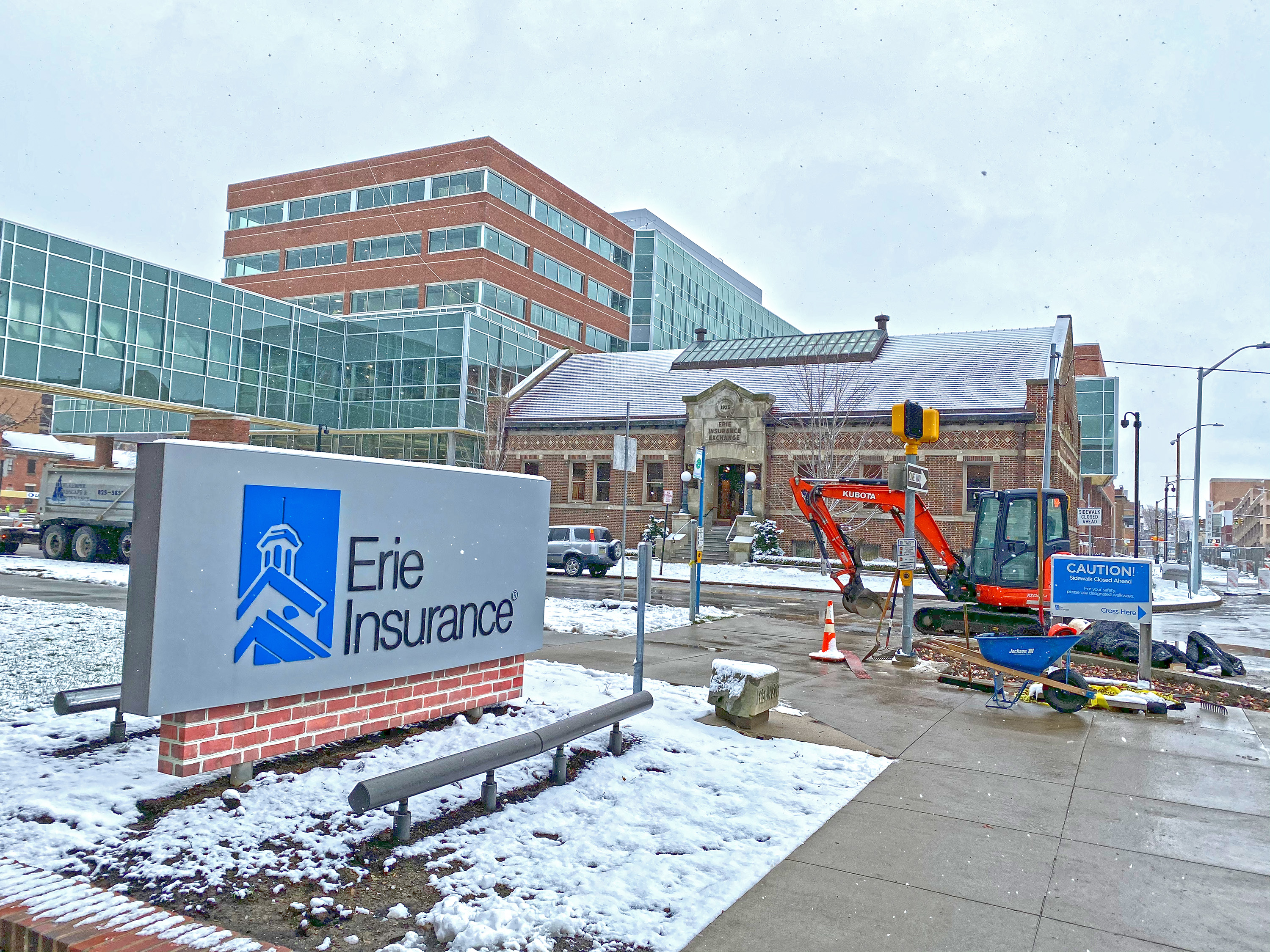 Erie Insurance, currently the city's largest employer, enjoyed another highly profitable year in 2019. Pictured here is its new $135 million office building on East Sixth Street, slated for completion in mid to late 2020.
THE POLITICAL LANDSCAPE
Timing of the essence
According to financial consultant Gordon Mann, the doomsayer appointed by the Philadelphia-based Public Financial Management Inc. as part of the state's Early Intervention Program for struggling municipalities to report on Erie, 2019 seemed like a good time to get our collective stuff together. A "three-headed dragon" of mounting debt, structured deficit, and growing pension costs loomed ominously, threatening to torch Erie like King's Landing (of Game of Thrones notoriety). This came to the surprise of exactly none of the city's decision-makers, some of whom seemed slightly irritated at the non-revelation. 
While Mayor Joe Schember forecast a small budget surplus for the city to end 2019, the fact remains that the city is several millions of dollars in debt and must act. Among the suggestions of the Early Intervention program were: 1) revisions to pension financing, 2) the end of refinancing debt, which continues to balloon, 3) a new municipal services agreement with the Erie Parking Authority (who had chipped in $500,000 a year previously), 4) a reappraisal of our multimillion dollar water system, 5) yearly incremental sewage billing rate increases, and 6) divesting ourselves of the two city-owned golf courses. 
That's a lot to swallow; which Schember attempted to address with his proposed 2020 budget plan in November. The plan called for a property tax hike (later rescinded thanks in part to Erie Water Works' pledged contribution of $5 million to balance the budget), increased garbage and sewer fees, increases in earned income taxes for people who work but do not live within the city limits, aggressive pursuit of overdue parking fees, and wage freezes for non-union government employees. Overall, bolstering the tax base is imperative if the city is ever to get out of the red. Which brings us to perhaps Schember's biggest — and widely debated — policy push of 2020.
Living la vida LERTA?
On June 19, Erie City Council approved a massive expansion of the Local Economic Revitalization Tax Assistance Program, or LERTA. With the revised LERTA, new residential and commercial developments would receive 100 percent abatement in city and county property taxes for 10 years. Also for the next decade, school taxes would also be waived for new residential developments falling within the city's eight federally-designated Opportunity Zones (taxes for those outside the Opportunity Zones would resume earlier) and reduced by up to 80 percent for commercial developments. The move, which Schember heavily favored, was intended as an adrenaline shot for developers now with the payoff of a greatly expanded tax base later, when the number and values of taxable properties have multiplied.
The setup phase of LERTA has worked as intended — 73 building permits (22 commercial, 51 residential) were issued by the city between July and November, their collective construction costs valued at $23.7 million. Now the waiting game begins — can local government and the Erie School District remain financially solvent until the revenue begins pouring in from these properties a decade from now? Will the businesses and attractions draw in more employees and more residents, and ultimately stay for the long haul? Some Erieites, especially those from lower-income backgrounds (i.e. the majority who live in the so-called Opportunity Zones) are skeptical of the trickle-down economics model, and whether this will upgrade their situation or merely displace them. It's a fair question to ask, and it's up to the policymakers to keep them in the loop.
Developers pour into Opportunity Zones 
The Erie Homecoming event in August encapsulated a lot of the excitement shared by investors, and the following is a sampling of the new developments:
Bayfront: The Pennsylvania Department of Transportation has discussed a dramatic overhaul of the Bayfront Parkway, including a possible roundabout at the foot of State Street, redirecting east-west traffic underground while north-south traffic continues over top. Pedestrian and cyclist pathways over the busy thoroughfare have also been broached.
GAF Materials Site (west of Dobbins Landing): Erie Events' Market House project, 
East Dobbins Landing: Scott Enterprises' Harbor Place (hotels, shops, condos, outdoor skating rink, eventually repurposed smokestack), Port Authority pier upgrades and potential entertainment feature (Ferris wheel?)
Erie Innovation District: Gannon iHACK Center, $7 million Marquette Savings Innovations and Learning Center (former site of Toni & Guy Hairdressing Academy, W. 10th and Peach), Innovation Tower (proposed space for startups in upper floors of Downtown YMCA).
Joyce Savocchio Business Park, to be rechristened Joyce A. Savocchio Opportunity Park: The Urban Erie Community Development Corp., helmed by Gary Horton, completed purchase of 19 of the grossly underutilized park's 25 acres for a "community hub" for job training, wellness facilities, and community agriculture facilities.
Erie County Community College plans still suspended
Prominent local politicians, such as Erie County Executive Kathy Dahlkemper and former congressional candidate Ron DiNicola, continued to fight for a community college in Erie — the largest population center in the state without one. Despite the county's application satisfying the three major criteria to establish a community college — sufficient population, sufficient wealth, and sufficient need — voting was postponed until next year, with Jefferson County senator Joe Scarnati leading the opposition, fearing an Erie Community College would undermine the offerings and services at his Northern Pennsylvania Regional College. The community college has powerful backing from others, including Gov. Tom Wolf and State Board of Education member and former Erie School District superintendent Jim Barker. With the gridlock in Harrisburg, it could be a while yet before class is in session.
Who's down with EDDC?
The EDDC spent most of 2019 getting the pieces in place for grand and sweeping changes in the heart of Erie's downtown. So far, its revitalization plans involve three key locales: North Park Row west of State Street, the former site of a McDonald's restaurant (which has been bulldozed), and several properties on the 400 block of State Street adjacent to the Erie Art Museum's Old Custom House. Cumulatively, their plans promise an exponential increase in property values, an influx of hundreds of jobs, and millions of dollars added to the tax base upon expiry of LERTA. 
The most controversial area of redevelopment by far was North Park Row, especially when three much-loved local restaurants — Khao Thai, Tandoori Hut, and Casablanca Hookah Lounge and Cafe (all immigrant-owned) — were asked to relocate to make way for a new "culinary arts district" highlighted by a fresh foods market and local food hall. Unwisely, the EDDC did not disclose these plans until well after the fact, sparking outrage and protests among locals. To its credit, the EDDC did pledge to help connect the business owners to resources for relocating, but to those hardworking individuals and those that support them, there was a feeling of being cast aside. 
Getting everyone involved 
Mayor Schember has made a conscientious effort to infuse diversity into the city government, as well as to acquire feedback from segments of the community — he established the New American Council in July (a 24-member volunteer group comprised of New Americans, refugees, and their backers) and is an endorser of the Count Me In initiative to connect with lower east side residents. His Community Reinvestment Fund hopes to fund repairs for the city's most ailing neighborhoods. Nonetheless, government and business leaders have been urged to collaborate with both nonprofits and community organizations (such as Bayfront East Side Taskforce, Our West Bayfront, ServErie, East Side Grassroots Coalition, Sisters of St. Joseph Neighborhood Network) to affect appreciable change. 
THE ENVIRONMENTAL LANDSCAPE
Erie Coke stinks up the joint
Securing the future of our waterfront is contingent on clean air and clean water — large-scale pollution jeopardizes our greatest and most marketable resource. The Erie Coke Corporation's operations have had serious repercussions on nearby residents, especially those dwelling in East Bayfront neighborhoods. Citizen groups like Hold Erie Coke Accountable (HECA) and Group Against Smog and Pollution (GASP) made their voices heard, and in July, the PA Department of Environmental Protection (DEP) announced in a press release that it had "denied Erie Coke's application to renew its Title V operating permit and has filed a complaint for injunctive relief in Erie County Court seeking to shut down the coke production facility following years of numerous repetitive environmental violations."
However, coke production is ongoing as DEP attorneys and Erie Coke's defense lawyers continue argue their cases.
HABs and high waters
Another issue waded in throughout 2019 were unprecedented high water levels, which peaked over the summer. Presque Isle trails and waterfront businesses found themselves partially or wholly submerged due to the emerging trend of more extreme lake levels due to global warming. To mitigate the impacts of both unusually high water and low water (equally as troublesome), resilience planning will need to be put in place to readily withstand the cycles. Regardless, local producers must remain cognizant of nutrient runoff, which fuels harmful algal blooms that make water of any depth more hazardous for both humans and animals. 
THE ENTERTAINMENT LANDSCAPE
Are SeaWolves an endangered species?
The news surrounding UPMC Park is a howl of a contradiction these days. On the one hand, the SeaWolves' home field is enjoying the final phase of its $16 million upgrade plan, which has included: a complete replacement of the playing field, new videoboards, upgraded concessions, restrooms and picnic areas, and a four-story building in left field that will be shared with the Erie Otters. The complex will hold administrative offices for the two teams, year-round team stores, and a stadium club with accommodations for up to 230. 
On the other hand, there has been anxiety as to whether there will even be a SeaWolves team to watch there. A proposal leaked by the MLB in October called for the shutdown of 42 minor league teams, predominantly at the Single A level. However, four Double A teams — including the SeaWolves — made the list. SeaWolves owner Fernando Aguirre pledged to resist the team's proposed dissolution, while team president Greg Coleman remained optimistic that the renovations would help leverage the club's survival.
Closing the curtain on Warner Theatre renovations
The Erie Philharmonic and Broadway in Erie Series are among the acts that will have to take their show on the road for the 2020-21 seasons, as the Erie County Convention Center Authority voted to close the Warner Theatre as a cost-saving measure after bids for planned renovation came in as much as $10 million over budget. When the intermission ends, audiences will be thrilled with aesthetic and aural upgrades such as a new marquee and upgraded sound system, while performers and crews will rave about added stage depth and a custom orchestral shell along with new rigging, equipment, and production equipment. On the French Street side of the building, the plans include an enclosed walkway and outdoor video screen that can be viewed from the lawn in front of Erie Insurance Arena. 
Jr's has not laughed its last
In November, longtime Jr's Last Laugh owner David Litz sold his successful comedy club to magician Bobby Borgia and partner Kristi Lewonas after 20 years in business. The comedy component will continue, with shows lined up through spring. Jr's transformation will begin in earnest thereafter, with plans for a tribute to famous Erie magician Harry Kellar to occupy the building's second floor.
Roar on the Shore whimpers out
Another fixture of Erie's annual entertainment calendar, the Roar on the Shore motorcycle rally, came to a sudden and screeching halt with the unexpected death of director Ralph Pontillo, who suffered anaphylactic shock from insect bites in Florida. Its 13th year had been one of transition, as it shifted headquarters from Downtown Erie to Lake Erie Speedway in North East. Reaction had been mixed to that move; now it remains to be seen if the event will rev up for a 14th iteration or be scrapped altogether.
Filling the void downtown this summer was Gears and Grub, which had been previously held at the West Erie Plaza to provide a local counterpoint to Roar, which largely featured nationally touring music acts and vendors. Gears and Grub is planning for an even bigger 2020.
Tall Ships and standing tall
Tall Ships Erie returned in 2019 after a three-year hiatus, welcoming tens of thousands of visitors to the Bayfront. They watched 12 magnificent vessels — including the U.S. Brig Niagara — sail through the Port of Erie to close out August in (quite literally) one of the city's flagship events. It, along with another highly attended and more youthfully-slanted Celebrate Erie, revealed our city's charms to a broader audience. The challenge for 2020 and beyond is to remind our citizens of them every day — and make sure everyone feels invited, milk-swigging musical nudists not withstanding. 
Matt Swanseger confines his stripped-down vocal sets solely to his own shower. He can be reached at mswanseger@eriereader.com