The Cold Truth
We all gain when we embrace Erie's black history
February 27, 2019 at 9:30 AM
By: Liz Allen
When I woke up on Jan. 30, the temp was minus four and the wind chill had plummeted to a dangerous minus 18.
I was desperate to find a silver lining in the polar vortex, because in three days I would be traveling to Gobbler's Knob in Punxsutawney to celebrate Groundhog Day.
That's when Paul Siple's name popped into my head. Siple grew up near West Fifth and Cranberry streets, became an Eagle Scout, graduated from Allegheny College, explored the Antarctic with Admiral Richard Byrd — and invented the wind-chill index. How cool is that for an Erie connection?
I found my copy of Erie, 200 Years as a Community, the Times Publishing Co.'s 1995 special section for the Erie Bicentennial, to verify my recollections. As the tab's editor, I knew that we had written a blurb about Siple in a chapter about Erie luminaries, which included Brady Bunch actress Ann B. Davis, Arthur author Marc Brown, circus owner Dan Rice, and astronaut Paul Weitz.
I took a screenshot of the Siple vignette, written by Chris McCammon (now Chris Palattella).  Her story noted that Byrd had chosen Siple, 19, from 600,000 Boy Scout applicants to join Byrd's first expedition to Antarctica in 1928.
I posted the story on Facebook, then watched in delight as comments rolled in.
Len Peebles said that there's a plaque about Siple outside of Blasco Library.
A friend from Kansas City shared a 2014 Scouting magazine story, "You can thank this Eagle Scout for the wind chill (or at least its name)," which said that Siple "wrote four books, appeared on the cover of Time magazine and became a hero to all Scouts."
Kevin Flatley appended a copy of that Dec. 31, 1956 Time cover. "Erie should have a wind-chill weekend/festival to celebrate," Flatley suggested.
Anna Frantz, executive director of Our West Bayfront, and Candace Battles, a founding member of OWB, touted the fact that Siple had lived on Erie's west side. "Lots of wonderful history/people in Our West Bayfront," wrote Battles. "We just need to record it and mark their space."
Katie Eichenlaub White's comment made me giggle: "Erie really needs to blow its own horn — even if your lips get stuck to it."
The whole playful exercise reminded me that it's fun and energizing to learn new details about Erie's past, which, after all, continues to shape our future.
But White's comment took on an added meaning after I heard Johnny Johnson's talk, "Shedding a Light on Erie's Black History," at the Jefferson Educational Society on Feb. 19. He made me realize that we are missing the opportunity to blow our own horn when we know so little about the contributions African-Americans have made to Erie's arts, culture, education, entrepreneurship, and sports heritage.
I know some parts of Erie's black history because my parents were good storytellers, and also from what I was expected to know as an Erie journalist.
Mom railed against the deed covenants in upscale neighborhoods that restricted certain ethnic groups, including blacks and those of "Mediterranean" descent. My dad taught me that Sam Jethroe, a former Negro League player, had helped to break the color barrier in major league baseball and had been the National League Rookie of the Year in 1950.
Jethroe became one of many Negro League stars who settled in Erie. There's also another weird Erie connection to the league.  In 1997, my father spotted a Washington Post story about Eddie Klepp, an Erie guy who broke a reverse color barrier when he became the first white man to play in a Negro League game. Klepp pitched, only once, for the Cleveland Buckeyes. His odd distinction is immortalized in a song, "The Ballad of Eddie Klepp."
Speaking of songs, I also knew about Erie native Harry Burleigh, a famous composer, singer and music arranger, thanks in large part to the late Charles Kennedy Jr. He devoted his life to preserving and amplifying the legacy of Burleigh, the grandson of a slave.
In the Erie Bicentennial publication, Ron Wasielewski wrote about the heroics of black sailors in the Battle of Lake Erie. He also did an in-depth series on the Great Migration of African-Americans from Laurel, Miss., to work in Erie industries.
But after hearing Johnson's lecture, examining the work of Debbi Lyon at the Erie County Library, and attending a living history program at McKinley School, I realized there are many more stories we should be retelling about African-Americans in Erie.
In his lecture, Johnson focused on the Lawrence family.
I am familiar with Ada Lawrence, the first African-American hired in the 20th century to teach in the Erie School District, but I didn't know anything about her roots. She was the granddaughter of Emma Gertrude Lawrence, a widow who started Lawrence Cleaning and Dyeing business, and the daughter of Belle and Earl E. Lawrence. Earl Lawrence and his brothers, Ray and Charles, were talented musicians.
Ray and Charles Lawrence died relatively young, but Earl Lawrence had an extraordinary career as a band founder, music teacher, studio owner, and the first black member of the Erie Philharmonic. At one point, Earl Lawrence taught students to play everything from the cello to the tuba. "Think of one man in 1910, 1912, 1915, that played about 15 instruments," Johnson said. "You would think everybody would know what a great musician he was."
Lawrence couldn't join the Kahkwa Club, but his band played there. He couldn't get hired at Erie's schools but he was the music director for the Fairview Borough and Township School District and also taught in Wattsburg, Johnson said.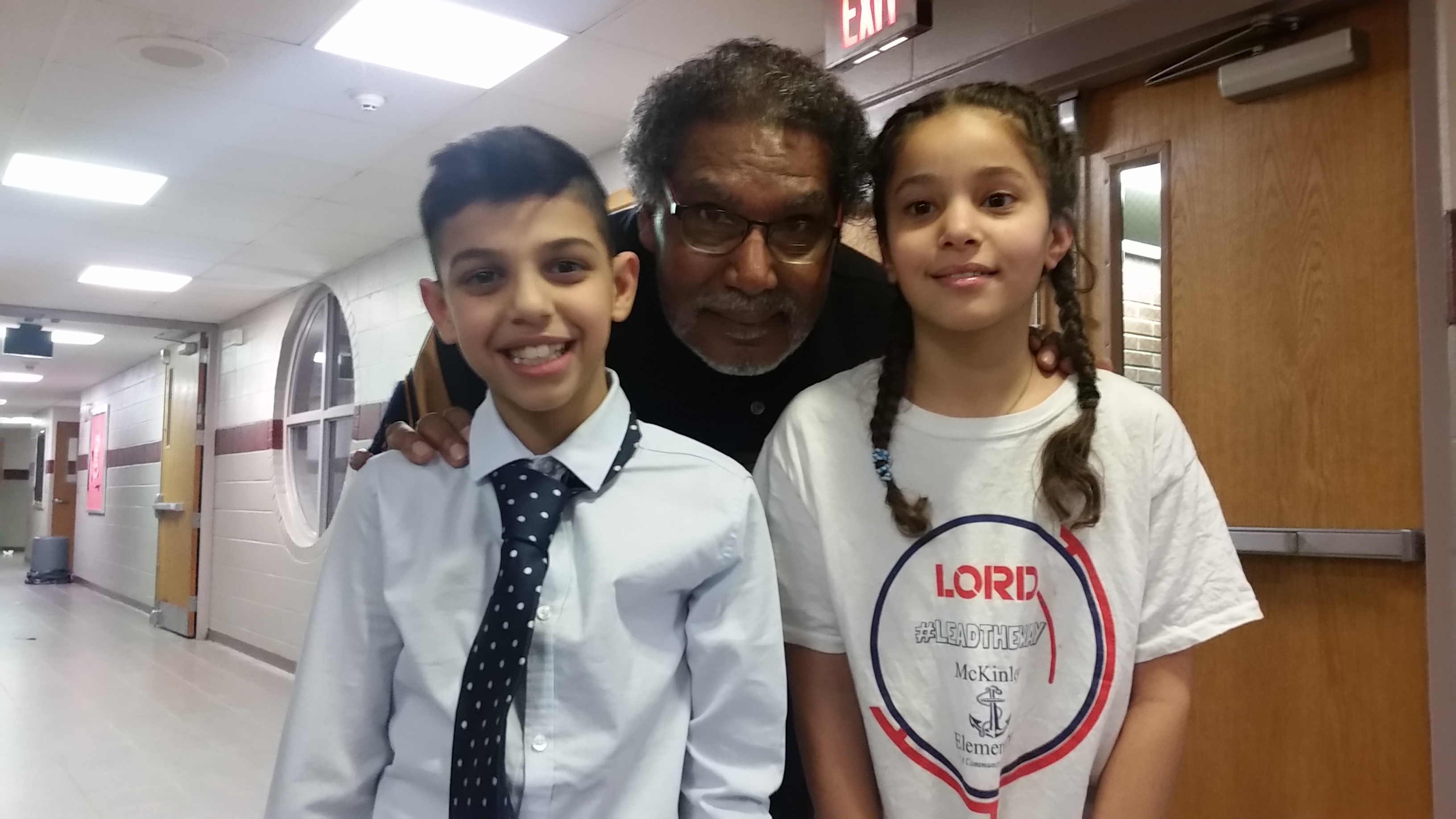 Johnny Johnson, an expert on Erie's black history, meets Hussain Alluhaibi, left, who played Barack Obama, and Hiba Almutar, who played Michelle Obama, at McKinley School's black history play, Becoming the First. 
The Lawrence family was close to Harry Burleigh, and like Burleigh, Lawrence also composed music, including "I'm Singing to Keep from Crying." Lawrence had "credentials out the kazoo," said Johnson, "yet, we don't know this man."
Johnson, who is retired, became friends with Ada Lawrence when he taught at Tech High School. He salvaged her family memorabilia when he found her papers being discarded in a trash bin outside her Front Street home after she died in 2014. He describes her papers as the "greatest historical archives in Northwestern Pennsylvania." Johnson estimates that he has 10,000 items in those archives, stored at home. "A basement is no place for archives," he said. "We have to understand that history belongs to all of us, not just to some of us."
Still, a good deal of Erie's African-American heritage is unknown to many of us, and the Heritage Room at Blasco Library is a good place to discover why that history has been hidden.
That is where you will find "Erie, Pa. African-American Resources," a seven-volume collection of "primary-source material" compiled by Debbi Lyon (who also runs a fantastic blog, "Old Time Erie"), a library clerk and close collaborator with Johnson.
"I had an interest in Erie history for a long time, especially in things that are not documented," said Lyon, who traces her curiosity about Erie history back to her days at Academy High School, when she and her friend Joe "would walk down State Street and poke our heads in different buildings."
The idea for "African-American Resources" began with a subscription she had to the Cleveland Call & Post, a black-owned weekly newspaper. "I was amazed that there were so many mentions of people in Erie. I went back to the Erie papers, thinking maybe I missed something. No, I didn't miss anything. This stuff was being published in Cleveland," she said.
Black-owned newspapers in Philadelphia and Pittsburgh also covered social, entertainment, business and political news from Erie. Those clippings reveal what it was like to be middle class and black in Erie in the early part of the last century — but to be invisible at home.
Until I paged through Volume 1, I didn't know that Booker T. Washington had spoken in Erie in 1914, or that boxing champ Joe Louis headlined a dance at the Pennsylvania Armory in 1946, or that Fats Waller, Earl Hines, and Ray Charles had performed in Erie in the '30s, '40s and '50s, or that Erie also produced opera singer James Justice.
Debbi's interest was also piqued by library patron Curtis Barnett, who had a scrapbook of clippings about African-Americans from Erie newspapers. "We just had a friendly challenge," she said, as each dug for more material.
Barnett's mother had told him that in its heyday, Erie's black entertainment scene — patronized by blacks and whites alike — was on a par with what you could find on Broadway or in Harlem. News clippings and ads document that.
Lyon pulled together most of the information in the seven volumes in the last four months. I only skimmed the first one, but she said that's OK. "I had no idea there would be this much information," she said. "Hopefully, it will spark people's imagination and they will take it further."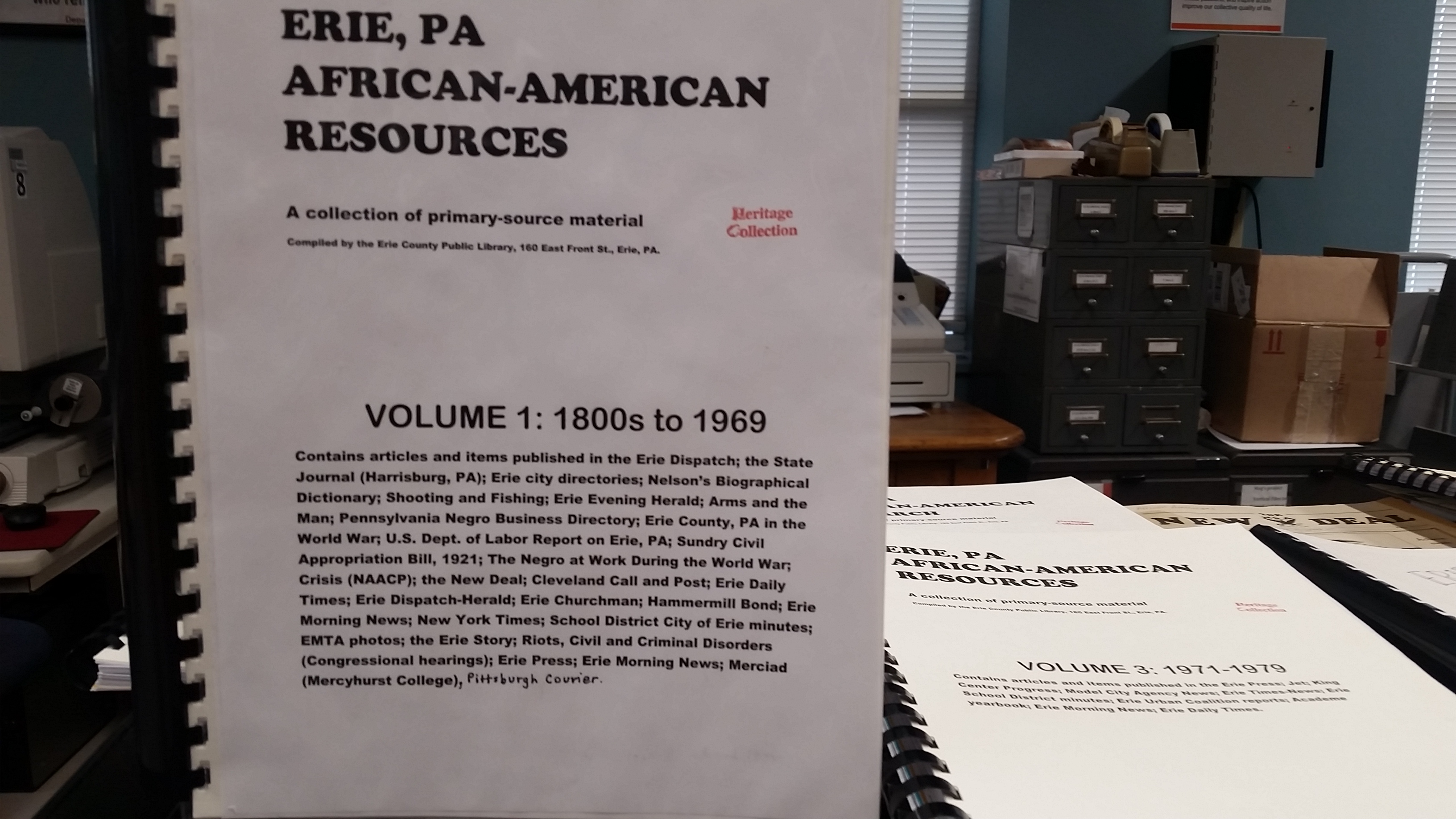 Erie County Library Clerk Debbi Lyon has assembled seven volumes of "Erie, PA African-American Resources," available in the Heritage Room at Blasco Library.
With our community's recent emphasis on the importance of innovation and entrepreneurship, we should know more about John Hicks, the black businessman who patented technology for the ice cream confections he made at his State Street factory. His patent paperwork is in Volume 1. So is the patent paperwork for Austin Mount, for his target-practice inventions. Mount, the caretaker for Otto Behrend's estate, was also the first black pilot to fly solo in Erie, according to a 1933 Pittsburgh Courier story.
I especially enjoyed the chatty society columns in the black-owned newspapers, including one written for the Cleveland Call & Post by Erie's Bettye Lee when she was on summer break from Temple University. The Call & Post had published her 1944 graduation picture from Strong Vincent High School and I recognized her as the educator and benefactor we know as Mother Mary Beth Kennedy (also the mother of Charles Kennedy Jr.).
The stories in the "African-American Resources" aren't all upbeat. There is testimony before Congress by Southern employers who feared that black migration to places like Erie was decimating their labor pool.
There are news accounts about the displacement of African-Americans from homes and churches during "urban renewal" in Erie. There are shocking stories about people living in shanties without running water or sewers near Franklin Avenue. The New York Times covered a controversial decision by Hammermill Paper Co., based in Erie, to open a pulp plant in Selma, Ala., in 1965, at the same time that Dr. Martin Luther King Jr. was protesting Gov. George Wallace's segregationist policies. There are minutes from Erie School Board meetings where the Erie NAACP pressed for more black teachers and fairer discipline policies in the late '60s.
There are still too few black teachers in Erie's public schools, but I enjoyed seeing Johnny Johnson return to the classroom at McKinley School. Fourth-grade teacher Jane Ross invited him to speak to her students who researched and presented a black history play, Becoming the First.
Lori Pickens, the out-of-school-time coordinator for the Community School program at McKinley, which is run in partnership with the YMCA, organized the black history play, a first for McKinley. Students portrayed eight African-Americans who made history, including Claudette Colvin, who refused to give up her seat on an Alabama bus; Madame C.J. Walker, who founded a cosmetics empire; and Alexander Mills, who invented automatic doors for elevators.
Pickens said she wanted the kids to learn that they are "not too young to do something" and that "becoming the first is really inspiring."
Johnson enjoyed answering questions from all of the kids and got a big kick out of meeting 10-year-olds Hiba Almutar, who portrayed Michelle Obama, and Hussain Alluhaibi, who played Barack Obama. Hiba wants to become a doctor. Hussain has three goals: "lawyer, president, actor."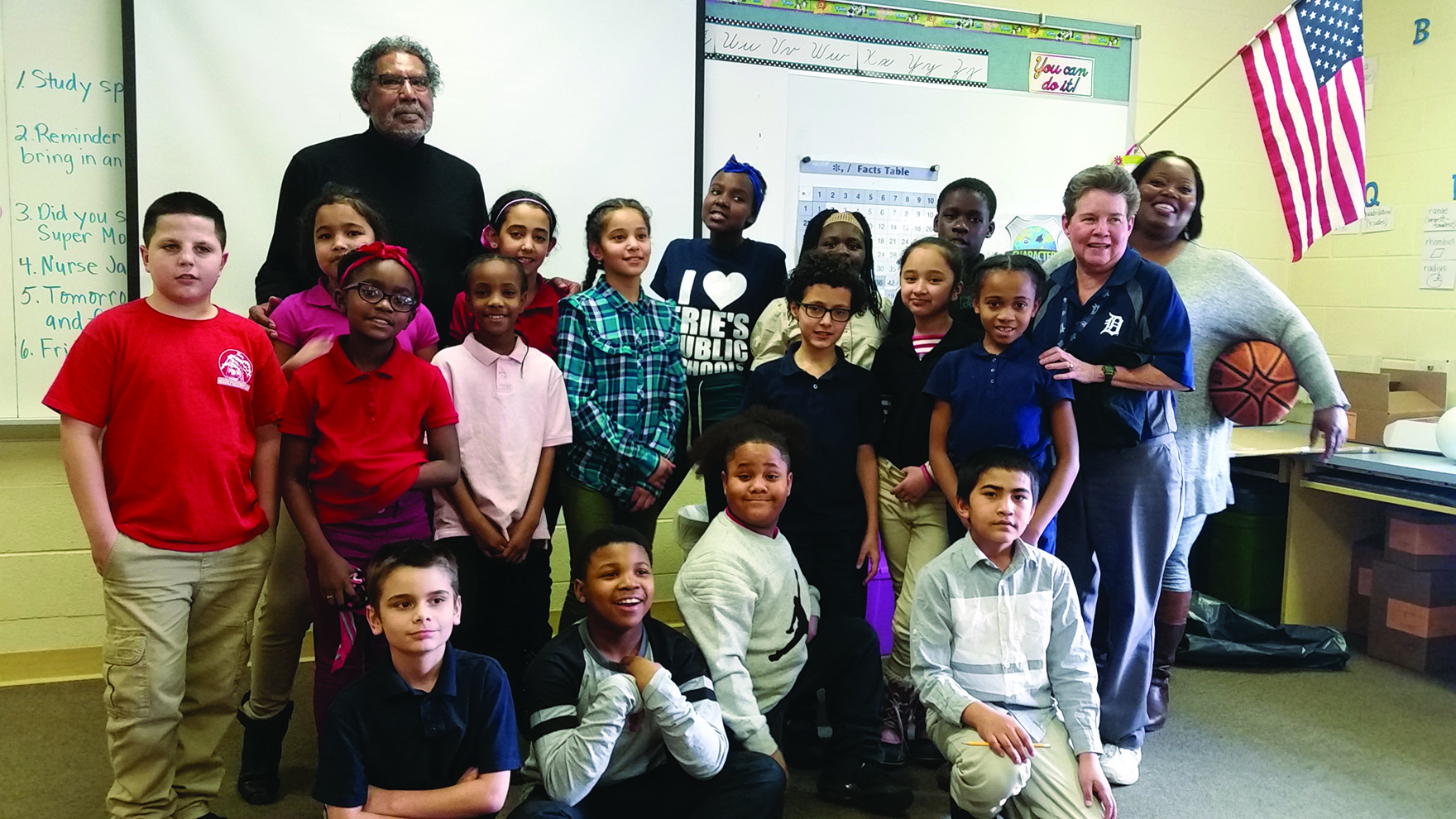 McKinley Elementary School fourth-graders put on their first-ever Black History program with guest speaker and retired Erie teacher Johnny Johnson, standing in back row. With him are, front row, left to right, Wyatt, Ryheem, Deangelo and Prabin; second row, Nathan, Riyana, Jaleiya, Axiel, Recica, Baya and teacher Jane Ross; and third row, Nisika, Tamarah, Hiba, Night, Ahyrra, Yassini and Lori Pickens, Community Schools staffer.
Johnson wrapped up his presentation at McKinley with this analogy. Acknowledging black history only in February is like restricting the celebration to a wedding. "Then you hang the dress up and take the tux back," he said. Instead, we should think of black history like a marriage, something to be cherished year-round.
McKinley School, by the way, was a great venue for Johnny Johnson, the keeper of Ada Lawrence's legacy, to speak to children with multicultural backgrounds. McKinley is where Miss Lawrence broke the color barrier and got her first teaching job.
Liz Allen agrees with Johnny Johnson that it's time to establish a permanent black history exhibit or museum in Erie. She could cozy up to the idea of a wind-chill festival, too. You can reach her at lizerie@aol.com.
Learn More: Seven volumes of "Erie, PA African-American Resources" are available to peruse in the Heritage Room at Blasco Library.
The spiral-bound books, with many original source documents, are organized chronologically and some are also by subject matter, including sports and genealogy materials.