The Countdown to Con
Erie ComiCon returns to Bayfront Convention Center
September 14, 2022 at 9:30 AM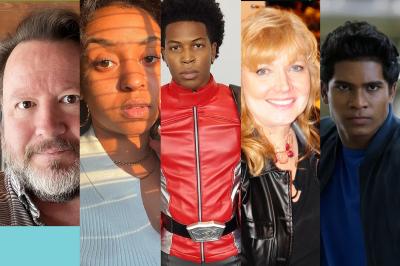 Beginning Friday, Sept. 16
Erie ComiCon's sixth edition is about to hit the Bayfront Convention Center with a full lineup of artists, guests, features, vendors, and games, making this the biggest year yet for the popular event. But, don't let the name fool you, the convention features much more than just comics.
It all kicks off Friday, Sept. 16 at 2 p.m. and continues until Sunday at 4 p.m. There is an impressive array of vendors and artists for this year's event, as well as presentations, cosplayers, vehicles, and contests. An after party will be held on Friday night with Erie DJ Bill Page, and will include celebrity appearances, giveaways, and more. Cosplay contests for adults will be held at 4 p.m. Saturday and for kids at 1 p.m. on Sunday.
Celebrity guests this year include Emmy Award Winner Bill Diamond, an American puppeteer, puppet fabricator, and producer who has worked on projects such as Fraggle Rock, Sesame Street, and more. Diamond began his career working with the legendary Jim Henson and later created Dr. Rock's Dinosaur Adventure for FOX television in the '90s.
Other guests include voice actor Sonny Strait who provided the voice of Krillin in the Dragon Ball franchise, actress and producer Cindy Morgan of Caddyshack and Tron, The Purge actress Brittany Mirabile, horror actor and director Drew Godderis, and from Power Rangers Beast Morphers, Jazz Baduwalia and Rorrie Travis. Full guest bios are available on the ComiCon website where visitors can also purchase photo ops.
An all new addition to the convention this year is LUGs. A LUG is a LEGO Users Group, which is typically a group of LEGO fans living in the same region. Displays from groups in Buffalo, Pittsburgh, Northeast Ohio, and Baltimore are sure to be a popular attraction. Adult fans of LEGO can submit MOCs (My Own Creations) and participate in the Erie Community Build. If you are an AFOL (Adult Fan of LEGO), be sure to come down to meet special guests Mel Brown and Corey Samuels of the television show LEGO Masters.
In the Zone gaming will include video game tournaments, PC gaming, board game demos, and tabletop cards and games such as Pokemon TCG, Magic: The Gathering, and Dungeons & Dragons. The schedule for gaming events can be found online.
More than 2,500 people have visited the convention since its inception.
Friday 2 p.m. to 7 p.m., Saturday 10 a.m. to 7 p.m., Sunday 11 a.m. to 4 p.m. // Bayfront Convention Center, 1 Sassafras Pier // Advance ticket Weekend pass, $35; Advance Ticket Single-day, $17-$20; All tickets sold at the door are $22 per day or $40 Weekend pass // Children age 7 and under are free // www.eriepromotions.com/comicon-erie