The Erie Playhouse 2019-2020 Season
A list of the Erie Playhouse's upcoming productions and events
June 10, 2019 at 11:00 AM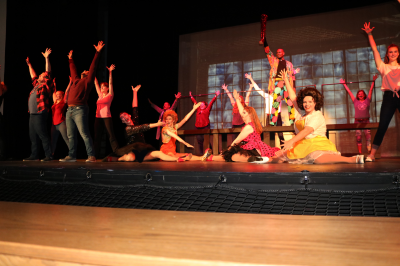 With two main stage musicals still to go this summer– Spring Awakening starting July 12 and 42nd Street starting August 8 – the Erie Playhouse recently announced the lineup for their upcoming 2019-2020 season. It features a mix of classic favorites, fresh takes on familiar stories, and new hits hot off their Broadway debuts. The promotional materials this year are similar to last season, with members of the community – often representing pivotal local organizations – serving as models, dressed in one of the main roles that will be cast later as the season progresses.
Main Stage:
Phantom
September 13−14, 20−22, 25−29, 2019
Based on Gaston Leroux's 1910 novel The Phantom of the Opera (not to be confused with Andrew Llyod Weber production). Music and lyrics by Maury Yeston, book by Arthur Kopit.
The Curious Incident of the Dog in the Night-time
November 1−2, 8−10, 13−17, 2019
Winner of seven 2013 Olivier awards (and a 2018 production by Dramashop), this play is a reworking of the 2003 Mark Haddon novel. It follows 15-year-old Christopher Boone, a mathematical prodigy – with an unspecified disorder on the autism spectrum – who finds the body of his neighbor's dog
Rodger's and Hammerstein's Cinderella
December 6−7, 13−15, 18−22, 27−29, 2019
This take on the classic fairy tale was originally written for a television production starring Julie Andrews. Music by Richard Rodgers, lyrics and book by Oscar Hammerstein II (with Douglas Carter Beane).
Gaslight
February 21−22, 28−29; March 1, 4−8, 2020
This Victorian thriller by playwright Patrick Hamilton was made into a 1944 film starring Charles Boyer, Ingrid Bergman, Joseph Cotten, and Angela Lansbury, and gave way to the modern psychological abuse term.
Something Rotten
March 20−21, 27−29; April 1−5, 2020
The 2015 Tony-Award-winning Broadway musical tells the tale of Nick and Nigel Bottom  – contemporaries of William Shakespeare. Music and lyrics by Karey Kirkpatrick and Wayne Kirkpatrick, book by Karey Kirkpatrick and John O'Farrell.
The Secret Garden
June 19−20, 26−28; July 8−12, 2020
Based on the 1911 novel by Frances Hodgson Burnett, this musical debuted on Broadway in 1991, winning multiple Tony Awards and running for nearly two years, with a revival in 2018. Music by Lucy Simon, lyrics and book by Marsha Norman.
Kinky Boots
July 31; August 1, 7−9, 12−16, 2020
The smash Broadway hit based on the 2005 film centers around the unlikely friendship between the heir to a shoe company and a drag queen named Lola, and originally debuted in Chicago in 2012, going on to a successful world tour. Music and lyrics by Cyndi Lauper, book by Harvey Fierstein.
Youtheatre:
The Wiz Jr.
October 11−13, 18−20, 2019
Adapted for young audiences, this production follows the classic film and musical. Music and Lyrics by Charlie Smalls, book by William F. Brown.
Frozen Jr.
January 24−26, 31; February 1−2, 7−9, 2020
The 2013 Disney tale of two sisters, was staged Broadway in 2018, with this youth-friendly production in one act. Music and lyrics by Kristen Anderson-Lopez and Robert Lopez, book by Jennifer Lee.
Tuck Everlasting
May 8−10, 15−17, 2020
Based on the 1975 Natalie Babbitt novel and the recent production – which debuted on Broadway in 2016 – tells the story of a rural family who discovers the secret to immortality. Music by Chris Miller, lyrics by Nathan Tysen, book by Claudia Shear and Tim Federle.
Special Concerts:
Broadway's Best – A New Year's Celebration
December 31, 2019
Ring in 2020 with your favorite Broadway hits performed by some of the Erie Playhouse's best.
Sondheim's Assassins
April 24 & 25, 2020
Taking the form of a traveling musical revue, this work from the iconic composer and lyricist details real-life (successful and unsuccessful) attempts to kill the President of the United States. Music and lyrics by Stephen Sondheim, book by John Weidman.