The Human Experience
Why local history matters
April 11, 2018 at 12:45 PM
On February 16, 2016, Dr. Joseph Laythe gave his final lecture at Edinboro University. He had been battling cancer for years and, in his own words, wanted one last chance to give back to the university. The history professor who used to shout and pace excitedly through his legendary lectures, crafting voices for each historical figure, always making students laugh, was now softly reflecting on his career from his wheelchair — and while his voice had a slight rasp and his disposition was a bit more restrained, his humor, thoughtfulness, and passion were still intact.
"History is the human experience over time," he told the audience. "We're really all asking the same question: who are we and where do we fit in?"
A few weeks after his lecture, Dr. Laythe died. As I grieved, I opened my copy of his incomplete, but published book, titled Haunting the Past: History, Memory, Dreams, and the Reflections of a Dying Historian. I reread a passage that I had highlighted.
"I want my students and my readers to empathize with people of the past and thereby become more empathetic to their neighbors," he'd written. "I have an obligation to reach my students to make them better people, not simply warehouses of facts, names and dates."
History wasn't learning merely what happened, but also how what happened affected individuals. For twenty years, Dr. Laythe taught students at Edinboro that understanding this shared history was important, that it mattered — that by digging into the stories of these individuals, we could better ascribe meaning to the present and, quite possibly, to our own lives.
Who are we and where do we fit in?
In recent years, it seems that history has often been elbowed to the sidelines. In public schools, the humanities are often the first to face curriculum cuts. At post-secondary institutions, declining enrollment in undergraduate history programs has been a topic of discussion for years.
Yet, the pendulum may be swinging. At Yale, for instance, history is once again the most popular major for next year's class. Yale's director of undergraduate studies recently maintained that "the present historical moment is enticing young people to join the discipline … [because] economic and political models failed to predict several defining events … [such as] the 2008 financial crisis and the 2016 presidential election."
In the Erie region, historians at our local universities are also seeing a renewed interest in the field and are working hard to restructure their programs to adapt to the changing world.
"We have been very fortunate as a History Department to stay ahead of the curve," said Dr. John Olszowka, department chair at Mercyhurst University. "I work with a very creative and energetic group of faculty and we as a department have tremendous support from the university's administration."
Their history courses are available to all students, not just history majors. "We're trying to broaden students' understanding of history," he added. "We have also created a variety of new courses intended to broaden the skill sets of our students."
These course offerings include a partnership with the Erie Maritime Museum to offer a three-week credited course sailing the Brig Niagara on Lake Erie. In other courses, students have helped create an African-American History Heritage Trail for the county, photographed and documented Erie's historic buildings, and conducted original research to create podcasts (called "Hurstories") in lieu of writing traditional papers. Perhaps the next Stanley Nelson Jr. or Lynn Novick is already sitting in a class on campus, because in the fall semester, the university will be adding a brand-new concentration for history majors: Historical Documentary Filmmaking.
"Students are not only gaining valuable research, writing, and critical thinking skills, they are also developing technological skills that enhance their marketability to prospective employers," Olszowka explained.
Dr. Amy Carney, history professor at Penn State Behrend, is equally optimistic.
"[Students] enjoy studying history. It is often one of their favorite subjects," she said. Still, that wasn't always reflected in the program's numbers. "They lament that they cannot major in history because they or their parents believe that there are limited jobs for a history major."
Her challenge, she believes, is to help change that perception.
Dr. Olszowka agreed. "I think people are surprised to learn that history majors do everything." He listed off a few fields that recent graduates are working in: law, policing, government service, and even computer programming.
Dr. Carney also described how learning local history has had a personal impact on her students.
"Back in 1867, Otto von Bismarck, the chancellor of Prussia, was rewarded for his service to the kingdom," she explained, reciting a story she often tells students. "He used the money that he had been given to purchase an estate … [near] a paper mill owned by two brothers, Georg and Moritz Behrend. Bismarck purchased a nearby paper mill, but leased it to the Behrend brothers to run. This new mill was called Hammermühle, or Hammer Mill. Moritz Behrend used his financial success to finance his sons' operation here in Erie."
The three Behrend brothers — Ernst, Otto, and Bernard — founded their paper mill in Erie in 1898, naming it Hammermill Paper Company to honor their father.
"I like to share this story because my students are captivated by how something we are studying in class — the history of Prussia in the 19th century — relates to them today," Dr. Carney added.
Marissa Litzenberg, a freshman history major at Penn State Behrend, was eager to share her enthusiasm for entering the field. "To learn history is to learn about the journey of the world and to gain insight into where it might be heading towards next," she said. "We can use history to create a context to better understand what people were thinking at the time that led them to make one decision versus another."
Dr. Olszowka clearly sees that as part of the attraction to the field. "So much of what happened in the past informs our present day community — politically, economically, and culturally. It also often impacts the decisions we make as a community going forward."
The idea that history and community-building are intertwined is common for those in the field — and outside of academia, there are numerous organizations in the region working to engage the public in local history.
In Erie, one could make a day out of history hopping: visiting the Hagen History Center and the Watson-Curtze Mansion on West Sixth Street, walking to the Firefighters Historical Museum a block away on Chestnut, then traversing down to the Erie Maritime Museum and the Fort Presque Isle Blockhouse off the bay.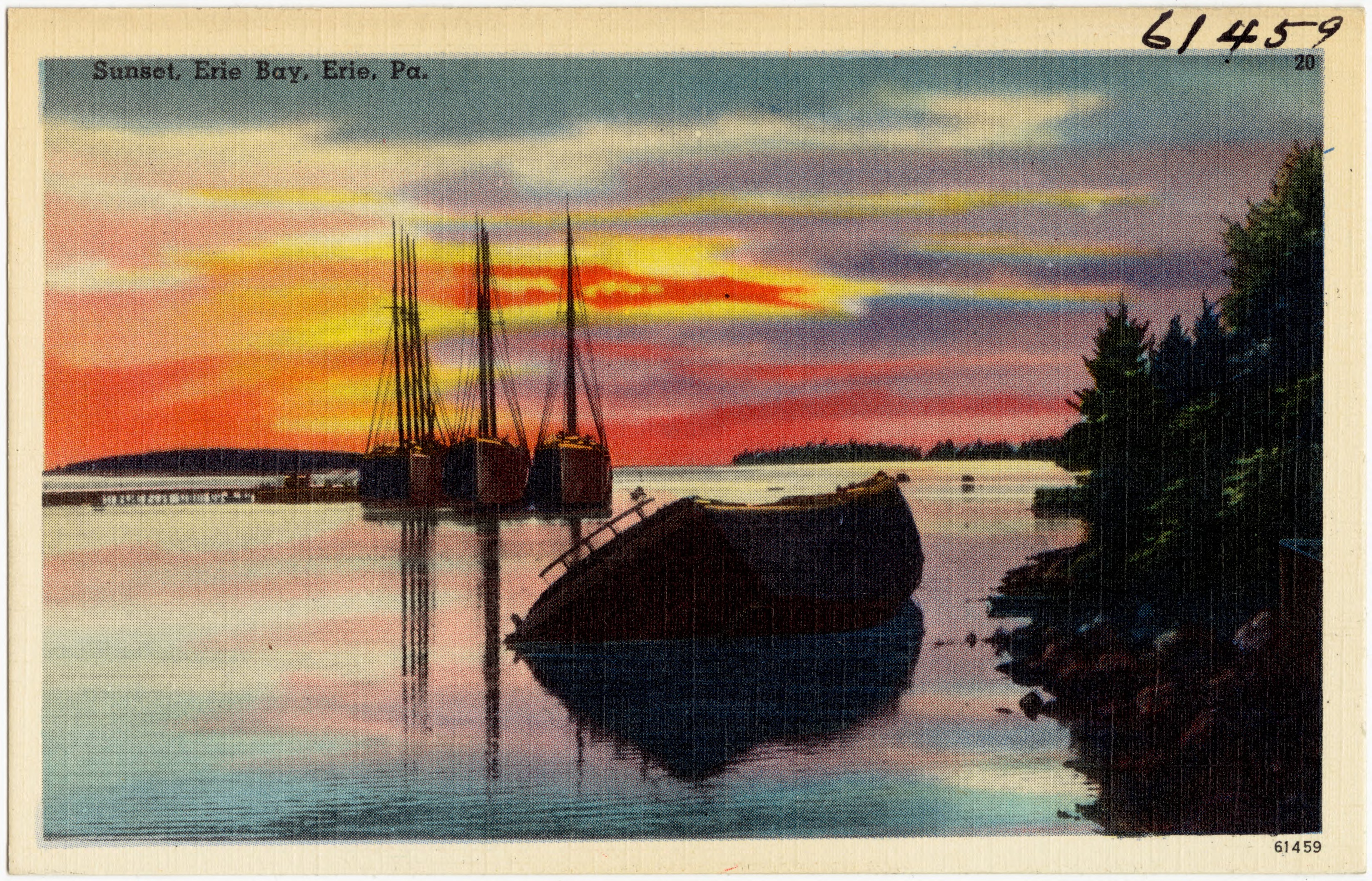 Wikimedia
One thing that has not changed over the years is the brilliance of our Presque Isle sunsets. This old postcard demonstrates the timeless beauty of Erie's greatest natural resource.
Throughout the rest of northwestern Pennsylvania, there are functioning museums and societies in nearly every town, often staying afloat thanks to donations and generous volunteers.
In Meadville, the Crawford County Historical Society has been doing an impressive job of engaging the public. They recently purchased the Tarr Mansion to renovate (saving the Civil War era building from demolition) and are operating a museum out of the Baldwin-Reynolds House, built in 1843 by Supreme Court Justice Henry Baldwin. They've also embraced social media, promoting events such as their upcoming Millennial Mixer, which combines Voodoo Brewery beers, food, guided tours, and local history trivia.
Josh Sherretts, President of the Crawford County Historical Society, and Vice President Ron Mattocks have a clear vision for the organization's role in the community.
"Learning the history of where one lives allows a person to interact with and feel a part of their surroundings," Sherretts stressed. "Our past has a way of making us feel connected with our environment. We better appreciate our community and often more thoroughly strive to do our part to enrich its future as a result."
Mattocks agreed. "Learning the stories, particularly the personal histories, tends to give people something they can relate to — our shared humanity. It's easy to feel as if your little town is just a tiny blip on a map," he said, "but when you find out that the primary election system originated in Crawford County or that Meadville was the first place to desegregate schools well before the Civil Rights Movement … then it's a reminder that where you're from is not insignificant."
Titusville, just an hour south of Erie and the birthplace of the oil industry, is another locality that, quite literally, reshaped the world. Dr. Rhonda Clark of the Titusville Historical Society and professor at Clarion University, also recognizes the juxtaposition between history and community.
"I think that learning the history of the place you live in provides connection to community and it builds that community," she said. "People who enjoy the past seem to me to be folks who are invested in their community and in people."
When asked what she wished the public knew about the society, she pointed out their programming, but also added, "I wish people knew that everyone is important in building and supporting these institutions. It takes lots of volunteer time and energy to build museum collections and programs."
Mattocks agreed. "We want people to know we're not just a place to research family histories. We're focused on using history to build our community and help move it into the future. There's much one can learn from their local history that applies to the challenges that area might face today."
Becky Weiser, President of the Erie County Historical Society, further echoed these thoughts. She wishes area residents knew more about what they offered to the public.
"My assistant, staff of incredible volunteers, and I are currently in the process of identifying every object [we have] and carefully maintaining those things that tell our history," she said, then offered an example. "We recently found a scarf belonging to [Admiral] Lord Nelson… the hero of Great Britain's greatest naval battle in 1805 [who] knew someone in Erie whom he gave it to."
Danielle Lincoln, who also works at the society, stressed that historical societies and museums are for everyone. "We're not just a bunch of older gentlemen sitting around a book or a painting smoking cigars and talking about war," she joked. "We like to laugh. We love to meet new people and we like to have fun … [and] we're constantly expanding our schedule of events for all ages."
"It's an exciting time to be the curator here," Weiser concluded. "I hope the people of Erie County keep track of what we're up to here, support us, and share the excitement of our local history."
So, if you're interested in getting more involved in the local history scene, in working to move your community forward, what can you do?
Start by simply visiting your local historical societies, museums, and organizations. Ask questions. Donate or volunteer if you're able. Read the work of local historians already out there — in the local history section of the library, in periodicals such as the Journal of Erie Studies, or online at sites such as Old Time Erie, Erie Yesterday, and Erie's African American History.
You can even become an amateur historian. Just start by asking yourself: who am I and where do I fit in?
Then dive right in. Dig through the local archives. Ask someone from your local historical society for help. Sometimes you'll have to look for the story. Other times, the story will find you, a few words that catch your eye, then won't leave your mind — a random obituary, a snippet from an old newspaper, a long-lost letter.
"It's a lot of fun to be a historian," Dr. Carney said of her profession, "to have the opportunity to sift through the available evidence and to weave a narrative that can help us understand our past."
There's a lot of the Erie region's past left to discover, so many stories left to tell. Let's get to work.
Jonathan Burdick runs the historical blog Rust & Dirt. Follow them on Twitter @RustDirt, and on Instagram @RustandDirt.