The Idiot's Guide to Art Criticism
There, beneath the blue, suburban skies...art critic Pen Ealain writes about art without using all the big fancy words.
February 19, 2013 at 10:53 PM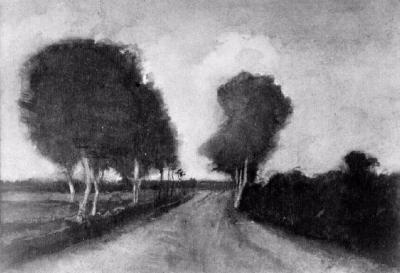 As a college undergraduate at a prestigious fine arts college, I learned quickly to despise what is known by frustrated art students everywhere as "Art-Speak." See if you can quickly decipher the following sentence carefully crafted in Art-Speak:  "The obtuse and provocative reiterations of arbiter elegantiarists provoke the double-headed dragon of disdain and apathy, which diminishes any exuberance from those unindoctrinated in the jargon of commentary."
Got that? Being an intelligent devotee of the Erie Reader, you could probably figure it out in a few short moments, notwithstanding the words I made up. But why bother? If someone is going to make perusing your favorite publication that difficult, you are going to find something else to read…which is actually what the sentence says in plain English: Art critics use fancy language, which makes most readers run for the hills. To put it in even simpler terms – most art criticism is bullshit.
But that's just fine with art critics and the other elites in the world of fine art. They aren't writing for you anyway. They are showing off how much they know about art to others who also think they know a lot about art. They are keeping the doors to their little club closed. If you are hoity-toity enough to put into context terms like "seriocomic," "faux-Delft," and "unprepossessing" when you run across them in the pages of Artnews, you feel really good about your place in the world. If you are like me, however, you set the magazine down and reach for this month's issue of "The Amazing Spider Man."
Now, let us return to those heady days when I, as an innocent college freshman from Erie, found myself in class with sophisticated art zealots from New York City. The Art Foundation professors at Alfred University in Alfred, N.Y., loathed me. I would blame my D in that class on a near obsessive pursuit of beer and girls, but I managed to pull A's and B's in all my other classes that year, so that can't be all there was to it.
No, the problem was that many of us in that class just didn't get it. We obviously were too dense or unenlightened to comprehend the weighty consequence of what we were to be learning. Every time a student in the freshman foundation class put up a drawing on the wall that had any non-ironic pictorial references to pop culture, that person was verbally whipped to within an inch of their miserable lives by the elite, dangerously over educated MFA-wielding professors and their army of brown-shirt art-Nazis. Since I was a devotee of super-heroes, hard rock, and advertising design, many of my efforts were met with a particularly violent response they obviously had been saving just for huge drawings of Batman and the Van Halen logo.
You would think that we philistines would have learned, but being stubborn 18-year olds with the fervor that burns within all true artists, we resisted. Telling someone whose grandmother was the world's biggest Norman Rockwell fan that his work is "reminiscent of the frivolous and boorish work of Rockwell" is a surefire way to piss them off. I frickin' loved Norman Rockwell!
So, rather than change and grow, I dug in my heels and barely made it through school. It took many years of maturing to see where those professors were coming from: They wanted me outside of my little suburban pop-culture box.  And even though they meant well and had some great ideas, the animosity I felt then toward the elite art establishment still has a place in my view of the world and all things artistic.
So, what's the point of this little rant down memory lane? The point is that as your own personal art critic, I'll try really, really hard to not let my own over educated, elitist presuppositions get in the way of letting you know, in plain English, what's good to see out there and what's crap. Since there are lots of both kinds of art being displayed any given weekend in Erie, you should be informed so you don't waste your time.
Tune in to this column in future weeks if you want frank, straightforward art criticism with only a tiny percentage of made up words. I'll try to give you the information you need as an art lover without showing off too much of what an insufferable know-it-all I am. To put it another way: Art criticism without the bullshit.
Just for fun: If you have a minute with nothing to do and wish to also become an art critic - check out www.pixmaven.com/phrase_generator.html - Bingo! You are on your way to creating long-winded critiques of art that any pretentious art magazine will pay real money for.)
Pen Ealain can be contacted at PenEalian@ErieReader.com