The Longest Day
A personal story about the real life impact of policy points
October 24, 2018 at 9:00 AM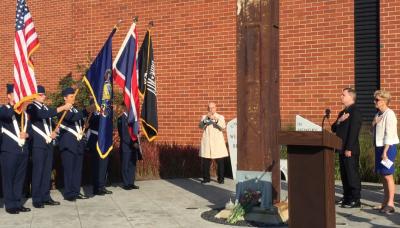 By: Jay Breneman
Elections have consequences. For some people, having proper representation can make all the difference.
Laura DiPasqua-Grappy never minces words, nor does she dwell on events that have inexorably shaped her life and her life's work — even though the impact is so deeply personal.
She embodies a quiet selflessness reinforced by a spirit stronger than steel. When it's time to help others, she's there.
Seventeen years ago, the world watched helplessly as two of the tallest buildings on Earth came crumbling down at the hands of terrorists. Simultaneously, a plane went down in Pennsylvania, and the epicenter of the world's most powerful military was struck in one fell swoop.
Many of us wanted to do something to help after that day. Laura was thinking about the people and the families of those at the heart of the rubble, and what was happening at Ground Zero.
As Director for the Red Cross in Erie, Laura took part in the largest mobilization of response and recovery efforts in American history. According to Laura, when she and others arrived at Ground Zero, "no one talked, everyone just waited for instructions."
Those recovery efforts and the 17 years since have been called "the longest day" by many who were there, because thousands of them are living with the long-term effects of exposure to pulverized steel, cement, lead, asbestos, and other harmful chemicals and gases. That's just the physical toll many suffered.
Responders came from all 50 states to help with the recovery efforts, or to put it another way: 432 of the 435 congressional districts. Yet when it came time for Congress to help, they were largely missing in action.
People were suffering from painful health complications, both physical and mental, and many were dying. In many cases they were left in financial ruin as they were unable to work, and had to pay for mounting medical bills on top of everyday expenses.
As part of a nationwide push for a program to monitor and care for the health complications they suffered, responders, survivors, and their families lobbied legislators for nearly a decade before Capitol Hill took action.
Laura was there.
"In 2006 I crossed over from being a number to being an advocate," Laura explained, speaking about how she and others traveled to D.C. by the busload. "I knew I needed to be a part of this." Gathered on the lawn by the Capitol, Laura was one of seven speakers, and was the only one not originally from the New York City area.
In her former role with the Red Cross, Laura did her fair share of public speaking, but this was wholly different for her: she was no longer speaking as just a professional but as a survivor who had a story to tell.
Back home in Erie, Laura was attending a dinner, and was by chance sitting with then Congresswoman Kathy Dahlkemper's district director, Amy Cuzzola-Kern. The two struck up a conversation, and in Laura's own words: "next thing I know, I got a call from Kathy, who wanted to meet with me right away." According to Laura, the congresswoman was compassionate and listened to her, and took up the fight in a very personal way.
To hear just how personal this fight was for her, I sat down with now County Executive Kathy Dahlkemper, who spoke with great detail about Laura's advocacy. "There was something in Laura's voice," Dahlkemper recalled, "it wasn't just about her, she was working for the greater good."
For Dahlkemper, the connection and the responsibility of lawmakers to help was quite clear, a belief further solidified in her meetings with other responders. "You could really see the impact on these people who went to help," she said, "they ended up sacrificing so much."
Even though Dahlkemper had heard others in Congress stall on the issue, she lobbied for immediate action.
In one of her last acts in Congress, during what many would call a "lame duck session," Kathy Dahlkemper voted for the James Zadroga 9/11 Health and Compensation Act on December 22, 2010, breaking down a decade-long impasse and bringing relief to many. Both Dahlkemper and DiPasqua-Grappy told me about the phone call Kathy made to Laura after the bill passed, discussing the relief and full gravity of what was just accomplished.
Since the passage of the first Zadroga Act, more than 72,000 are registered in the WTC Health Program, and of those more than 8,000 have cancer.
Like the police officer the law was named after, thousands have died since that day, including more than 177 in the past year. By 2020, estimates put the potential death toll by responders and survivors at numbers higher than those who perished on that painful day.
But their fight for support wasn't over in 2010. Just five years later, Laura and other responders were traveling and calling their legislators once more.
Though no longer in Congress, Kathy was once again helping Laura as they met with Reps. Mike Kelly and Glenn Thompson, hoping to persuade them to support the legislation just as she had done years prior.
This time, Laura also found an ally in Senator Bob Casey, who had also supported the first Zadroga Act.
She described — with great detail — the personal attention and service the senator and his staff provided her, from the initial hours and assistance from Kyle Hannon, regional manager for Senator Casey, to Senator Casey himself, who spoke with her over the phone on multiple occasions and made a trip to Erie to meet with her.
"We needed and still need people like Senator Bob Casey," Laura emphasized, "because he's been there for us the whole time, and it shows his care and character more than anything."
When I reached out to his office for comment, the senator likewise had some kind words for Laura and was very direct in the responsibility elected officials bear, saying "we owe so much to patriots like Laura and the other heroes of 9/11. Their stories are detailed by immeasurable bravery and sacrifice. It's on legislators to honor that sacrifice by advancing legislation that would be worthy of their valor."
But not every lawmaker felt the same or acted with such speed as Dahlkemper and Casey. As survivors and responders like Laura were working to educate legislators on the toll and connection with their work, they were met with politicians quibbling over finances or focusing on other prerogatives.
Dahlkemper's advocacy demonstrated that a lawmaker need not require an issue to impact a large constituency before they act or stand up for something: while some members of Congress had hundreds or thousands of responders from their districts who were advocating for help, Dahlkemper had one, and she treated the issue with the same vigor as if it were a thousand.
These ongoing health problems and their connection to Ground Zero have been well documented, including in a study co-authored by Erie surgeon Stephen E. Schell, M.D., someone who Laura credits with saving her life multiple times as she faces one medical battle after another.
Laura and other responders were there for us, and are still serving the greater good. They must walk a path of medical and political battles, but they need others to be there with them.
In two years, the 9/11 Victims Compensation Fund (created by the first Zadroga Act) will close, even though thousands will continue to face insurmountable financial burdens associated with their exposure at Ground Zero.
Casey summed up what the future holds for our legislators in D.C., saying "[W]e can't just honor the heroes of 9/11 with words, our nation has an enduring obligation to make sure they have what they need. We must not let these brave men and women down. We need to provide certainty for 9/11 first responders regarding the availability of the 9/11 Victim's Compensation Fund in the years to come, to give these brave Americans the peace of mind in knowing that they will be able to seek compensation without an artificial deadline."
Laura vowed to continue her path again in 2020 and beyond, describing that when regular people are faced with a challenge that is bigger than they are that they're faced with a choice. "You have to ask yourself if you are going to sit on the sidelines or be part of the change?"
Jay Breneman, 35, is an Army veteran, former public official, and relentless in his pursuit of community-driven public policy, serving as the Director of Community and Government Services at Strategy Solutions, Inc. He lives in Erie with his wife Jamie, their three children, and their dog. Connect with him at jay@getstrategy.com