The Lowdown on High Water
Leveling with DEP's Tom Decker on our brimming lake and bay
Businesses and recreational facilities along Lake Erie and Presque Isle Bay shores have found themselves in deep trouble lately. Docks are submerged; Presque Isle trails are flooded. And Erieites accustomed to enjoying those things are struggling to keep their heads above it all.
Lake Erie, the shallowest of the Great Lakes, has eclipsed all-time records this summer as its water levels have continued a disturbing upward trend. Drew Gronewold and Richard B. Rood, researchers in hydrology and climate science from the University of Michigan, postulate that more extreme deviations from the norm — both high and low (on average, Great Lake water levels only fluctuate 1 to 2 feet within a given year) — will become only more common as Earth's atmosphere warms. For instance, warmer water surface temperatures and warmer air might accelerate evaporation, leading to record lows. Increased precipitation and rapid snowmelt may compound runoff, leading to record highs (2019 was the wettest winter on record, according to the National Oceanic and Atmospheric Administration) .
To put this all into local context, I reached out to Tom Decker, communications liaison with the PA Department of Environmental Protection. Here's what he had to say.
Matt Swanseger: Historically, what is a "normal" water level for Presque Isle Bay and Lake Erie? Ideally, where should it be at?
Tom Decker: Lake Erie water levels have been measured since approximately 1860 and have seasonal variations (annual highs and lows) and long-term cyclical trends (years of levels above or below average).  Lake Erie has been above its average levels since June 2015, and for July 2019 is projected to be 5 inches higher than the highest monthly average for July. The U.S. Army Corps of Engineers predicts Lake Erie levels will drop by 5 inches by late August.
MS: What is at fault for the abnormally high water levels right now? Why are we seeing it? Is climate change at all implicated in what we are witnessing?
TD: The Army Corps of Engineers describes the Great Lakes very well: "The Great Lakes are very large and behave differently from smaller, inland lakes. In general, Great Lakes water levels do not rise and fall with individual storms. Significant water level fluctuations require multiple months, seasons, or years of wet or dry conditions." Over the last 20 years, areas within the Great Lakes Basin have seen a marked increase in precipitation and how it is received (short duration, high intensity storms) which has led to greater stream discharge and more water entering the lakes. These changes in weather are showing long-term trends that indicate a changing Great Lakes climate.
MS: What are the environmental and economic impacts of something like this?
TD: Higher water levels are beneficial for boaters and the creation of shallow habitat for fish and other aquatic organisms in lower-lying natural areas. Unfortunately, higher levels cause the water's edge to go further inland, encroaching on lakeshore properties and causing erosion to beaches and bluffs accelerating bluff recession, which, on average, occurs at a normal rate of just under 1 foot/year along the Pennsylvania portion of Lake Erie.
MS: How long until we can expect the water levels to recede toward something closer to average?
TD: Lake Erie water levels are not controlled and there are no man-made structures that regulate inflow or outflow. Water flows freely from Lake Huron into the Detroit River and Lake Erie and then out through the Niagara River into Lake Ontario. While water levels are expected to decrease over the next month, there are no firm mid- to long-term predictions as to when it will decrease or by how much.
MS: Is the situation isolated to Lake Erie or is it happening across the Great Lakes? How are other communities dealing with it?
TD: All of the Great Lakes are currently very high, but Lakes Erie and Ontario are experiencing record highs. In New York on Lake Ontario, many communities are experiencing extreme coastal flooding which is advancing a public dialogue about community coastal resilience and best management practices when building and living next to the lake.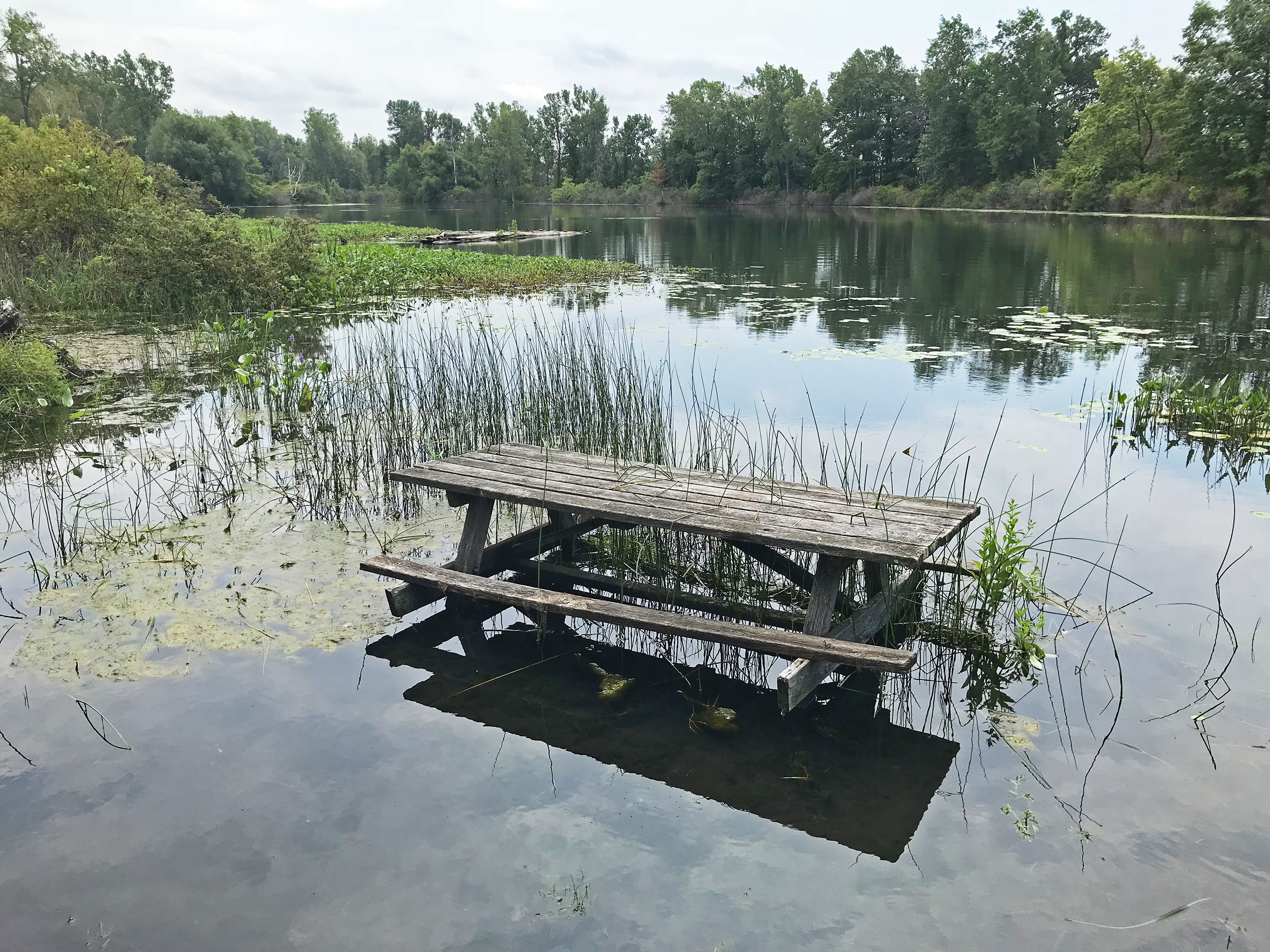 MS: Are these high waters an anomaly or can we expect them to recur in the near future? If this becomes the new "normal," what adjustments does a community make, especially a community whose livelihood is so connected to the water?
TD: All communities along the Great Lakes should expect to see these long-term cyclical variations in water levels; it is a function of the natural processes of the lakes. We also must acknowledge that we are seeing changes in our climate and weather which may lead to more extreme high and low lake levels. Because Erie County's identity and economy is so connected to Lake Erie, a dialogue on coastal resiliency between local, state, and federal governments to identify how our communities will live with the variability of the resource would be valuable to the public.
Matt Swanseger can be reached by boat, life raft, or mswanseger@eriereader.com
To contribute to Lake Erie and Presque Isle conservancy and research efforts, participate in Erie Gives Day (eriegives.org) on August 13, 8 a.m. to 8 p.m.